BRSCC & TCR UK HEAD NORTHBOUND AS CROFT BECKONS!
CATEGORIES:
It almost feels like no time has passed since the thrilling opening weekend of the season for TCR UK and co for 2023, and now with Snetterton behind us it's now time to move on to the next venue on the calendar. From the east, we now venture north to Croft Circuit in North Yorkshire for another non-stop action-packed weekend of tin-top action, along with another exceptional support package of racing in store.
---
TCR UK TOURING CAR CHAMPIONSHIP
Snetterton on Easter weekend provided the perfect backdrop to get the 2023 TCR UK Touring Car Championship underway alongside the BRSCC once again, and it certainly lived up to its hype and premise. Amazing spectator numbers, a packed grid walk and a pair of races that beautifully set the tone for what's already proving to be the most competitive and exciting season yet. Now with the first event complete, the second is upon us at TCR UK heads to Croft.
TCR UK hasn't visited Croft since 2019, when Lewis Kent collected a brace of wins to keep his title charge on track early in the season. As such, only a small number of drivers will have experience of driving this circuit in anger in a touring car, while others will have plenty of mileage from previous years in club level series. This could really help to shake up the order a little more, but there's still sure to be a number of main contenders based on events at Snetterton.
One driver who won't be present is Snetterton race winner Lewis Brown, as he's elected to step across to TCR Europe to join fellow TCR UK graduate Isaac Smith in a Volcano Motorsport Audi. Factor in the uncertainty of Josh Files' presence after his Snetterton cameo, and it means there's a real chance that we could be seeing some new race winners come to the fore.
Two drivers who are sure to be at the front from the outset are certainly Chris Smiley and Bruce Winfield. The defending TCR UK champion gave the new FL5 generation Honda Civic TCR a mixed but generally positive debut after taking 3rd in Race 1, before spinning out at the first corner of Race 2. There's sure to be more pace left to unlock and Chris will be pushing hard to find it this weekend. Winfield, on the other hand, started his 2023 in the best possible way, taking a front row start and a race win before a 3rd place later in the day. He heads the points as the championship lands at Croft and he'll want to make sure he stays there come the end of the weekend.
Others who firmly grabbed plenty of attention over the opening weekend included Carl Boardley, who made a successful TCR debut and put all of his touring car experience to good use to score enough points to sit 4th in the standings, one place behind Alex Ley who picked up a podium to cement his status as a Hyundai Motorsport junior driver. Alex has quickly established himself as a front runner in the championship since he debuted last year and looks likely to continue this form this season.
Bradley Kent will be hoping for more luck after losing pole in qualifying due to a tech infringement but after battling back through the pack all weekend to end up 4th, and if he has the same pace as Snetterton then he'll certainly be in the mix. Joe Marshall is another with bags of potential and battled for the win in Race 2 at Snetterton before a mistake left him spinning down the order, so perhaps the newer Gen 2 Audi RS3 TCR will also suit Croft and put him into contention. Along with the rest of the returnees, there's also a welcome return for last year's Goodyear Diamond Trophy champion Andy Wilmot who now pilots the ex-Chris Wallis Hyundai i30, and he'll want to ensure he's up to speed as quickly as possible.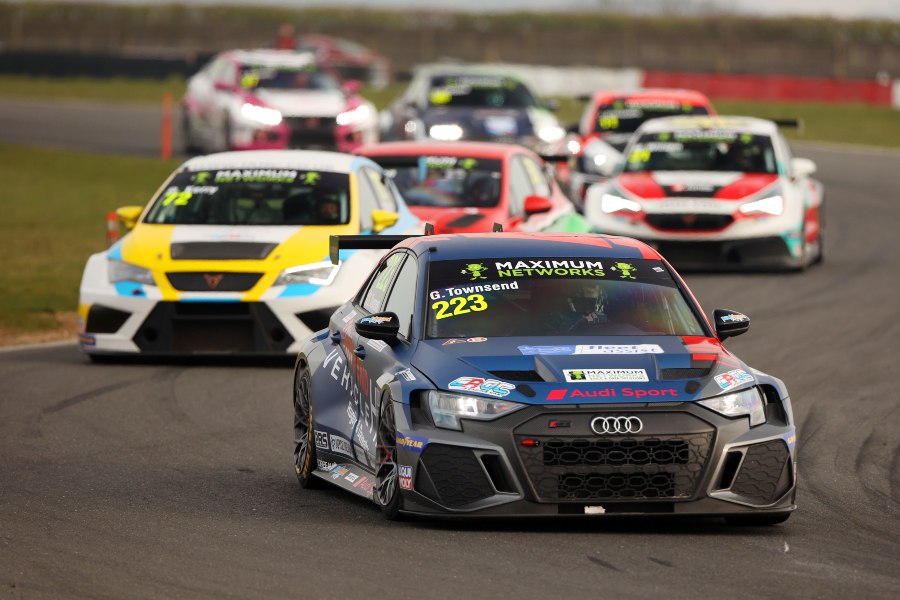 ---
MILLTEK SPORT CIVIC CUP
The Milltek Sport Civic Cup enjoyed an exciting start to the 2023 season at Snetterton with the same intense competition that has made it a firm favourite amongst club racing fans up and down the UK. As a feeder series to TCR UK, it showcases some of the best up and coming talent looking to make the transition into touring cars, with racing and competition to match in spades.
Like TCR UK, it's been four years since the Civic Cup touched down at Croft, meaning there's probably quite a few drivers that haven't experience this circuit before or at least not for a very long time. That could mean that this weekend's pecking order could look a little different to that of Snetterton, but as we know the cream usually rises to the top at any circuit so the form guide may prove to be a little unpredictable.
Former MX-5 SuperCup front runner Jack Harding has begun his second season of Civic Cup in exceptional form, with a 4th place and a win helping him top the points table heading to Yorkshire by just three points from Will Redford in second, while Dan Thackeray's Race 1 win was countered by a 7th place the next day and that puts him third just eight points off the top. These are three names that are sure to be in contention for race wins once again, but there are plenty of other contenders hoping to make an impact too.
Danny Hobson was one of those drivers that raced Croft in 2019 and he was on the pace all weekend, so his prior experience and success at this circuit could serve him well, especially considering how strong he looked at Snetterton. Max Edmundson was one of many impressive youngsters and did win Race 2 on the road, only to be demoted after he was deemed to have gained an advantage after skipping across the grass at Brundle/ Nelson while battling Harding for victory.
Throw in others such as Louie Capozzoli, last year's vice champion Morgan Bailey, Sam Nicolaou, Leo Panayiotou and Harvey Caton who all showed early signs of strong competition and you've got a real feisty pair of races on our hands this weekend!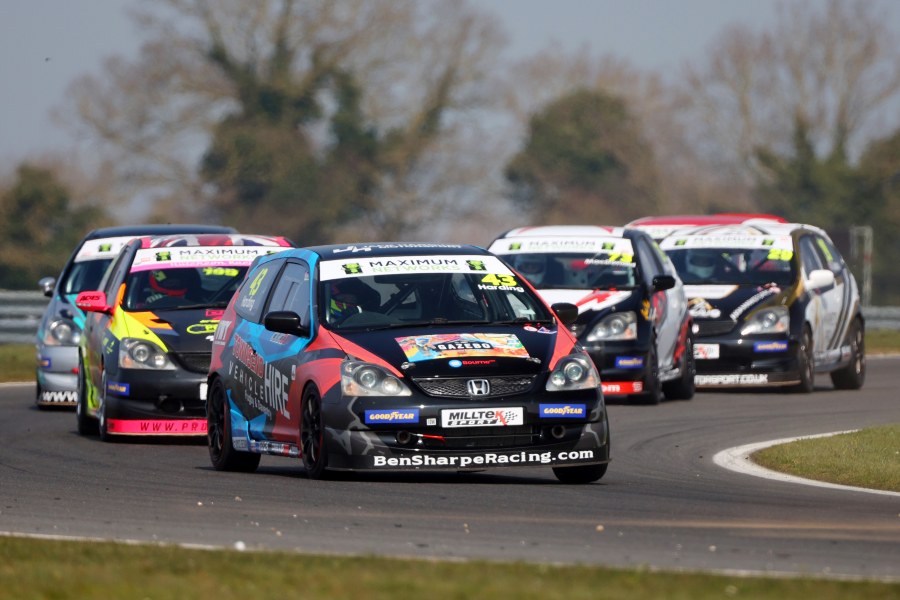 ---
BRSCC FIESTA JUNIOR CHAMPIONSHIP
Croft marks the second stop on the 2023 tour for the BRSCC Fiesta Junior Championship and this year's magnificent crop of young racers will be raring to go after their exciting opening weekend of the year as TCR UK's official junior support series at Snetterton. With a grid of cars that look and sound the part and plenty of potential up and down the field, they come to North Yorkshire with plenty of anticipation.
Sam Neser holds the championship lead heading to Croft, despite not yet winning a race. His consistency helped him pick up a 3rd and a 2nd from Snetterton while others had mixed fortunes, including Race 1 winner Luke Hilton. Luke only just held on to the victory that day after a late five second penalty for track limits, while contact at the start of Race 2 left him finishing outside the top 10. Given his great outright pace, Luke will wish to bounce back quickly while Sam will be looking to be on his tail all the way from start to finish.
Second and third in the points right now come the top two Mk7 racers, with Ben Mulryan and Daniel Lewis respectively as the main men showcasing the next-gen FJC race car's true potential. Ben was able to achieve a milestone at Snetterton by taking the first overall podium for a Mk7 and showed excellent pace in the car too. Lewis was equally competitive all weekend too and they'll both be looking to give the current front-running Mk6 ST150s the runaround as much as possible.
One of them will be Maks Solarski, the JamSport Scholarship winner who put in a fine drive to only just miss out on a debut victory first time out by just over a tenth of a second after Hilton's five second penalty. His speed is evident and Croft could be another great chance to show his skill. Other worthy names to watch out for after their excellent consistent results at Snetterton include Jensen Bell, Rashan Chigorimbo, Hadley Simpson and Lucas Hayden, all of whom will be hoping to get closer to the leaders this weekend.
Keep an eye on the rest of the pack too, as everyone will be hoping for steps forward in their pace and progress. Watch out for Jasmine Shaw, Flame Airikkala, Harry England, Jacob Hodgkiss and Wesley Swain amongst the Mk7 contenders, while the rest of the ST150 field will certainly feature Benjamin Doughty, Jenson Mason, Billy Blockley, James Pope, Ronnie Smith, George Foxlow and Marcel Laczycki once more.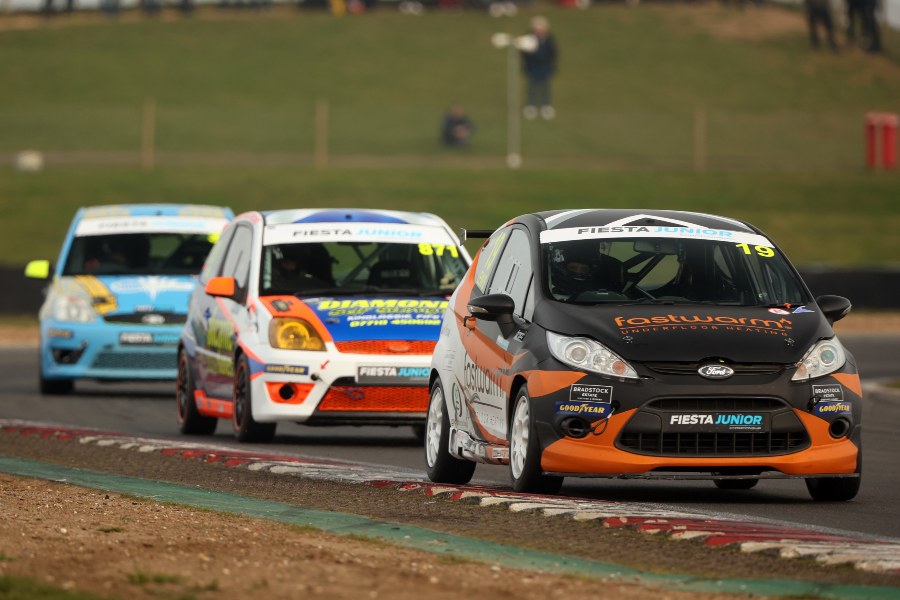 ---
GAZ SHOCKS MAZDA MX-5 CHAMPIONSHIP
For the first time this season, the GAZ Shocks Mazda MX-5 Championship heads to a race weekend on the support timetable for TCR UK, and as Croft beckons this weekend there's already been plenty of exciting action on track with Silverstone GP and Brands Hatch in their rear view mirror. Now already into its third race meeting of the season, the contenders are starting to show themselves.
One contender who won't be present this weekend? The championship leader. Prior commitments have meant Thomas Langford was unable to compete this weekend at Croft, and this give the rest of the field a massive opportunity to step up and take over in front. Of course, later down the line Thomas will have to use all three of these races as his dropped scores, but that will of course mean he can not afford any troubles for the remaining meetings when he returns.
It also means that current second place man Ted Bradbury now goes to Croft with an incredible chance to take over the points lead, provided he can keep his new found closest rivals behind him. The impressive rookie has looked rapid in his first two MX-5 race weekends taking four podiums from the first six races already, and a first win must surely be on the cards soon if not this weekend. To do that, he'll have to hope that drivers like Steve Foden are not in the same kind of form that he was at Brands Hatch. A commanding clean sweep of all three races helped him shoot up the points table into the top 10 after a non-start in Silverstone's first race left him trailing from the outset. Knowing how quick he is, it won't be surprising to see him up front once again.
This year's leading pack in the MX-5 Championship is ultra-competitive and just looking at the current top 10 in points only affirms that further. The gap between Bradbury, Adam Sparrow and Adam Craig is just two points across the three drivers, both Sparrow and Craig having stood on the podium at least once already. Oliver Graham, Luke Pullen, Owen Mills and Neil Chisnall have all looked strong and consistent at points too, while Tom Smith dropped points at Brands after a DNF in Race 1 and will now need to be on point to claw back the lost ground from equal tenth with Levi Aisbett.
Also watch out for Jason Greatrex, Masters leader Tim Dore, Kevin Dengate and Jack Noller, the latter much lower down that his pace suggests, especially after earning last year's rookie of the year accolade.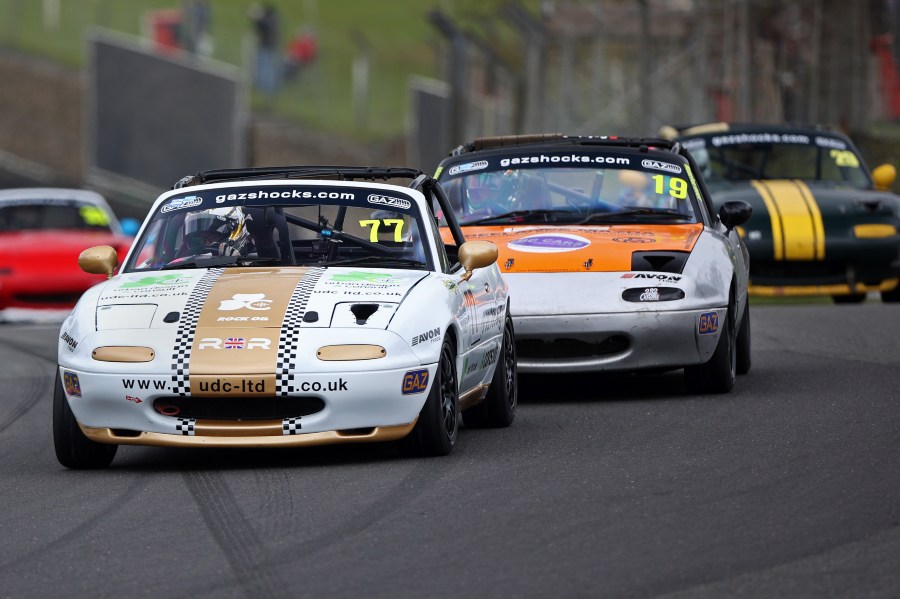 ---
DOWNFORCE RADIO MAZDA MX-5 CLUBMAN CHAMPIONSHIP
Even though the Downforce Radio Mazda MX-5 Clubman Championship was introduced back in 2021 and debuted at the very circuit it visits this weekend for its third meeting of 2023 at Croft, it's already grown substantially in terms of the number of cars and its competition levels. 2021 and 2022 were certainly the warm-up acts, but this year it looks like we've got a real scrap on our hands for the title.
That early race for the title is currently headed up by points leader Paul Bateman. His strong form has helped him top the standings despite not yet winning a race (although we're confident it won't be long until he changes that), and he's looked the strongest we've seen him in an MX-5 yet. That knack for staying out of trouble and picking up after mistakes from his rivals is certainly treating him well and another big points haul this weekend will do him no harm at all.
That said, his lead over second placed man Jordan Pimley is merely a point at this stage, after the Close Racing driver took his and the team's first outright BRSCC MX-5 race win at Brands Hatch to their collective delight. With Brad Jones not set to be competing this weekend, Pimley will want to try and get the jump on Bateman whilst also holding back their other rivals, seemingly in the form of Matthew Fletcher and Jamie Turner. Between these four, they put on some superb racecraft and battles at Brands Hatch, and we expect Croft to provide more of the same.
Others who will want to be part of the lead group or at least try and get close to it will include Jon Pethick, Del Paice, Jack Warry, Kevin Bird and Jake Styles, while we're delighted to be welcoming back Rob Greensmith too after his Silverstone crash forced him to miss Brands Hatch. He's now back on the entry list for this weekend – and we've also heard through the grapevine that he might not be the only Greensmith on the grid at Croft either…
Alan Hawkins, Nick Le Doyen, Thomas Davis and Michael Pearce have also looked fairly handy so far this season too, so make sure not to count them out either.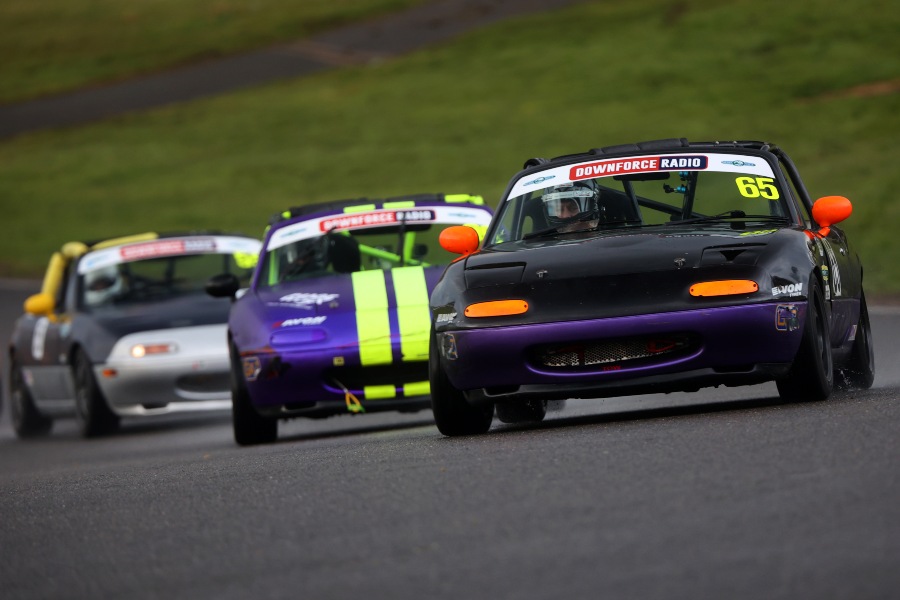 ---
CLAPHAM NORTH MOT MAZDA MX-5 SUPERCUP
Three races that are sure to be packed full of entertainment and drama this weekend at Croft Circuit for all the right reasons is the triple header for the Clapham North MOT Mazda MX-5 SuperCup, which incredibly is already into its third weekend of competition after Silverstone GP and Brands Hatch. From the outset, this year's grid has been stacked full of top drivers and typical close and exciting racing and after two very different circuits, the championship now travels to Croft with one man in control of the Pro class points.
Aidan Hills is making a beeline for that first SuperCup Pro class title and with five wins from the first six races, and he's without doubt been the one constant at the head of the pack while everyone has been caught in the melee behind. That doesn't mean that Aidan's had it all easy, though. Most of the encounters have been him have to fight hard against those who would challenge him, proving that the results on the timing sheets often don't tell the full story. Aidan will be looking to keep up his form in Yortkshire this weekend.
Tom Griffiths comes next having only finished outside the top ten once so far, but even with two podiums to his name his still more than 70 points back from Hills in front of him. However, he does have a small cushion to Patrick Fletcher in 3rd, who has only finished in the top ten twice and both times were at Brands Hatch with a 3rd place in the final race of the weekend. That's also given him a four point gap to Oliver Allwood, who isn't due to be present at Croft.
That will give Will Blackwell-Chambers, Alex Stott, Richard Amos and James Cossins a real chance to close up, as will Ali Bray, Joe Wiggin, Tom Seldon, Leigh Britten and James Blake-Baldwin, who was fast at Brands and took the only win Aidan Hills couldn't score so far this year.
For the Club Class, Robert Way currently has it under control with four wins from six races thus far and leads Clive Powles and Adrian Burge respectively. Liz Walton has also once again shown plenty of consistency, while Kamal Kalsi has proven himself able to take class wins already and must be ready to take the fight to Way and co to make it happen again.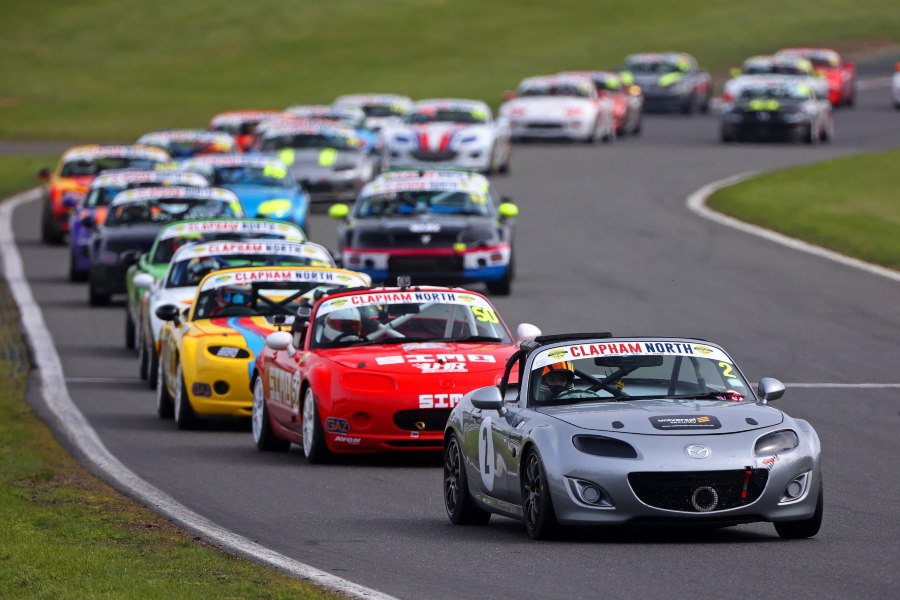 ---
NANKANG TYRE CITYCAR CUP & STUDENT MOTORSPORT CHALLENGE
Once again, the Nankang Tyre CityCar Cup and Student Motorsport Challenge are on the support timetable for TCR UK once again and they bring with them the same fun-filled line up of Citroen C1s, Peugeot 107s and Toyota Aygos to rumble around Croft in North Yorkshire.
Back at the season opener at Snetterton, the expected front runners once again tried to make an early getaway from the outset, and with the Croft circuit sporting similar characteristics to that of Snetterton, the form book may stay the same.
At Snetterton, it was Elliot Lettis picking up where he'd left off at the end of 2022 by coming out of the gate swinging. Two wins and a second place certainly put an early marker down for his championship ambitions and has given him a small six point lead over Stuart Bliss in 2nd place. Stuart is the only Bliss on the grid currently after 2022 champion Richard elected to sit on the sidelines, leaving his brother to up hold the honours for Autobliss. As he had through all of last year, staying in the lead group means he's got a great chance of making it two titles in a row for the team.
Keeping him company is sure to be Andrew Dyer who has continued to be a constant at the head of the pack and always in the hunt for race victories, so be sure to watch for the aforementioned trio as they fight over victory. Behind them, there's a neat little group of drivers battling over 4th, with Richard Jepp heading the group in the Northbrook College team car (more on them in a second) ahead of Christopher Mackenzie, before Ben Creanor, Alex Blease and Nick Gough all come next tied on points and just one ahead of Bradley Porter. This group could get a neat little shuffle depending results this weekend.
In the Student Motorsport Challenge, Northbrook College already carry a nine point lead courtesy of Richard Jepp's three Challenge race wins and the defending champions will have their eyes set on more SMC silverware. Of course, West Suffolk College, Barracksport's pair of teams and East Surrey College will be doing their utmost to put a halt to their early domination, plus there's set to be a couple of brand new teams making their debuts on the grid this weekend too.
Scott Woodwiss