It's time for the BRSCC to head to the coast for the Summer! Nope, we're not taking a holiday but we are heading to the Isle of Anglesey and the stunning Anglesey Circuit in North Wales for two days of motorsport by the sea. There's a whole bunch of Mazda MX-5s ready to descend on the most picturesque circuits in the country, as well as Fords, Formula Fords and even a pair of endurance races for the Fun Cup Endurance Championship as they prepare to go "Into The Night" on Saturday evening!
---
FUN CUP ENDURANCE CHAMPIONSHIP
We've had rain at Brands Hatch and sunshine at Snetterton, but in both cases it's been victory for former champions Team OIympian in the opening two races of this year's Fun Cup Endurance Championship which has provide two thrilling encountered with exciting finishes, certainly ensuring the championship lives up to its name. Next on the calendar is the first double header of the 2023 season as the teams venture back to Anglesey for their special "Into the night" race day – with one three hour race taking place in daylight and the other starting in the twilight and finishing under the cover of darkness.
Team Olympian hold the advantage after two races, when they beat the elements at Brands Hatch and then came back from contact midway through the Snetterton race to retake the lead and score victory. The difference maker each time has been Riley Philips, who along with Kristian Rose and Chris Dovell had led the charge for his team and turned in a pair of stunning performances to date. Anglesey gives them the chance to right the misfortunes of previous races, with an engine failure while leading a couple of years ago a particular sore point that they'd like to forget and overcome this time.
Heading to Anglesey, Olympian leads the standings by ten points from UVio/ Hoffman's Motorsport, with the formidable duo of "Farquini" and Fabio Randaccio proving to be their usual rapid selves, but not quite in the same way as they have done in previous seasons. Anglesey could be another great chance to take their first win of the season, but even they know the task of knocking Olympian off top spot is already proving tricky this year. Up in 3rd place, PLR Racing have a 2nd place to their name at Brands Hatch, but they had to fight for it with UVio in the pouring rain in order to take it. A 6th place at Snetterton helped them maintain P3 and they'll wish to come away from Anglesey with a pair of strong results to stay in the hunt.
Consistency and keeping out of trouble have helped Team Greenheath and Team Ratters Racing reach 4th and 5th respectively, and while the best result between them so far has been 5th for Greenheath at Brands Hatch, they've been quietly going about their business and the understated approach appears to be paying off so far. Next is GT Radial, equal 6th with Signature Motorhomes, then EDF Motorsports, Vapeclub with EDF and Team Viking/ Ursus Capital – all of which will have their own goals heading to Wales this weekend. Others who have been quick but hit problems in the first two races are ShireGB and Axiametrics/ GRD Racing, the latter back out this weekend to try and survive each race this time after suffering mechanical issues in both opening races.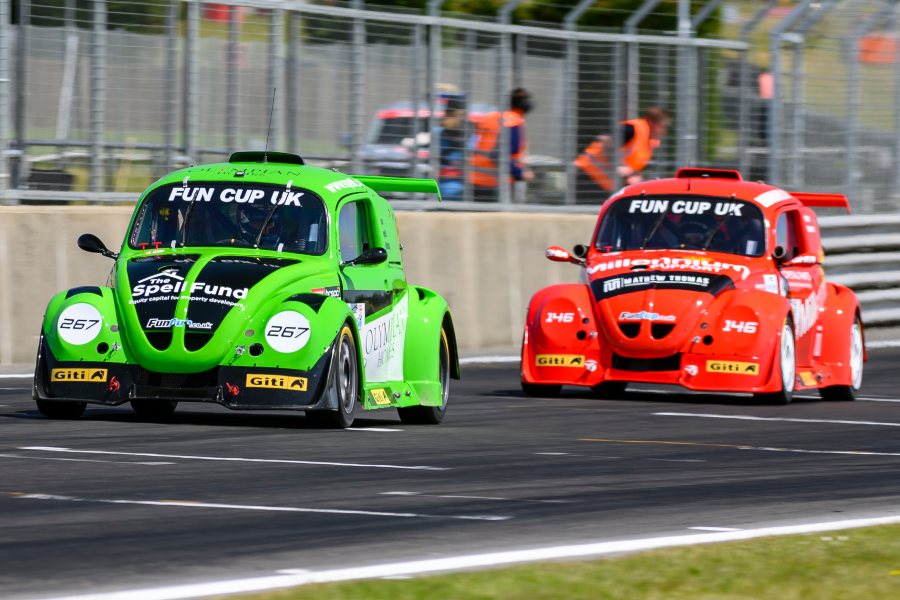 ---
GAZ SHOCKS MAZDA MX-5 CHAMPIONSHIP
It's already the half way stage of the GAZ Shocks Mazda MX-5 Championship and there's a rather intriguing battle forming at the head of the points standings. With three race weekends down and this weekend's trip to Anglesey marking the fourth stop on the 2023 calendar, racing by the Welsh coast could provide another twist in the story of this season.
He may have only taken two race wins out of the nine run so far, but Adam Sparrow finds himself leading the way in the points as the championships visits Wales this weekend. He's mostly kept himself within and around the top 10 to date and had a fruitful trio of races last time at Croft that included a 2nd place and a win. He's looked particularly strong in wet and damp conditions as was proved earlier in the year at Silverstone in March, and with the weather forecast looking warm but overcast with a chance of rain at some point, perhaps that will play in his favour once again.
In second is the very impressive youngster Ted Bradbury whose first season straight out of karting racing cars has been a whirlwind experience. Thanks to his own natural talent and AB Motorsport giving him a strong car too, Ted has only finished one race lower than 7th all season and captured four podiums already. Anglesey will be another chance to carry on this great form and perhaps get one step closer towards his first win. Right behind him in points is Adam Craig, who is enjoying the season of his life this year and firmly establishing himself as one of the lead group. A first podium finish with 2nd place at Brands Hatch has given him a significant confidence boost and he too hasn't finished a race lower than 7th. This proves that consistency and scoring well when you can't win or podium in a race is key to remain at the top.
And then we get to the man currently 4th in the standings – Steve Foden. Ever since he was pushed off the grid of the opening race of the year at Silverstone with a fuel line issue, Foden has been on an absolute tear. In every single race since, Steve has finished either 1st or 2nd and not a position lower than that. This includes six wins in a row from Silverstone's third race, all through Brands Hatch and currently ending in Croft's second race and this has seen him rocket up the standings to currently sit 4th and 50 back from leader Sparrow. If he keeps on the current trajectory, it's almost certain he will eventually take the points lead sooner rather than later, but needs to keep up this form and hope that others have tough weekends around him.
Former points leader Thomas Langford is back after missing Croft due to commitments working for Extreme E, and he is sure to be straight back on the pace. If he wants to stay in contention to win the crown, he needs trouble free weekends in every single meeting from hereon in as he prepares to climb back up from 14th. Also be sure to keep an eye on other drivers sitting higher in the standings such as Luke Pullen, Owen Mills, Jason Greatrex and Harry Storer to name a few, names that have popped up around the head of the pack on more than one occasion this year.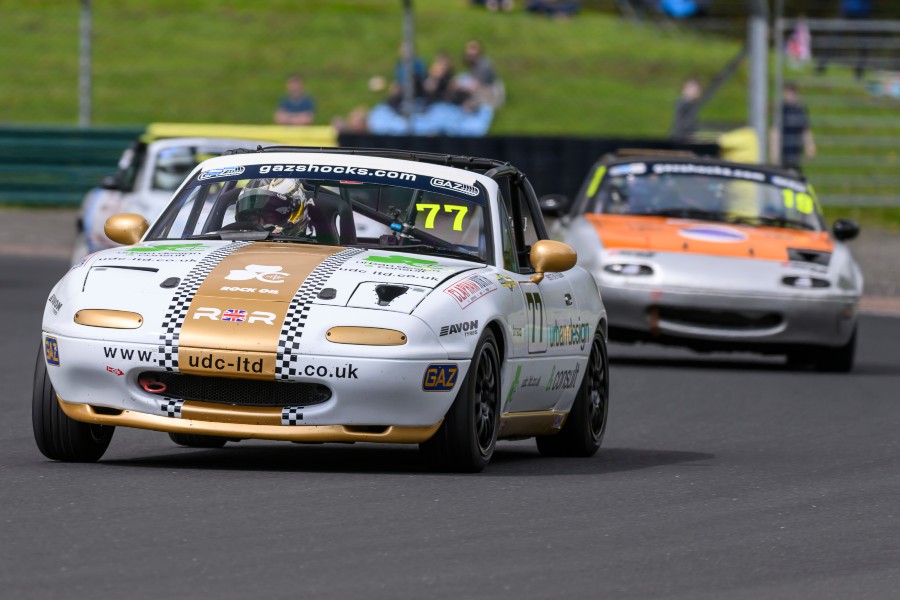 ---
DOWNFORCE RADIO MAZDA MX-5 CLUBMAN CHAMPIONSHIP
It's a special kind of weekend in store for the Downforce Radio Mazda MX-5 Clubman Championship, as their fourth meeting of the 2023 season is the only one taking place across two days. Given the location for this weekend's action is the beautiful Anglesey Circuit on the coast of North Wales, rather than just race on the one day, their timetable has been spread across both days in a bid to give the drivers a fuller experience from this weekend's racing. 
There's a very interesting and exciting battle forming at the head of the points standings for this year's MX-5 Clubman Championship, as after three weekends there's as many as five drivers who right now have a serious chance. Head of the pack at Matthew Fletcher, who is only the second driver so far in 2023 to have won more than one MX-5 Clubman race, as the rest have been spread out amongst his competition. One of those competitors won't be present this weekend, as Paul Bateman has been forced to withdraw for personal reasons, meaning that those immediately behind have a great chance to take up the mantle of chasing down Fletcher.
Two drivers in that chase in particular are Jon Pethick and Jordan Pimley, the former having not won a race yet in 2023 but scored well enough to currently sit in 3rd place, while Pimley took an incredible first career victory for himself and Close Racing at Brands Hatch. Both are certain to be on the pace again this weekend, as will be Del Paice, Jamie Turner, Kevin Bird and Nick Le Doyen.
Jack Warry is back this weekend and sure to be giving the leaders something to think about with his pace, as will certainly both the aforementioned Bird and teammate Rob Greensmith. The two teammates haven't quite had the ultimate pace to be front runners just yet this year, but that hasn't stopped them plugging away in trying to get back up there. Kevin in particular is 7th in the standings with a best of 10th and having scored better results in the past, that will be his incentive this weekend. Rob will also have additional support from his brother, former MX-5 and Porsche champion Jonny Greensmith also lining up this weekend.
Other names to watch for from the outset will certainly include Thomas Davis, Beau Parry, Jake Styles and Nick Le Doyen, all of which could pop up higher than expected and steal a strong points score or two from Wales.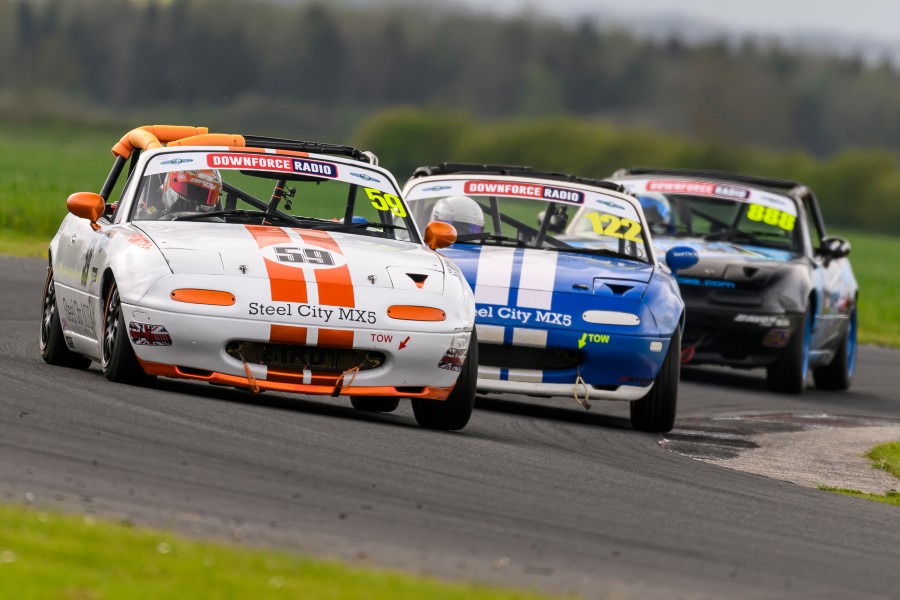 ---
CLAPHAM NORTH MOT MAZDA MX-5 SUPERCUP
You'd almost be forgiven for thinking that at this stage in the Clapham North MOT Mazda MX-5 SuperCup that Aidan Hills was already on the way to wrapping up the Pro class title, having won all but two of the first nine races run so far in 2023. As the championship heads to Anglesey this weekend to reach the hald way stage of the season, Aidan will again be aiming to further extend that gap, but knows as ever it won't be a simple task.
With a lead of just over 100 points, Hills has quite a gap to the rest of his competition already, but is well aware that one slip up could see him throw away scores to those behind him who will take every chance they can to catch him up. Patrick Fletcher is currently second in Pro Class behind his team boss and arrives in Wales of the back of his most competitive weekend yet at Croft last time out which included a race win, while Tom Griffiths is enjoying a great second SuperCup season to date with 3rd in Pro and edging closer to a possible first class and outright win. Another Hills Motorsport driver in James Cossins is in 4th ahead of defending champ Will Blackwell-Chambers, who has rarely been away from the top five but knows he faces an uphill climb to get closer to Hills being more than 150 points back already at this stage and hoping dropped scores favour him well once they kick in.
Ali Bray and Alex Stott will also be looking to pick up great scores from the weekend, as well as another former champion in James Blake-Baldwin, plus the Pro Class is certain to get a couple of interesting guest drivers on this grid this weekend with Paul Sheard jumping into one of his very own MX-5 SuperCup cars for a drive, and the same for Paddock Motorsport team boss Martin Plowman who has also elected to come out to play this weekend at Anglesey too.
Over in the Club Class, current points leader Kamal Kalsi is currently looking to build on his momentum after his second class win of the season came at Croft and currently sits atop the standings by 28 points. Christopher Ginn will be hoping to get close to him as will Bruce Robinson, while fourth placed Aimee Watts will be absent for this round which will allow Clive Powles to take full advantage and displace her as a result.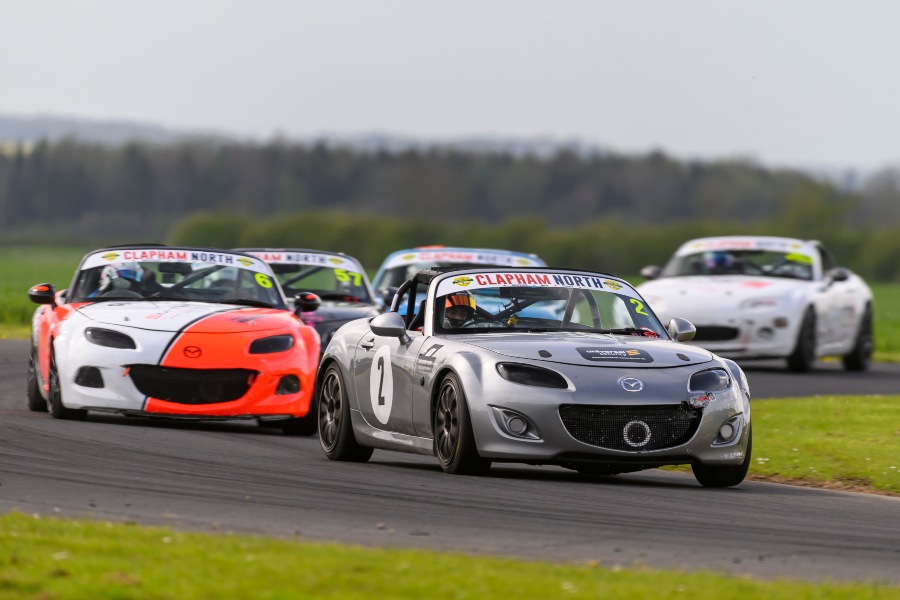 ---
NANKANG TYRE CITYCAR CUP & STUDENT MOTORSPORT CHALLENGE
If one thing is for certain in the 2023 Nankang Tyre CityCar Cup, it's that Elliot Lettis is increasingly looking likely as the favourite in this year's championship race. The results certainly speak for themselves, having only failed to win one of the first six races run in the opening two weekends of the season at Snetterton and Croft.
Next up on the schedule is a visit to Anglesey on the Welsh coast, where Elliot will want to keep this run of form going. He really has been the man to beat and the benchmark for everyone else to try and match. The only driver which has managed to knock Lettis off the top spot at all this season is Stuart Bliss, who only just beat him to victory in Snetterton's third race. Currently, Stuart is 24 points behind, a gap which would have been smaller had he not wound up ninth in Croft's 3rd race and will see anything less than a podium as unacceptable.
Richard Jepp has been performing incredibly so far as he sits a superb 3rd place in the Team Northbrook College car (more on them shortly) and has even picked up two outright podium at this early stage. He's now just four points ahead of Christopher Mackenzie in 4th and a further ten ahead of Bradley Porter in 5th and has every chance of remaining in the overall top three come the end of the season should be manage maintain this great form.
Nick Gough has looked impressive in his first CityCar races and is doing a grand job to be currently 6th in points ahead of Dominic Fletcher, and both are also leading some rather experience CityCar Cup names including Adam Reynolds, Craig Flynn, Richard Snuggs and Bob Bannister. Anglesey will be another great chance for them to make further steps forwards up the grid.
This weekend will also be a big occasion for the Student Motorsport Challenge, a special content nestled within the CityCar Cup for race teams formed by colleges, universities and other educational institutions and programs to compete against one another. Anglesey sees their biggest entry yet and the first to break double figures with ten teams lining up in Wales with Coleg Menai debuting at their home circuit and Boston College also ready for their inaugural outing too. At the head of their points table, Northbook Racing are running away with the contest at this early stage with six wins from six races, leading Barracksport by almost 50 points already with West Suffolk College just behind in third.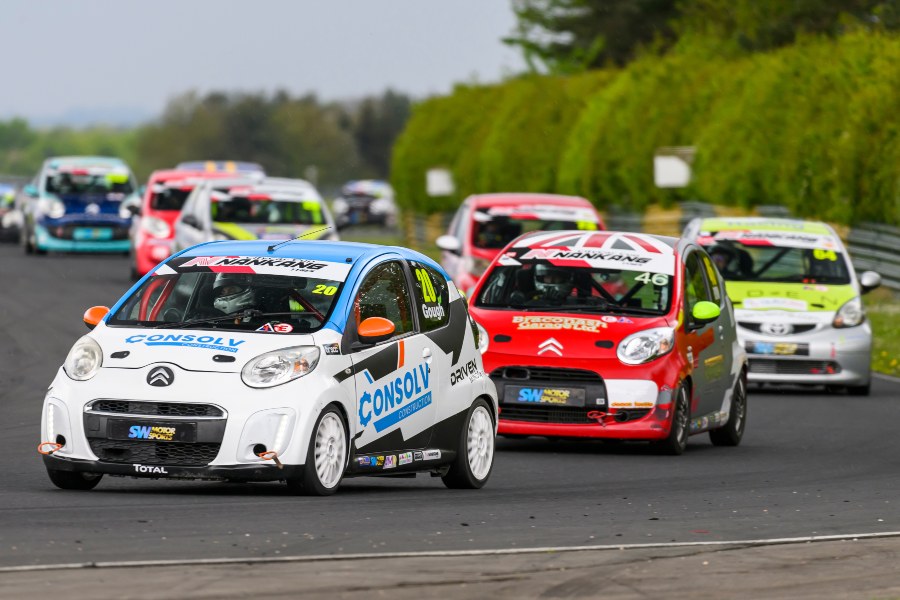 ---
SUPER CLASSIC PRE '99 FORMULA FORD CHAMPIONSHIP
Since the decision was taken to make the Super Classic Pre '99 Formula Ford Championship exclusively for Super Classic class car, the pay off has certainly been superb with healthy entries in both of the opening two weekends at Oulton Park and Mallory Park. This being a championship that has typically raced at North Western venues, it's no surprise that this weekend's next outing at Anglesey once again sports a well supported grid.
Even though he's proven himself to be the class of the Super Classic A field, current class leader Morgan Dempsey is not present for this weekend's races which means many of the fast contender currently behind him have a prime chance to pick up as many points as possible to demote him down the standings. Leading the charge will be Paul Mason, along with James Tucker, Richard Freye, Richard Higgins and defending class champion John Murphy, while Jonathan Barnes makes a welcome return to the grid for the first this year.
Super Classic B currently finds Andrew Schofield in the pound seats in the lead by almost 80 points after just two weekends, meaning Trevor Morgan will once again hope for good fortunes to stop him from running away once more this time. Robert Higgins and Juiceie Bruceie are also in attendance once again, whilst Anglesey sees the first appearance in the class this year for Garath Buckingham, Paul Morcom and Christopher Stones.
It looks likely that Scott Guthrie is going to further extend his Super Classic C points lead, but he's not alone in the class this weekend. Also making her season debut at Anglesey is Grace Parkington who will be looking forward to a clean and trouble free weekend at the wheel of her Crossle 25F.
However, it's Super Classic D that may just garner the most attention this weekend, for a very good and special reason. Back in 2020 at the Walter Hayes Trophy, Colin Turner suffered an awful accident which sadly led to both of his legs being amputated below the knee. Since then, he has been plotting a return to racing in an incredible recovery and this weekend at Anglesey Colin steps into a Merlyn Mk20A for his first race back since his accident. We are honoured and delighted to have him on the grid and will be keeping an eye on how he performs.
In the rest of the SCD field, current points leader Scott Rawlinson isn't present in Wales either which again invites those behind him to close up. Top of those drivers is Ian Fernihough who is currently second, along with John Roberts, Roger Arnold and Michael Wales, while Rachel Arnold also makes her Super Classic FF debut this weekend too.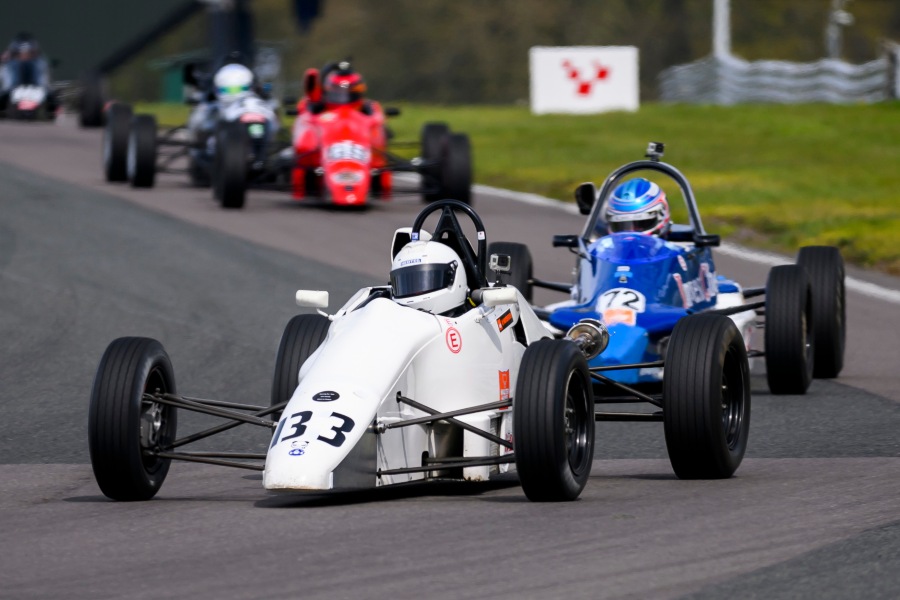 ---
MODIFIED FORD SERIES
It's been a little while since we've welcomed our awesome Modified Ford Series at a BRSCC race weekend, but that doesn't mean they haven't been busy. Since we last saw them, the series has visited the Brands Hatch GP circuit in a rare appearance, followed by a memorable trip to Europe when they competed on the legendary Spa-Francorchamps circuit in beautiful early summer sun. Continuing their summer adventure in a way, the Modified Fords are now reappearing with us at Anglesey this weekend.
One of the early favourites for victory will surely by Lloyd Jamieson in his Ford Escort Maxi Cosworth which has been a front runner in each of the meetings he's raced at so far and will surely be contending again as the lone Super A class car. There's also the two cars running in Class A with Ashley Shelswell's Sierra XR4i and Dave Matthias' Sierra Sapphire Cosworth set to be two of Lloyd's main competitors.
Class B+ features a few familiar names from this grid, including series owner Paul Nevill in his Escort RS2000, Kester Cook and David Guthrie in Fiesta ST150s, Piers Grange's Escort Mk2 and former BRSCC Fiesta champion Jamie White who is set to turn out in one of his self prepared Fiesta ST240 race cars. Class B also looks healthy with plenty of variety, featuring Paul Solbe's Focus Mk1, Chris Baker's Escort Mk3 RS1600i and more Fiesta ST150s driven by Mac McCarthy and Sam Shimwell.
Class C rounds out the entry, with Dave Barrett's Fiesta Zetec S, Jimmy Neophytou's Mk1 Fiesta, Kevan Hadfield's Puma, Mark Hadfield's Mk4 Fiesta and another Fiesta ST150 in the hands of Alex Boam lining up this time.
Scott Woodwiss