The Intelligent Money British GT Championship title battles ratchet up a notch this weekend at Donington Park where more maximum points are on offer during the series' second three-hour race in as many events.
30 cars, 29 of them full-season entries eligible to score points, are scheduled to take Sunday's start at a venue better known for its autumnal championship showdown. But while that remains a 120-minute affair, this mid-season visit places greater emphasis on strategy thanks to the three mandatory driver changes, no pitstop windows and a maximum 100 minutes of drive time per driver.
The fourth of this year's nine rounds also sees the return of in-race Success Penalties, which must be served at the final mandatory driver change, following the National Court's recent ruling on the outcome of Oulton Park's second race. And with previously provisional results now also finalised, a clearer picture has started to emerge in both drivers' championships.
GT3: 10 POINTS COVER THE EARLY TOP-FIVE
17 full-season GT3 entries are scheduled to rumble around Donington's GP circuit this weekend – the most for a British GT race there since 2014. And what's more, Pirelli's new, faster tyre might result in a lap record to rival the revered GT1 cars of old.
Indeed, Bernd Schneider's FIA GT benchmark from 1998 – set on a comparable layout – is just two seconds faster than Phil Keen's existing GT3 benchmark. The new-for-2022 P Zero DHF has already trimmed time from Oulton and Silverstone's fastest laps and, conditions-permitting, now also has a shot at troubling the iconic Mercedes CLK LM that adhered to far less restrictive regulations.
All 17 GT3 entries will, first and foremost however, be eyeing the 37.5 points available for victory on Sunday.
No single crew has marked itself out as a bona fide title favourite just yet. That's partly down to inconsistency – of the current top-eight only Michael Igoe and Phil Keen, and Nick Halstead and Jamie Stanley have scored in all three races – as well as the level of competition across the class this year.
10 points separate a top-five jointly headed by RAM Racing's Ian Loggie and Jules Gounon, and Balfe Motorsport's Shaun Balfe and Adam Carroll, neither of whom scored at Silverstone. Instead, they owe their early advantage to victories and second place finishes on the opening weekend at Oulton.
Some of those elements have also enjoyed recent success at Donington: RAM won there in 2020 before Loggie clinched pole for last year's mid-season race, while Balfe was victorious on his previous appearance – albeit behind the wheel of a McLaren – in 2019.
By contrast, Adam Balon and Sandy Mitchell scored just two points in Cheshire before bouncing back with a hard-fought win at the Silverstone 500 last time out. That leaves Barwell's Lamborghini 3.5 points behind the Mercedes-AMG and Audi but also with a 20-second Success Penalty in store on Sunday afternoon. As such, a solid points haul would be considered a decent outcome.
Next up it's the enigmatic WPI, Igoe and Keen, a combination rightly considered amongst this year's title favourites but also one without a standout result so far in 2022. Instead, the team has persevered with a misbehaving car, kept out of trouble and bagged points in every race to leave themselves just five points off top spot. That approach allied to one big result – potentially at a track where the same pairing claimed pole last year – would put WPI firmly in championship contention.
The best of the Silver-Am crews completes a top-five covered by 10 points. Alex Malykhin and James Dorlin flattered to deceive at Oulton but came to the fore at Silverstone where Redline's Lamborghini started second and scored runners-up points despite serving a drive-through. They, like Balon/Mitchell, must now overcome a Success Penalty in order to score big again on Sunday.
Assetto's Bentley, which occupies sixth in the standings, completes the Success Penalty list after Mark Sansom and Will Tregurtha collected third place points last time out.
Two entries that have demonstrated plenty of pace but have little to show for it so far this year also won their first British GT races at Donington last season. Morgan Tillbrook and Marcus Clutton's victory aboard Enduro's McLaren was overshadowed somewhat by the GT3 title battle raging behind them in October, while Richard and Sam Neary came from the tail of the field to collect theirs and Abba's maiden win 10 months ago.
Elsewhere, Rob Bell – who shared the winning McLaren with Balfe in 2019 – deputises for the unavailable Jamie Stanley in Fox Motorsport's 720S, and recent Fanatec GT World Challenge Europe Powered by AWS race winner Ulysse De Pauw joins John Ferguson in RAM's second Mercedes-AMG.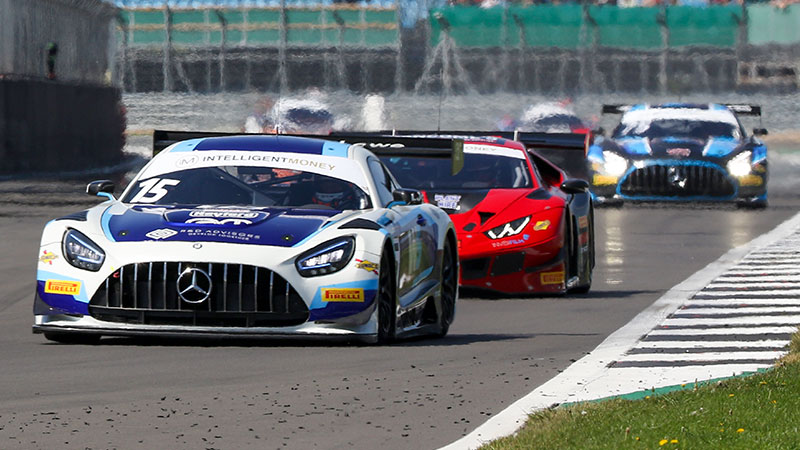 ---
GT4: STELLER START GIVES WILLIAMS AND FIELDING EARLY EDGE
RAM's successful appeal also had a knock-on effect in the GT4 class where Steller's Richard Williams and Sennan Fielding have been reinstated as Oulton's race two winners.
That meant the Audi won both hour-long sprints on the opening weekend before the application of Success Penalties post-race dropped the same combination to third at Silverstone. Nevertheless, that's still sufficient for Williams and Fielding to lead the early drivers' standings by seven points from Matt Topham and Darren Turner whose victory last time out sees their Newbridge Aston Martin serve the maximum 20 seconds this Sunday.
How those two crews manage their respective handicaps – the Audi also has additional Silver class time on top of its 10-second Success Penalty – could play a big part in the outcome.
But they're not the only two contenders this weekend. In fact, there are plenty more capable of winning at Donington, starting with reigning champions Will Burns and Century who prevailed there last season.
They, like Steller, have an additional 14 seconds at every stop compared with the Pro-Am cars. But, crucially, the BMW that also features Jack Brown and which lies fourth in the standings will not serve a Success Penalty during its final driver change.
Ross Wylie – who occupies third overall – and his Valluga co-driver Matthew Graham don't have the same luxury: 15 seconds awaits their Porsche at the third pitstop.
Instead, expect the likes of R Racing's Aston Martin to feature at the sharp end after Jamie Day and Josh Miller struggled to build on their early Oulton momentum at Silverstone. That's probably to be expected from the 16-year-olds who would still become the youngest winning crew in British GT history if they were to triumph on Sunday.
Academy's Mustang has a habit of being there or thereabouts, and especially so at Donington where Matt Cowley won last year to finish as the GT4 drivers' championship runner-up despite making a steady start to the campaign. That's also why he and Marco Signoretti shouldn't be discounted despite heading into this weekend's race 40.5 points behind Williams and Fielding.
Elsewhere, the entry's youngest driver, Seb Hopkins, and Jamie Orton have been effective if unspectacular so far. But they have scored in each of the three races and might have been on the podium first time out were it not for a penalty. Team Parker's new Porsche Cayman is certainly capable, as proven by Valluga's more experienced driver pairing, so it should only be a matter of time before #65 also features on the podium.
The same goes for Toyota Gazoo Racing UK's Supra which remains short on luck. A puncture prevented new signing Jordan Collard from showing what he could do alongside Tom Edgar at Silverstone.


---
MODIFIED FORD SERIES – BLUE OVALS SUPPORT BRITISH GT THIS WEEKEND
On the support timetable for this weekend's British GT Championship meeting is a very fitting series that will surely entertain the spectators trackside in bucket loads. The magnificent Modified Ford Series, conceived and run by Paul Nevill, brings a fantastic array of Ford models onto this weekend's grid for their next installment of their 2022 season.
The Modified Ford Series welcomes a wide variety of models that have been present from the early 2010s and before with the entry this weekend populated by many generations of Escort, Fiesta, Sierras, Focuses, Capris, Pumas and more. Key cars to watch out for in the entry will be Dave Cockell's mind-bendingly fast Escort Cosworth (one of no fewer than four in the entry), Simon Light's 5.0 litre V8 engined Capri, the fast Mk1 Escort "RSR"s of Tim Foxlow and Jack Gadd, plus other unique machines like Steve Goldsmith's potent little Anglia and the wonderful Focus Estate driven by AJ Howe. With more than 30 cars in the line-up, this will make for a wonderful spectacle on the Grand Prix circuit!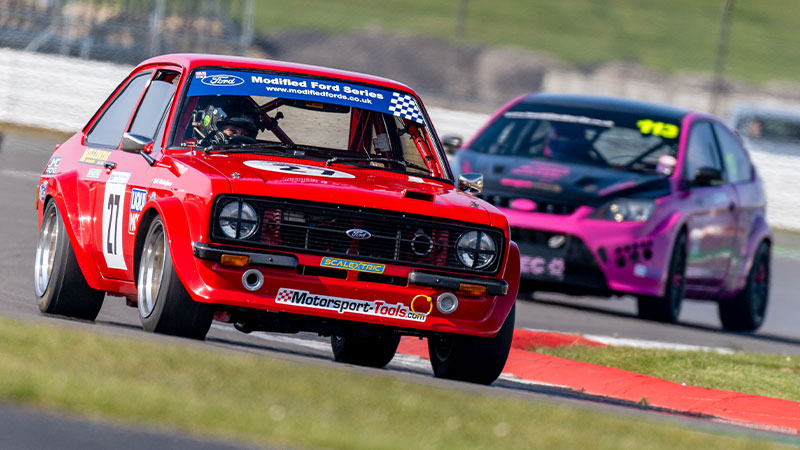 ---