A venue known to put on plenty of one-day spectaculars, the BRSCC makes its second visit to Oulton Park in Cheshire this season, with a day full of sprint racing mostly themed around Ford, with extra hot hatch and historic single-seater racing thrown in for good measure. This should be another excellent Summer's day of racing in store!
---
AIRTEC MOTORSPORT FIESTA CHAMPIONSHIP – JUNIOR CHAMP BRICKLEY LEADS AS QUEST FOR SENIOR TITLE CONTINUES
He may not have won a race so far this year, but Jenson Brickley's consistency since the start of the AIRTEC Motorsport Fiesta Championship season has been rock solid. Apart from a hiccup in Croft's second race, his results have seen him pick up three 2nd places and a 3rd, plus two fastest laps and a pole position. That coupled with some of the misfortune of others has helped him rise to the top of the points table with a current lead of 16 points over former champion Alastair Kellett. The Irishman has so far claimed two wins and a 2nd place himself, but misfortune in two of the five races has seen him drop points at both Brands Hatch and Croft. Of course this is on overall scores right now with dropped rounds still to come into play later, but a strong start to his day at Oulton is needed to set the tone.
The other race winners of the year have been Simon Horrobin and David Nye, two stalwarts of the Fiesta scene in recent years. Given that there's been three different winners from the five race so far is proving that this season's Fiesta grid is one of the most competitive in recent years. The mix of young guns and established challengers is providing some exceptional racing amongst the ST240 and ST150 classes and that promises to continue here. William Kellett makes his first appearance of the season sporting a brand new Kellett Motorsport prepared ST240 for the first time, as does last year's top ST150 man Ethan Rogers who gets a debut run out in the top class too. Over in the ST150s so far, Nick Moore is still the man to catch having turned around a rough start to Croft into two class wins, and now he has to fend off Thomas Davis who is just two points behind heading to Cheshire.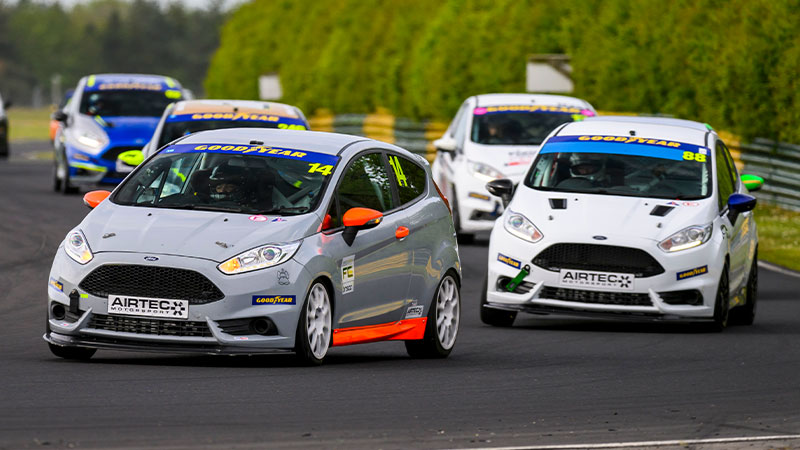 ---
BRSCC FIESTA JUNIOR CHAMPIONSHIP – SMITH LOOKING TO FORGE AHEAD IN POINTS BATTLE
The young future racing stars of the BRSCC Fiesta Junior Championship have had quite the season so far in 2022, with both Sid Smith and Thomas Jack Lee taking wins so far this year. Right now the tally is 3:1 in Smith's favour, with a strong weekend last time out in Croft certainly helping matters along the way with a pair of wins. He currently has a 37 point lead over Jake Maynard, who isn't present on this grid this weekend at the time of writing, so his nearest challenger in terms of the points table will be fellow JamSport driver Luke Hilton. Luke was mega impressive at Croft, especially in the second race where he battled with Albert Webster as part of the leading trio, and managed to get one over the Race Car Consultants driver to take an excellent 2nd place, his best result of his burgeoning junior racing career thus far.
Other regulars who are back to try and score more solid points finishes include Brands Hatch winner Lee, Archie Handy, Daniel Lewis and James Pope, plus 2022 rookies Lexie Belk, Ben Mulryan and JamSport Scholarship winner Lucas Hayden. Also, Jasmine Shaw makes a welcome return to the grid after she missed Croft due to prior commitments. The brand new Mk7 Fiesta Junior race car is also continuing its development, with 20Ten Racing's Harry England ready for another day's racing in the new spec machine.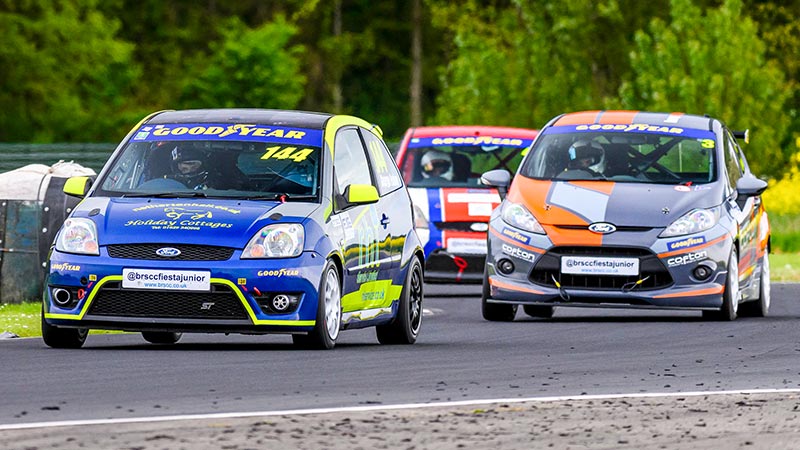 ---
MODIFIED FORD SERIES – BRILLIANT BLUE OVALS READY TO ROCK CHESHIRE
Off the back of their award-winning 2021 season, the Modified Ford Series has truly gone from strength to strength throughout 2022 so far. After a bumper grid to Silverstone, a trip across the Scottish border to Knockhill and a spot on the British GT support timetable at Donington Park most recently, the series now moves to Oulton Park this Saturday with another firmly supported grid almost reaching 30 cars deep.
There are plenty of regulars on the grid here again representing several different models of fast Fords as per usual, including a pair of the ever-popular Escort Cosworths in the hands of Scott Matthias and Dave Cockell, the latter certainly tipped as a constant favourite for race wins given it's mind-blowing horsepower numbers. There's also a good number of Escort Mk1s and Mk2s in the lineup with notable entries including the Mk1 RSRs driven by Daz Owen, Jack Gadd and Richard Rudd and excellent Mk2 examples in the hands of series founder Paul Nevill, Piers Grange and more. Plus, watch out for Ashley Shelswell's Sierra XR4i, AJ Owen's crazy unique Focus estate, a host of Fiesta ST150s and others that will certainly put on a great show this Saturday.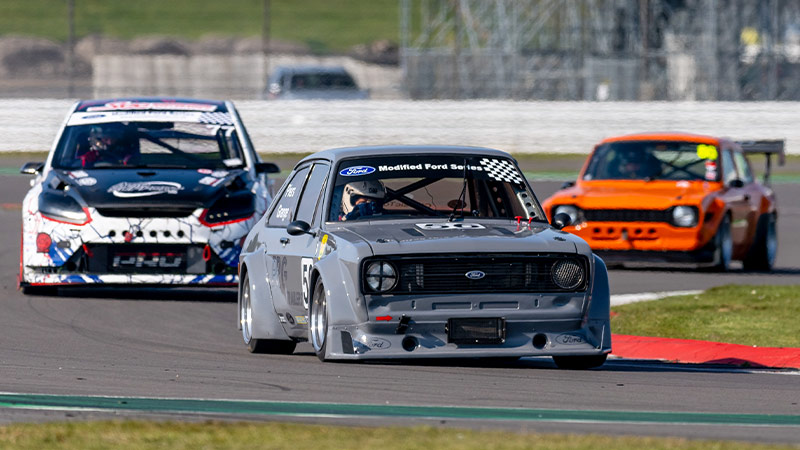 ---
BRSCC CLUBSPORT TROPHY – ANOTHER BUMPER GRID READY FOR ANOTHER 45 MINUTES OF ACTION
Back at the Silverstone GP circuit last month, the BRSCC ClubSport Trophy made series history by running its largest ever grid of 59 cars in what was a fabulous spectacle with a wide variety of machines on track together. Now we move onto the next round of the 2022 ClubSport season and a circuit it's never raced at before. This will be the first ever visit to Oulton Park and as per usual, this round has been very well supported with a grid that's almost bursting at capacity for the 45-minute pit-stop race.
Class A should be a good battle between the BMW M3 of Matthew Bolton against Chris Coomer's SEAT Leon TCR, Paul Hinson's powerful BMW Compact, Alistair Lindsay's SEAT Leon, David Shead's equally potent M3-engined BMW Compact and the much loved Nissan 370Z of David May. Meanwhile Class B includes former Fiesta Junior racer Alex Tait in his Fiesta ST180, Liam Crilly's race winning BMW Z4, a pair of Mazda MX-5 Mk4s driven by Ben Taylor and Paul Roddison and Ashley Parson's Toyota Celica to name a few.
Class C looks set to be another battle of BMW Compacts, MINIs and Phiroze Bilimoria's VW Scirocco he'll be sharing with Warren Tattersall, while Kate Morris' Renault Clio and Daniel Silvester's Toyota MR2 will go head to head for Class D honours. As for Class E, more BMWs, Mazda 2s and a Ford Puma are the cars to watch here.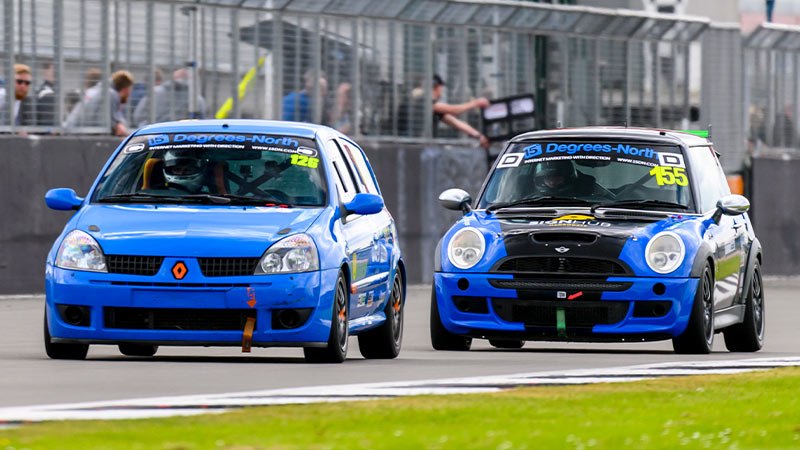 ---
TRACK ATTACK RACE CLUB – JAPAN, FRANCE AND GERMANY BACK ON TRACK TOGETHER IN SPLIT GRIDS
The Track Attack Race Club is another series that always produces an excellent variety of cars on the grid and this Saturday is no exception with three races in store. The Tricolore Trophy, Nippon Challenge and Deutsche Marques will all get two races each, competing against each sub-category once over the course of the day.
In the Tricolore Trophy, this category features the bulk of the entry list, mainly populated by the ever growing number of cars contesting the Peugeot 206 GTi Production Cup. No less than 11 will be on the grid here, including regular drivers Craig Walker, Paul Rice, Stewart Cheesman, Lee Bull and Kevin Houghton. They're joined by the usual phalanx of Renault Clios of all specs, shapes and sizes, John Allen's Peugeot 106 and David Clark's incredible rapid little Renault 5 GT Turbo.
Over in the Deutsche Marques, regular Renault racer Tony Hunter makes a switch to his brand new SEAT Leon in one of the three cars racing as part of the Classic VW Cup, alongside Donald Dewar's VW Golf Mk1 and Castle Combe regular Alex Kite in a VW Vento. Other cars in the Deutsche ranks including MINIs, more VWs, BMWs, Audi TTs and an Opel Astra VXR too. As for the Nippon Challenge, four Honda Civics will face off against four Mazda MX-5s, including two Mk4s in the hands of Ben Taylor and Paul Roddison.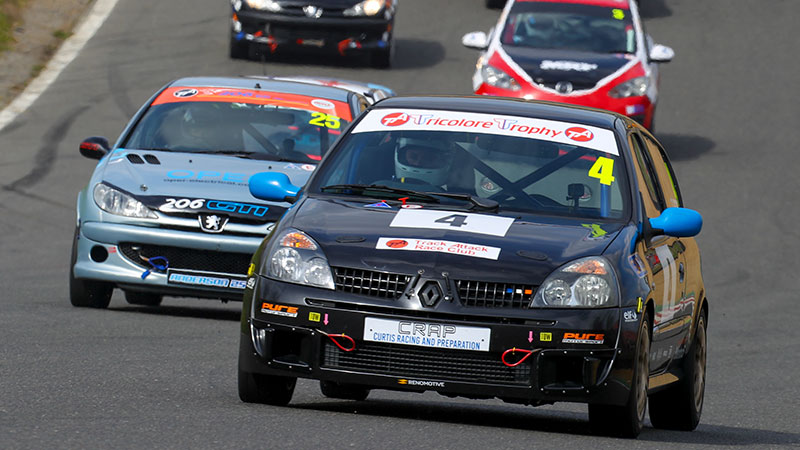 ---
500 OWNERS ASSOCIATION LEWIS EVANS TROPHY RACE – Written by Xavier Kingsland
The 500 Owners Association joins the BRSCC's Oulton Park timetable this Saturday too, with the Lewis Evans Trophy up for grabs to the winner of this weekend's race. The cars competing are historic Formula 3 chassis that competed several decades ago and are still prepared and raced throughout the year to this day.
The 15-minute race is likely to see the current overall Championship leader Alex Wilson in his #99 Cooper MK10, fighting for the lead closely followed by Stuart Wright in his #16 Cooper MK 11.
The cars competing are all over 65 years old and the oldest car on the grid is the 72 years old #64 Cooper MK V driving by Richard Kelly.
An interesting car to watch out for is the #33 Waye driven by Jonathan Morris. It's a one-off Australian built car which illustrates the fact that 500's were built all over the World during the 1950's.
Oulton is the fifth round of the circuit Championship with three more UK races to come at Silverstone on July 16th, Mallory Park on August 21st, and finishing the season at Castle Combe on September 24th
The 500's have been racing at Oulton since the first meeting on 8th August 1953, when 36, 500's competed in two 10 lap heats and a 17-lap final where Les Leston driving the Leston Special took the overall win. Back then the circuit was only 1.5 miles long. 
Scott Woodwiss