FIESTAS, SUPERSPORT ENDURANCE AND ZEO PROTOTYPES BRING EXCITING SUPPORT TO C1 24H AT SILVERSTONE
CATEGORIES:
While the main event of this coming weekend at Silverstone involves a large group of Citroen C1s rumbling around the Silverstone GP circuit for 24 hours, there's also set to be a superb line-up of championships and series competing on the support timetable prior to the start of the 24H on Saturday. There's a great mix of tin-tops, sports prototypes and even another endurance race to enjoy, each sporting some very healthy and competitive grids.
---
AIRTEC MOTORSPORT FIESTA ST240 CHAMPIONSHIP
The full Silverstone GP circuit is the next stop on the calendar for this year's AIRTEC Motorsport Fiesta ST240 Championship, the first season that the newer ST240 machines have raced on their own as a single class. The opening three races at Snetterton were incredibly entertaining and thrilling, and now moving on to Silverstone, the championship has a rare opportunity to contest the full Grand Prix layout.
Leaving Norfolk, Alastair Kellett found himself on top of the points standings overall and in Pro Class after picking up a 3rd, 2nd and a win to go 13 points clear ahead of double Snetterton winner Zachary Lucas, whose pace all weekend looked ominous but wasn't able to complete the hat-trick. Both are certain to be at the sharp end of the pack from the outset and will certainly be contending for race wins and have to be favourites heading to this weekend's double header.
Just behind in points is the first of the Fiesta Junior graduates racing this year, with Albert Webster sitting 3rd after scoring a trio of top five finishes to end the weekend as one of the most consistent drivers in the field. After he missed out on taking a race win in his FJC days, that initial top step visit must surely be a case of when, not if, it happens. Perhaps Silverstone will be another chance for him to clinch that first career victory.
Simon Horrobin was strong all the way through Snetterton, but a tough result in the third race left him 4th in the standings, while a surprise podium for Gary Miller in the same encounter helped him rise to 5th in points with the aim of repeating that feat. 
Next in the standings come three drivers that will surely be race winners at some stage in their ST240 careers – Joseph Knight, Olly Turner and Matt Luff. Knight and Turner are two more graduates from FJC, while Luff is using all his experience winning races and titles in Honda Civics to adapt to the Fiesta as quickly as possible. All three must be hungry for at least a podium this weekend.
Also, Morgan Kidd will be hoping to extend her slender two points advantage as the Club class leader over Connor Blackburn, while Caitlin May, Marco Ricci, Matt Chambers and co will certainly be looking to claw points back with ground to make up from the opening weekend. One notable guest driver on the entry list this weekend is Irish saloon car hot shot Ulick Burke, who swaps out his more familiar 500bhp Honda Integra for an ST240 and will be ready to test his skills against the best on the grid.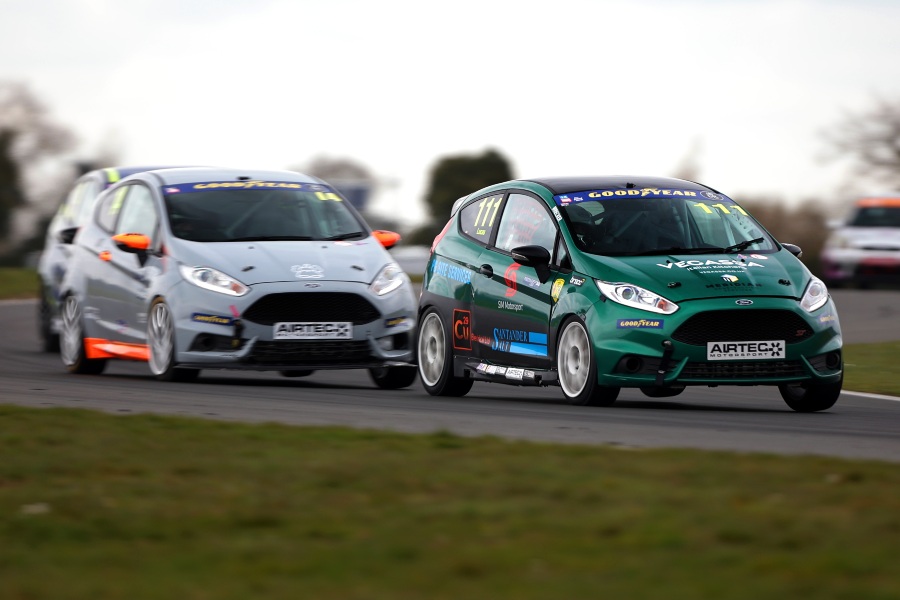 ---
VINYL DETAIL FIESTA ST150 CHALLENGE
The first races of a new era for the newly rebranded and reformatted Vinyl Detail Fiesta ST150 Challenge were completed successfully at Snetterton a few weeks ago, and now with the opening salvos out of the way the championship now progresses to Silverstone this weekend for its second weekend of racing in 2023. This is a pretty special one in itself as it marks the ST150 Challenge's first ever run on the full Grand Prix circuit and with an excellent entry of 21 cars making the trip, it should make for some pretty busy battles out on track.
Early championship leader Matt Pimlott has an eight point advantage to maintain at the head of the table after taking 3rd, then 2nd and then victory in the third race of the Snetterton weekend. His pace on the new Nankang tyres appeared to get stronger and stronger as the meeting progressed and he'll look to continue that here at Silverstone, a circuit that boasts a similar nature to that of the opening rounds.
Sitting in second place right now is Thomas Ikin, the former single seater racer adapting to his first outing in a tin-top incredibly quickly and even picking up two podiums for his troubles. His immediate pace shows that he's got what it takes to go for a race win, so expect him to be challenging from the outset. Currently third is Mark Blunt, but his absence from the entry list this weekend (at the time of writing) means he'll be under threat from those behind in the standings.
Ethan Rogers, former ST150 class champion in what was the Fiesta Championship, looks likely to be one of those drivers to take over 3rd having shown great pace from the outset and taken two of the three victories on offer at Snetterton. A DNF in the third race dented his points tally, something he'll be working to put right this time. Currently completing the top five is current defending champion Michael Blackburn, who wasn't quite on the same pace to match the outright leaders, but still did enough to pick up a pair of top five finishes.
Other drivers such as Sam Beckett and Samuel Watkins are established front runners, but a DNF for Beckett and a disqualification for Watkins meant they're currently languishing in 12th and 15th respectively. Given how quick they are, we're sure they won't be that far down the table for long. 
This weekend, the grid is joined by five drivers make their season debuts. There's experienced racers such as Jason Hennefer and Ron Loffstadt, along with Lee Bowron who makes a welcome return as a guest driver this weekend. There's also the Fiesta return of Sam Watkins' brother Joshua, while Gino Manley is the latest driver to take up Tensport Performance's hire car to join the grid.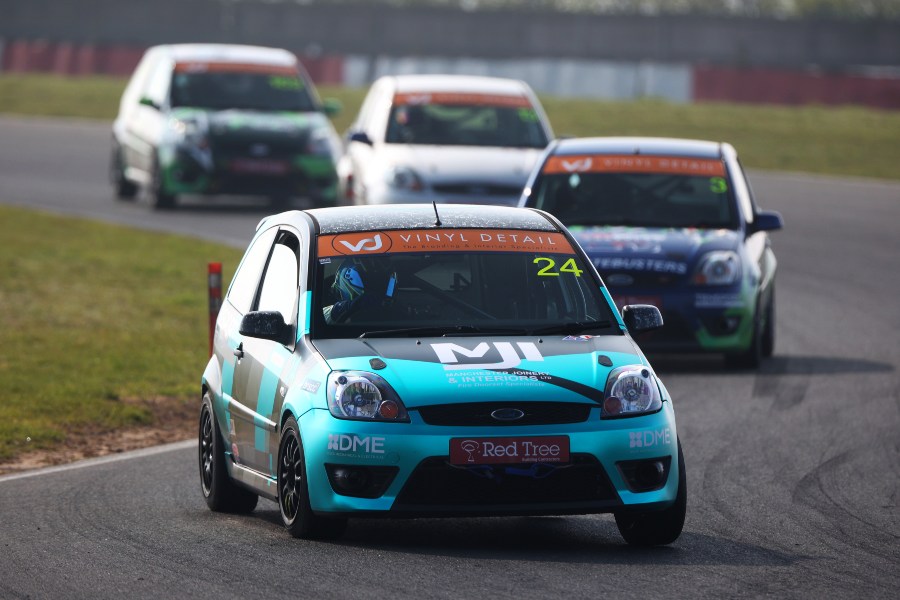 ---
BRSCC SUPERSPORT ENDURANCE CUP
The BRSCC's new SuperSport Endurance Cup gets ready to move on to its second weekend of competition as a brand new full-season championship, by visiting the Home of British Motorsport this weekend. Silverstone's full Grand Prix circuit is the venue and after a healthy start to proceedings at Snetterton, this weekend's entry superbly exceeds 40 cars.
There's five rather different cars lining up in the top class of Pro-A this weekend, with Snetterton winners Bart Horsten and Keir McConomy hoping that this time they can take victory on the road instead of inheriting it via a time penalty. Their BMW 1 Series will be on of the favourites to succeed, set to line up against Ricky Coomber's Honda Civic and Dave Griffin's BMW E90 M3. 
Alongside this trio are two very interesting machines – the thumping V8 powered Chevrolet Corvette C5 of Chris Tilly and Ben Sharich, and the lightweight Lotus 2-Eleven to be driven by Craig Denman. Two more different ethos of sportscars you couldn't wish to find with American muscle lined up against British lightweight engineering. This could be a rather intriguing class to watch.
The Pro-B class is the home of BMW M3s with no less than five on the entry list this weekend. Many are back from Snetterton including Julian McBride, Paul and Luke Browes, William and Frederick Lynch and Andy and Chris Etheridge, along with the "Compact M3" entered by Martin Gadsby and Ian Jones. 
They're joined by Leon Bidgway's Lotus Exige, Jamie Hayes and Alex Read in their SEAT Leon SuperCopa and Simon Mauger in his ex-British GT Vauxhall VX220. Simon ran strong at Snetterton until mechanical woes forced him out, but this car should have plenty of pace to run near the front.
Pro-C also looks like it'll be a busy affair and victory is likely to come from one of the trio of Lotuses in the line up. The Elises of Snetterton class winner Matthias Radestock, Michael Edwards and Bailey Edwards are due to square up against two MINIs including the Clubman of Keith Issatt and Christopher Williams, a SEAT Leon, a BMW Z4 and Stuart Mead and Tim Hartland in their tuned VW Scirocco.
The first of the Clubman classes, Clubman-A, features the largest entry of all with nine cars set to race on Saturday. Here you'll mainly find the class populated by Renaults, with three Clios and a Megane all present along with another SEAT Leon driven by Alistair Lindsay, James Alford's VW Golf, Barry McMahon in his Alfa Romoe Guilietta and Paul Hinson in his BMW Comapct, looking to make it two wins out of two.
Next is Clubman-B which is mainly dominated by Mazda MX-5s, with Scott Ferguson and Niel Luke in their Mk1 alongside Bruce Robinson and Richard Amos in their Mk3, plus an entry from renowned squad Rob Boston Racing driven by Michael Sanford, Lewis Noon and Sam Reuter. The Renault Clio of Matt Adams and Stephen Harrison, and the BMW of Jonathan Hayes and Paul Subbiani are also joining in too.
Finally, Clubman-C is almost certain to see a BMW take the spoils with three E36 Compacts and two Z4s populating the entry, headed by Snetterton winners Adam Read and David Drinkwater along with runners up Philip and Matt Adcock. Pete Smith may be the one to spoil the party, however, as he will be looking to cause an upset aboard his Mk1 MX-5.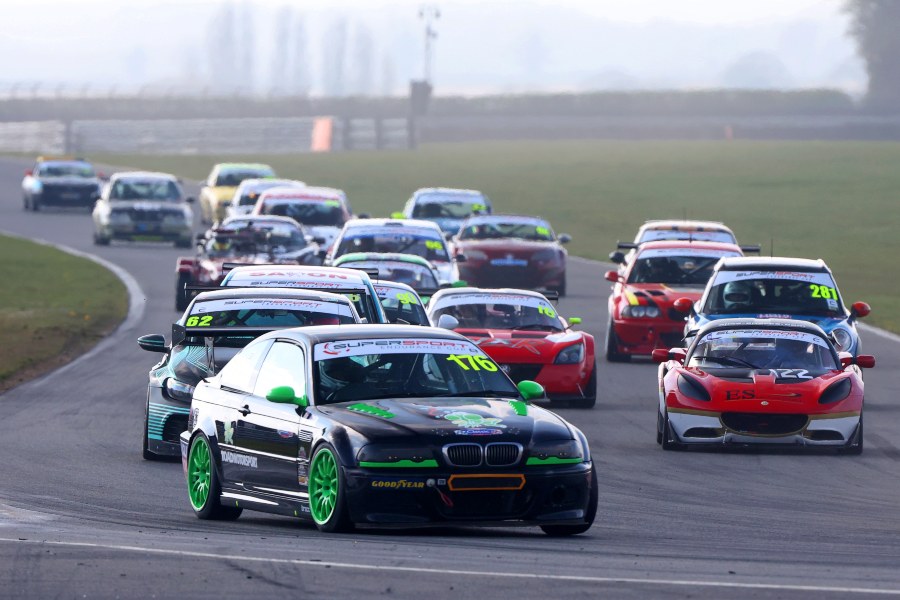 ---
ZEO PROTOTYPE SERIES
Now ready to begin their third season with the BRSCC and ready to sport an entry for the opening round at Silverstone on the GP circuit, the fast and furious ZEO Prototype Series provides a home for a vast variety and array of sports prototype race cars. Making their first appearance of 2023, there's a healthy entry of some 25 cars featuring a fantastic mix of machines and marques.
Three cars that are sure to be running towards the front of the pack are the trio of Pragas in the line-up. These superb closed-top prototypes will be familiar to many who follow other series that accommodate cars like these, and this trio is certainly going to hope to be in the mix at the head of the field. One car is set to be shared by Shane Kelly and former W Series and TCR UK ace Jessica Hawkins run by the University of Wolverhampton, while Idola Motorsport bring to cars to be driven by Ruben Stanislaus who won a race on this circuit just a couple of months ago, and Rodolfo Gonzalez who brings vast single seater, Le Mans and IndyCar experience.
It wouldn't be a sports prototype grid without Radicals appearing in the entry list and here this weekend for ZEO, it's no exception. There will be no less than seven Radicals on the grid for this season opener, two of which set to be the newer SR3 RSX chassis to be driven by Andrew Hurst and Charles Graham. There's also an SR10 courtesy of Alastair Smart, along with a pair of SR3 RSs from Dominic Langdon-Down and Mark Grason, an SR4 for Chris Child and a PR6 driven by Ian Charles.
ZEO also prides itself on welcoming and featuring more unique and lesser-produced marques and models on the grid and there's a few here for Silverstone too. Mike Jenvey is always a threat in his self-developed Jenvey-Gunn, along with Richard and Matt Chamberlain and their home-built CTR 01 chassis. Clive Hayes brings a works supported MCR to play, Graham Charman is raring to go in his Juno, Geoff Page enters his highly powerful Zeus Challenger and Max Windheuser also throws in a Norma M20FC into the mix to really add to the variety of flavour.
Plus as part of their tie-up with the Sports Prototype Cup, there will be a selection of Revolution sports prototypes also on the grid, after they successfully joined in the fun last year at Donington Park. They will certainly provide a competitive element amongst the rest of the entry.
The long Silverstone GP straight and flowing corners mean these cars will be setting some of the fastest lap times of the weekend and with two 30-minute races, they're certainly going to be a magnificent sight and sound on track!
Scott Woodwiss