SUN, SEA AND SUPERCARS! BRITISH GT REVS UP FOR FIRST-EVER TRIP TO PORTUGAL
CATEGORIES:
Written by Tom Hornsby – Just three more races remain in this year's Intelligent Money British GT Championship campaign, which continues with a three-hour strategy-led enduro in the Algarve this weekend.
Not since 2013 has the series' annual away taken place anywhere other than Spa-Francorchamps. And while the Belgian rollercoaster is set to return next season, British GT's first-ever event in Portugal could make or break the chances of several title hopefuls.
Incredibly, given how often championships are only decided on the final weekend at Donington, Optimum's Jack Brown and Charles Clark have a mathematical chance to win GT4's overall and Silver class titles in Portimao after a phenomenally quick and consistent campaign.
GT3, meanwhile, is far closer, and also features Pitstop Compensation Time permutations that could play into the hands of current outsiders as the season approaches its home straight.
Remember: any extra time must be served at the last of Sunday's three mandatory driver changes, maximum drive time cannot exceed 100 minutes, and there are no pit windows to consider. Oh, and the race as well as qualifying and warm-up are live on SRO's GT World YouTube channel this Saturday and Sunday.
---
GT3: COMPENSATION TIME PLAYS INTO CENTURY'S HANDS
The conclusion of Snetterton's second race just over a month ago ranks as one of the finest in British GT's 32 seasons. But John Ferguson's steadfast defence against fellow title protagonists James Cottingham and Ian Loggie could also, ultimately, have repercussions for this year's championship battle.
Ferguson and Raffaele Marciello's first win of 2023 has given RAM's championship ambitions fresh impetus. Yes, their Mercedes-AMG now incurs the maximum 20 seconds of Compensation Time, but it also heads to Portugal 30 points behind leaders Cottingham and Jonny Adam. That remains a sizeable deficit but not an insurmountable one with 112.5 still up for grabs over the final third.
2 Seas' championship leaders also have an extra 15 seconds at their final pitstop after finishing right behind the Mercedes-AMG in Norfolk where Adam came within 0.042s of equalling Phil Keen's overall and GT3 class wins record.
Loggie, meanwhile, completed a top-three covered by four tenths. He now sits 12.5 points behind his team-mates but must do without the IMSA-bound Jules Gounon and race with a 10-second pitstop handicap. Fortunately, the reigning champion can count on Keen who makes his first British GT appearance since the same weekend last year. It's also the first time that he and Adam will have shared a garage over the course of their more than decade-long British GT rivalry.
So, all three championship-chasing Mercs must serve Compensation Time on Sunday, which leaves Century's BMW as the primary beneficiary amongst this year's main title contenders. And what a chance Darren Leung and Dan Harper have to put some distance between themselves and the chasing pack. They start just 5.5 points behind Cottingham/Adam and have the added confidence of winning the last three-hour race – the Silverstone 500 – to fall back on.
What's more, the projected swings and roundabouts of Compensation Time could see them head to Donington Decider right at the sharp end but without the handicap of extra seconds…
That, of course, is all ifs, buts and maybes for now. And there are others who could yet play themselves into contention.
Beechdean AMR were a big part of the conversation before Snetterton but have dropped back to sixth after failing to score a point in either race there. The second, in which a pitstop penalty cost the Aston Martin a likely win, was a particular blow to Andrew Howard and Ross Gunn whose IMSA commitments, just like Gounon's, prevent him from racing in Portugal. Beechdean has an ace up its sleeve, though, in the shape of fellow factory driver Nicki Thiim. A Vantage victory allied to off days for the other likely suspects would thrust Howard firmly back into contention.
The same goes for Barwell's Shaun Balfe and Sandy Mitchell whose Snetterton victory leaves them within a win of top spot. The Lamborghini wasn't the fastest car at a strategy-focused Silverstone but found a way to the podium with the help of Barwell's brain's trust. Few would be surprised to see a repeat in the Algarve.
GT3's Silver-Am class also remains close despite Sky Tempesta Racing's double win at Snetterton. Kevin Tse and Chris Froggatt were unstoppable en route to the 50-point maximum, which has helped extend their advantage to 24.5 over Mark Sansom and Will Tregurtha (Barwell). Iain Campbell and James Kell (RACE LAB) are one point further back.
Another car, albeit one not eligible for points, joins the class this weekend courtesy of 7TSIX. The team raced a McLaren throughout 2022 but has swapped to a Mercedes-AMG GT3 Evo for their one-off outing with Tim Creswick and Jamie Caroline.
And there's also a change at Enduro, which has swapped its long-serving McLaren for an Aston Martin. Matt Topham, who won both of his GT4 Pro-Am titles in a Vantage, continues alongside Marcus Clutton.
Elsewhere, Portuguese fans will have a home favourite to cheer for in the shape of Miguel Ramos who joins Garage 59.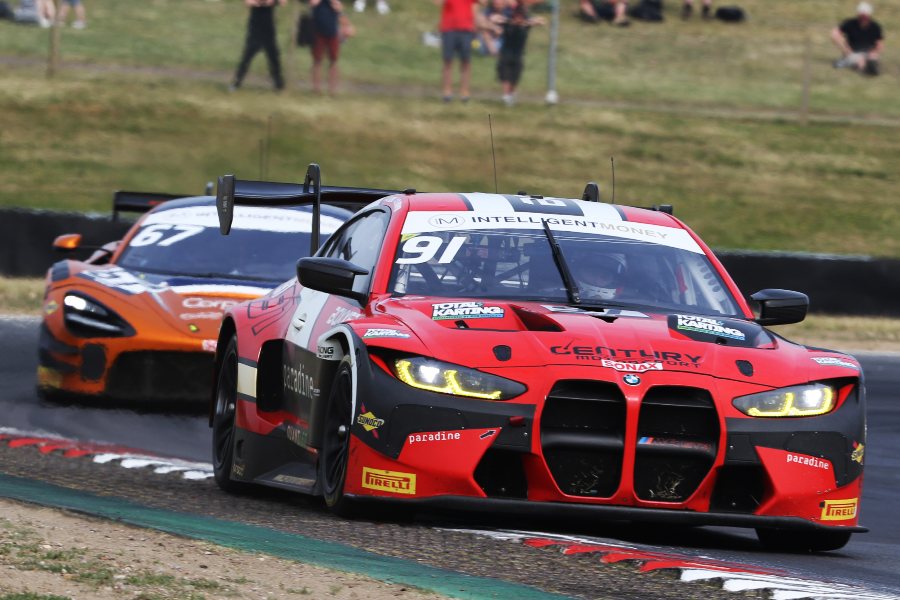 ---
GT4: MOMENTUM WITH OPTIMUM
The battle for 2022's GT4 drivers' title went down to the last 30 minutes of the final round. And that isn't unusual. Only once since 2015 has the championship been wrapped up with a race to spare. It's therefore a measure of Jack Brown and Charles Clark's domination, as well as the absence of a consistent challenger, that this season's overall title battle could be done and dusted with two races to spare.
Truth is Optimum's McLaren has been in a class of its own out front. And without a weather-affected season opener there's every chance it could be even further ahead with three races to run.
Two wins – the latest coming in Race 2 at Snetterton – and two more second places in the last five outings have propelled Brown and Clark to a 48-point lead over Century's Carl Cavers and Lewis Plato. And that means either of those same results on Sunday might be enough to see them home, subject of course to performances elsewhere.
Two factors stand in their way: maximum 20-second Compensation Time, and the 14 seconds extra served at all three pitstops compared to Pro-Am crews like Cavers/Plato and Ian Gough and Tom Wrigley (RACE LAB) who lie a point further back.
Those elements mean Silverstone's three-hour race has tended to favour Pro-Am entries. But not so earlier this year when Brown/Clark overcame the odds thanks, in part, to a Safety Car period that negated some of the Silver class pitstop deficit.
Win again this Sunday and Cavers/Plato and Gough/Wrigley would need to finish sixth at worst to remain in title contention, while Aston Millar and Josh Rowledge (DTO Motorsport) and Erik Evans and Matt Cowley (Academy Motorsport) must be no lower than third or second, respectively.
It's a very long shot but second place might also be enough for Brown and Clark, although that relies on all four of their main rivals finishing in the minor points-paying positions.
In fairness, Rowledge and Millar would be much closer without the Donington retirement that robbed them of a possible victory. Finishing as runners-up behind Optimum's McLaren in Snetterton's second race also sees them serve 15 seconds as well as the bonus Silver time on Sunday afternoon.
Zero points for Evans and Cowley last time has also set back their title chances, although they do at least have a Compensation Time-free final pitstop at Portimao.
As already covered, Pro-Am crews are likely to profit from the longer format this weekend. And it's Century's BMW entries of Cavers/Plato and Michael Johnston and Chris Salkeld that are flying high in the class standings currently. 18 points cover them and Gough/Wrigley, while One Motorsport's Ed McDermott and Michael Broadhurst are another five further back.
Two teams are swapping cars this weekend. Enduro switch from McLaren to Mercedes-AMG, but the impressive number of Arturas has been maintained by Team Parker which previously ran a Porsche.
And there's also a change in Raceway's #55 Ginetta, which now features Ignacio Zanon alongside Tom Holland.