The BRSCC's last race weekend of spring in 2023 has arrived and we're heading back to Snetterton in Norfolk for another race meeting packed full of exceptional variety! There's a great mix of endurance racing, tin-top, sports cars and single-seaters both modern and vintage on the timetable, each ready to provide their own amazing on-track action!
---
FUN CUP ENDURANCE CHAMPIONSHIP
The second round of the 2023 Fun Cup Endurance Championship comes to life on Saturday afternoon as the teams move from Kent to Norfolk after an intense opening race of the year at Brands Hatch. In that race, the teams had to batte through both dry and wet conditions, tackling torrential rain showers at one stage that caught a handful of teams out. Now at Snetterton's long straights and mixture of technical corners, coupled with some expected late spring sunshine, it should be another fascinating four hours of racing in prospect.
Sitting in the pound seats are Team Olympian after their charged to the opening victory of the season. The familiar trio of Kristian Rose, Chris Dovell and Riley Phillips were back together again at Brands and it didn't take them long to settle back into the groove with victory in the first race of the year. As per FunCup rules, they will start Saturday's race from the back of the grid, while the rest of the starting order will be decided by random draw as usual.
UVio/ Hofmann's Motorsport and PLR Racing put in a sensational racing display at Brands as they fought over 2nd place in the inclement wet conditions, the result eventually going the way of PLR. Ben Pitch and Neil Plimmer seem to be in the groove already and will be hoping to take a first win of the season this weekend. As for UVio, the credentials of "Farquini" and Fabio Randaccio are already well known to most FunCup racing fans and the multi-time champions are sure to be on their usual formidable form as they search for another win.
Of course there will be other teams that will thrust themselves firmly into the mix, like Team Viking & Ursus Capital Racing who are another team proven to be race winners, Axiametrics/ GRD Racing with driving talent such as Simon Rudd and Scott Parkin in their line-up this weekend, Vapeclub with EDF Motorsports who have been making steady progress over the last couple of seasons, and Team Greenheath who also seem to be in the mix wherever they race. Also, watch out for the GT Radial car this weekend, which features regular driver Ellis Hadley sharing with former World Superbike champion Sylvain Guintoli. Sylvain has been testing his skills on four wheels in the last couple of months in a Mazda MX-5, a Suzuki Swift in SuperSport Endurance Cup and just last weekend at Snetterton in a Radical supporting the BTCC. Now let's see how he handles FunCup on this occasion!
Plus, two teams make their first appearances of 2023 – MJ Tec are back with Scott Jeffs and Will Abraham ready to push their car into contention for a good result, while defending champions GCI Racing are on the grid for the first race of their part-season campaign this year. Having managed to win the title thanks to solid consistency on track and in the points, don't be surprised to see Grahame Butterworth's squad in contention for victory come the end of the race.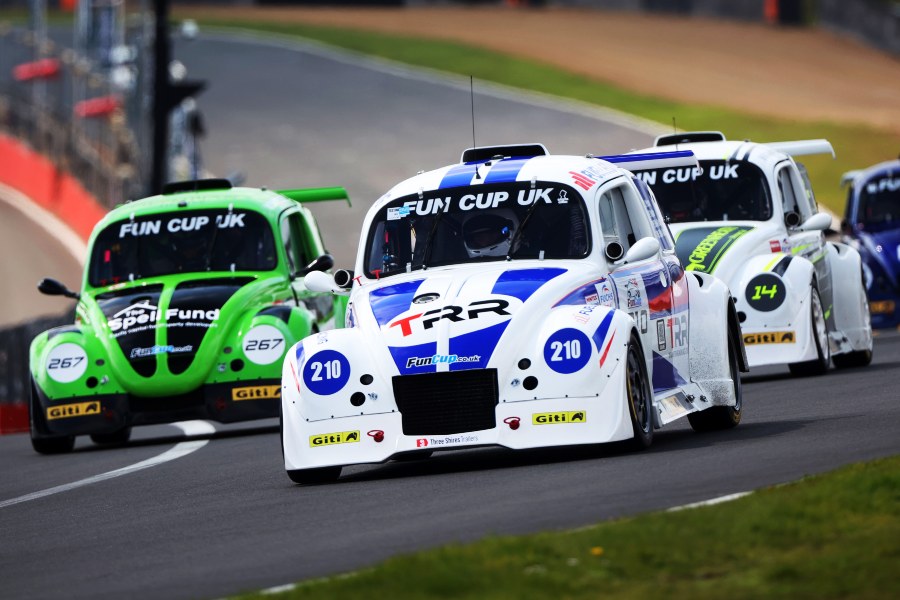 ---
NANKANG TYRE BMW COMPACT CUP
There's never a dull moment on track when it comes to the Nankang Tyre BMW Compact Cup and so far in 2023, that statement has continued to prove true. The Brands Hatch season opener provided plenty of entertaining scraps and battles up and down the field, including the fight for the lead between Oliver Faller and Guy Davis. Now moving on to Snetterton for a triple header, both drivers have another chance to get one over on each other whilst keeping one eye on the competition.
Davis' pair of wins over Faller, who in turn picked up two 2nd places for his troubles, have already given him an eight point lead in the championship standings leaving Brands Hatch. Davis has been on great form ever since he collected his first three Compact Cup wins at Anglesey last year and since then, his pace has continued to improve and progress during that time. From the outset at the season opener, he had pace to worry the rest of the pack and if that continues again, that lead will only get larger. However, at the time of writing, Davis does not appear on the entry list for Snetterton, so he won't have a chance to build on his great start.
But let's not overlook Faller for one second either. This is a driver who has been able to take the fight to the likes of Steven Dailly in the past and beaten him on track for victory. That makes Oliver one of the favourites to challenge for the title from the outset given that he's a proven race winner and he'll want to cement that this weekend.
Behind the top two, it's already looking incredibly competitive, especially since 3rd down to 8th is covered by just a few points. Rudi Macmillan took a pair of excellent 3rd places at Brands to help him sit in 3rd heading to Snetterton, while behind him Ross Stoner and Dale Wherton are right on his tail. Also looking to edge closer will be Matt Flower, Mike Doble Snr and Matt Millson, all of which seem to have the pace to be regular battlers within the top 5 and top 10 this year.
Plus, this weekend sees five drivers make their first Compact Cup starts of 2023 at Snetterton – Chris McGinley, Peter Smith and John Robinson will all be hoping to start their campaign with some solid points hauls, while fleeting visits from 2022 vice champion Ian Howes and Rod Langham see them compete this weekend as guest drivers.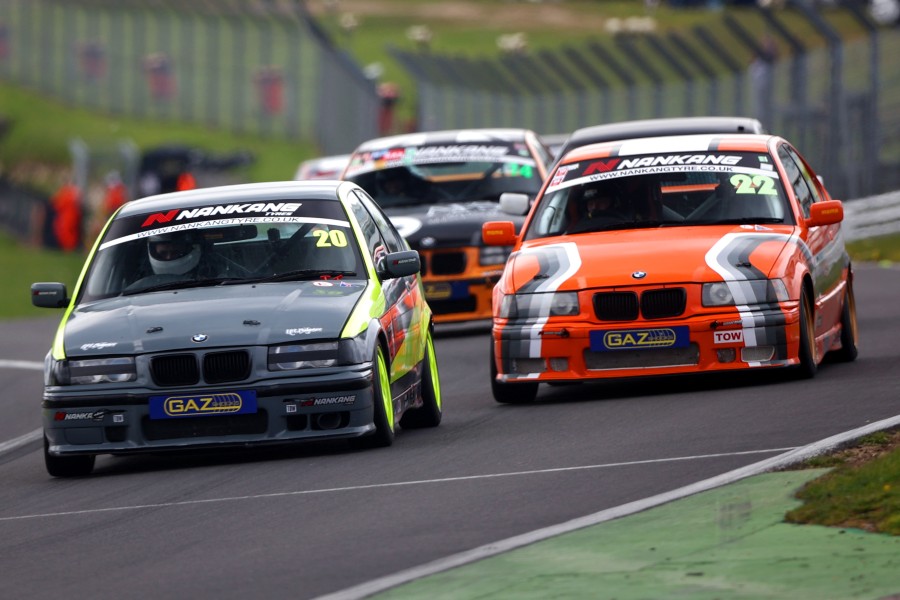 ---
NATIONAL FORMULA FORD CHAMPIONSHIP
This year's National Formula Ford Championship is already shaping up to be a rather competitive affair after a thrilling pair of races at Oulton Park to open up the 2023 season. At one stage, the top six drivers were practically inseparable in the first race of the day, and that appears to have set the tone for the rest of the season. Snetterton this weekend will certainly give us an idea of whether that close competition carries over from Oulton.
At Oulton, it was Oldfield Motorsport that had the top step of the podium on lockdown, as both Lucas Romanek and Brandon McCaughan took a victory each to start their seasons in the best possible way. The pair were never apart from each other on track in either race and four points is what separates them going to Snetterton. Romanek will have fond memories of the Norfolk circuit, as he managed to steal a win from Jordan Dempsey here last season on the final sprint to the chequered flag in Race 3.
Currently third is Elliot Budzinski, the impressive young American who proved his talent as one of the Team USA drivers in last year's Formula Ford Festival and is contesting a full National season this year. He began the season well with a 5th and a 3rd at Oulton and already looks as though he's ready to challenge for race wins. He'll have teammates Nolan Allaer and Brin Kinch for company, both of which had tentative starts to their 2023 seasons and will be hoping for more progress this weekend.
Morgan Quinn is currently 4th in points and best of the Team DOLAN contingent, which this weekend features 2021 champion Chris Middlehurst, Jordan Kelly and Nathan Yu, the latter of the three making his first National Formula Ford start of the season as he looks to fly the flag for his native Canada.
There's also set to be some great competition between the two independent drivers in the line-up this weekend, as Charlie Mann makes his National Formula Ford debut and should be ready to battle it out with Tom Nippers, who picked up an Independents Cup win at Oulton Park and will be hoping for more.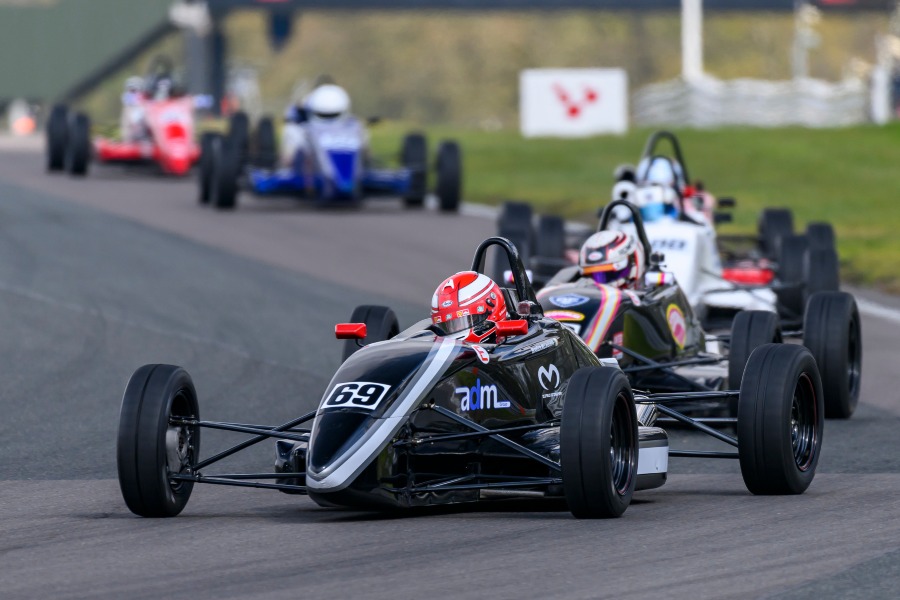 ---
AUDI TT CUP RACING SERIES
If there's one series that certainly made an impact on its opening rounds of 2023, it was the Audi TT Cup Racing series, which debuted in fine fashion at Brands Hatch a few weeks ago with some excellent racing, equally good looking cars and a competitive field that ensured it was close and exciting on track. Next on the TT Cup Racing calendar is a visit to Snetterton this weekend, where we're certain they'll be putting on an equally entertaining set of races.
While the winner of Brands Hatch's first race Andrew Dyer isn't able to make it on the grid this weekend, the winner of the second race Ross Makar certainly is. He and Patrick Booth showcased their pair of sublime looking TTs decked out in their Martini-inspired liveries and both cars also proved to be quick too. Both cars will be looking to go to victory lane this time, but they know that this series is already proving to be mega competitive.
Richard Forber collected a pair of 3rd places at Brands Hatch and proved himself quick in qualifying too, so perhaps this great form will carry over onto a longer, faster circuit such as Snetterton 300. Paul Maguire and Harry Yardley-Rose also looked in good form, each being able to secure at least one top five finish at Brands and both will certainly be in contention too from the outset.
Amongst other alumni from the opening races including Ryan Edgecumbe, Paul Bancroft, Richard Sanders, Christopher Jackson and Julian Daniel, there are two drivers making their TTCR debuts that could well be front runners right out of the box. Experienced club racer Scott Parkin dovetails his FunCup Endurance and ClubSport Trophy commitments this weekend with his first run in the TT Cup Racing series, having already secured plenty of mileage in ClubSport Trophy races at Silverstone and Oulton Park. This means he should be suitable prepared to line up against his fellow TTCR runners and may have the pace to contest the win.
The other is Luke Handley, another driver with plenty of club racing mileage under his belt, and he's ready to test himself on the TTCR grid too. Having regularly raced plenty of front wheel drive cars including Honda Civics and more recently a VW Golf, Luke will also be more than suitably prepared and ready to run at the front of the field. Watch out for both Scott and Luke on the grid this weekend!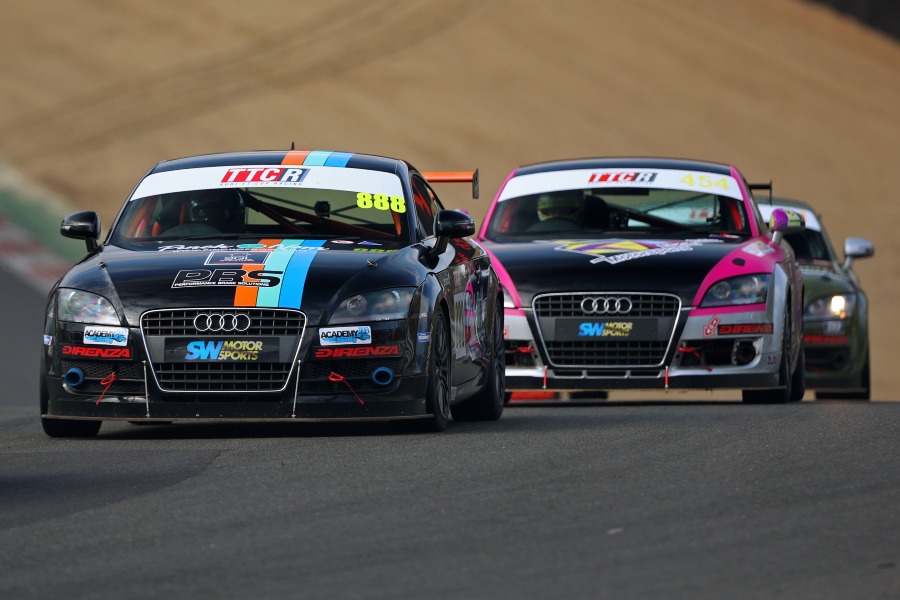 ---
SW MOTORSPORTS CLUBSPORT TROPHY
From Silverstone's GP circuit to Oulton Park and now to Snetterton, the SW Motorsports ClubSport Trophy has already been almost the length and breadth of the country with each of the two rounds run so far producing the typical bumper grids and excellent pit-stop races that have become accustomed with the series to date.  Snetterton is next on the calendar this weekend and based on previous years of racing here, ClubSport Trophy races tend to be particularly exciting here in Norfolk.
The fastest class on the grid, Class A, features one of its strongest entries to date here at Snetterton, with regular class and outright winner Phiroze Bilimoria ready to take them on in his trust Phiroze Bilimoria. Familiar adversaries will include Liam Crilly in his BMW Z4 (another car with multiple ClubSport wins to its name) and James Alford's VW Golf, while Simon Glenn brings his impressive BMW M235i back out to play after it appeared at Silverstone in March to be partnered up with David Emburey. There's also a pair of Honda Civics from Jonathan Hunter and Josh Beardsley, plus Lloyd Chafer's BMW M3 to complete the set.
Four cars are ready to compete for Class B honours this weekend with Scott Parkin adding another ClubSport appearance to his already busy schedule. Driving the same Audi TT Cup Racing car that he's raced at Silverstone and Oulton Park, Scott will also make his debut in the car's native new TTCR series and will also be racing on Saturday in FunCup Endurance too. Whether Scott will have much energy left by the end of the weekend is anyone's guess!
Scott's competition in the class comes from Ben Walkingshaw's VW Scirocco, and another pair of Honda Civics driven by Trevor Hurrell and the duo of Jeremy Evans and Philip Hart respectively.
There's more Civics in this weekend's entry, as Class C looks set to be led by former class winner Andrew Bond in his EG example. His is joined by the Civic Type R of Jonathan Pascall and Sam McKee, while the rest of the five car class is completed by Brendan Murphy's BMW Compact, Nick Tasker's VW Scirocco and Adam Chafer's Peugeot 206.
Class D looks as though it's mainly going to be a face-off between Ford Fiesta ST150s and Renault Clios. Representing the Blue Oval, former Fiesta Junior racer Archie Handy shares his modified machine with Leigh Ayres and will have James and Roger Stonestreet in their example for company too. Over with the Clios, Dan Blake and Kate Morris bring theirs out to play too, with Stephen Wiggins' Mazda MX-5 Mk3 and Mason Booth's BMW M3 also keeping them company.
Finally in Class E, a pair of BMW Compacts driven by Chris McGinley and Colin Whitehouse will square off against Allen McKenna's Mazda, Matthew Footman in his Ford Puma, Christian White and Matt Mills in their MINI Cooper and Nick Dougill running solo in one of the evergreen Mazda2s.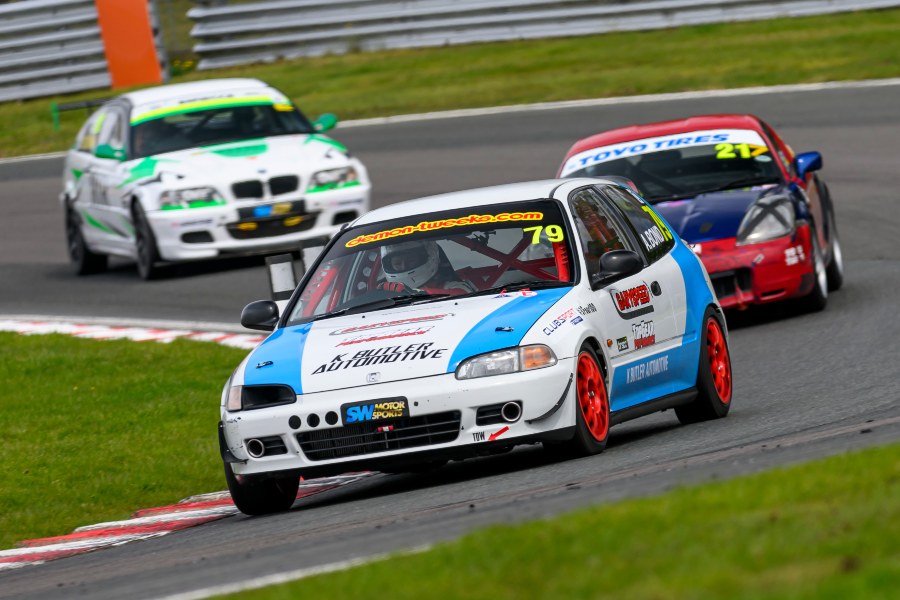 ---
BRSCC EVOLUTION TROPHY
One of a couple of new series to debut with the BRSCC at Brands Hatch a few weeks ago, the new BRSCC Evolution Trophy proved to be quite a hit with both those competing in it and those watching both trackside and on the live stream coverage online.
The new concept of creating a purpose-built series solely for fledgling new series and projects to race together on track at the same time managed to bring together an excellent mix of machinery on the grid at Brands Hatch, and Snetterton appears to be no different this weekend.
Once again on the grid, we have cars present from the Ricci Concept Classic VW Cup and Classic TT Cup, the Cooksport Renault Cup and the BRSCC Mazda MX-5 Mk4 Trophy. All of which will be essentially racing primarily against cars in their own respective series, but as was proven at Brands Hatch, all four of them were more than capable of providing great entertainment racing inadvertently against each other too.
Double Classic VW Cup race winner Adam Marshall is back again in his ex VW Racing Cup Golf race car to try and bid for more victories, and he has a similar example from Simon Tomlinson to keep him company. There's more Golfs in the mix here too such as Dawn Butcher's Mk5 and the awesome pair of old school Mk1s from Tim Berg and Donald Dewar too. Other VWs include Ken Lark's rapid Corrado and Steven Watson's Mk2 Scirocco, while the rest of the CVWC line up is completed by Nick Sanderson and Andrew Marshall in their SEATs, and the Classic TT Cup pair of Philip O'Halloran and Harry Scott in their Mk1 Audi TTs.
Over in the Cooksport Renault Cup, Dave Tyson and Richard Clarke will present in their Gen 4 Clio Cup cars, while the rest of the entry is populated by the same variety of Clio 172s and Clio 182s. Keep an eye on Frank Pettitt, Tony Hunter, Nick Gwinnett and David Mycock in the running order, especially Gwinnett who was the double winner in the series at Brands Hatch and also showed excellent pace overall.
Last but by no means least, a pair of Mk4 MX-5 represent the Mazda MX-5 Mk4 Trophy this weekend with Joseph Ritchie and Ben Taylor back to build on their solid starts to the season at Brands Hatch. Both cars were also firmly in the mix with the rest of the Evolution Trophy field and enjoyed being part of the midfield battles, so more of the same should be on the cards this weekend.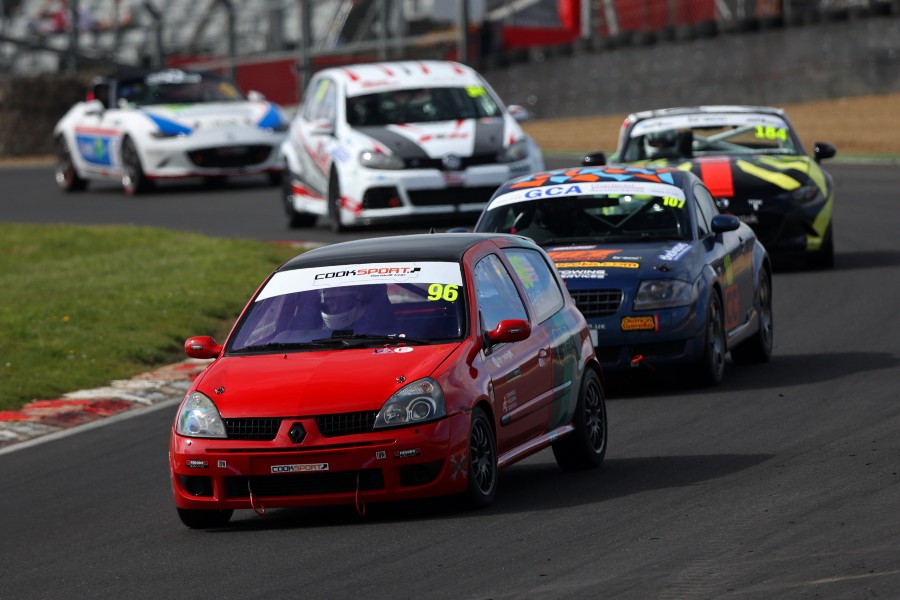 ---
HICKFORD CONSTRUCTION MG METRO CUP
The Hickford Construction MG Metro Cup made its full season debut with the BRSCC back at Brands Hatch a few weeks ago too, and while they had been present on BRSCC timetables in the past, this was the first since the championship had joined the club's portfolio over the winter. Brands Hatch certainly produced an entertaining start to their 2023 season with lots of close racing at the front of the field. Snetterton should certainly produce more of that this weekend.
Mike Williams heads to Norfolk having begun his 2023 campaign in the best possible way with two victories from two starts so far. Brands Hatch helped him produce a double, although the second was provided via a time penalty for on-road winner Rhys Claydon, and this will certainly give him plenty of momentum this weekend. As for Claydon, the ex-BMW Compact Cup racer appeared to make a seamless transition from rear to front wheel drive and was instantly on the pace at Brands. No doubt he'll be certain to produce more of the same here.
Defending champion Mark Eales could only manage a pair of third places and acknowledged that 2023 was going to be tougher and more competitive than previous years. That won't stop him from continuing his push to retain the Metro Cup title, but it's clear that the competition has taken another step forward since the end of 2022. Others that were fast and in the top five included Ben Williams, Robbie Kenning and Les Tyler, while the likes of Matthew Simpson, Dick Trevett and Richard Garrard don't appear to be very far away from challenging either.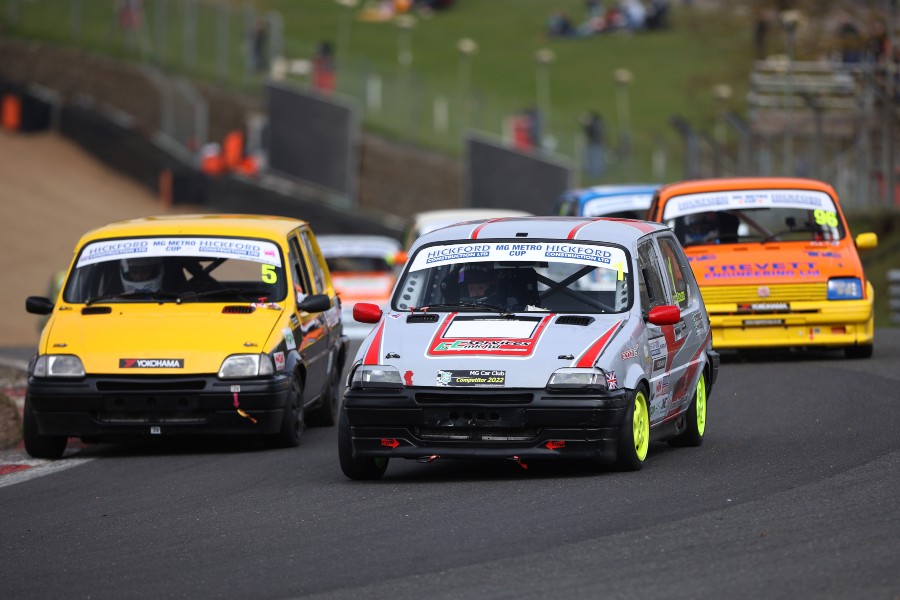 ---
500 OWNERS ASSOCIATION
Adding something a little bit different to this weekend's timetable, we're pleased to be welcoming the 500 Owners Association to Snetterton as they get set for a pair of races that will surely add to the wide variety of machines on display this weekend.
For those with long memories, or for those who want the history lesson, the 500cc single seaters that run and compete with the Association are essentially the roots of what we now know as Formula 3. In fact when the BRSCC first began, it was known as the 500 Club and played its part in running hillclimb and circuit racing events for these very cars. Therefore, this grid has some historical connection with the very foundations of the Club's beginnings.
As written on the 500 Owners Association website, "The roots of the 500 movement go back to before the war when two overlapping groups of enthusiasts built and competed in cars based on similar principles to those of the 500 Club, namely simple, light weight cars, using relatively small capacity engines and aimed at the amateur."
All the cars that you'll see racing here on this grid have been lovingly maintained and restored throughout the years and in comparison to our more modern National Formula Fords, they give us a real taste of what junior single seater racing looked, sounded and drove like way back in the late 1940s and 1950s, when cars like these would have been driven back in the day by the likes of Sir Stirling Moss, Ken Tyrrell, Peter Collins and even Bernie Ecclestone. Expect the entry to be populated by marques including Cooper, Martin Norton, Kieft and Waye to name a handful of examples.
Scott Woodwiss