In the club's one and only visit to the "mini-Nurburgring" of the north, the BRSCC heads to the incredible natural rollercoaster that is Cadwell Park in Lincolnshire. A circuit that's been barely changed since it was first constructed, it presents a stern test of man and machine and is usually a circuit that is also notoriously tricky to master. With small sportscars, tin tops and hot hatches dominating the timetable, this should be an entertaining spectacle across both days!
---
MILLTEK SPORT CIVIC CUP
Back at the beginning of the 2022 season, the Milltek Sport Civic Cup began the year at Cadwell Park and put on three very entertaining races to jump start the new season. Now the championship is back in Lincolnshire in the midst of a very tight and competitive fight for the title, as the end of the campaign begins to loom into view.
This weekend could see another change in the lead of the standings as right now on dropped scores, it's Dan Thackeray who leads from Alistair Camp in second, but only by a single point heading to Cadwell. Thackeray has more wins than Camp, while Alistair himself has to drop more points than Dan at this stage too. Nevertheless, it's going to be very tense to find out which way this swings come the end of the meeting.
Behind the top two is a real skirmish breaking out over third place, led at this stage by Ryan Bensley with Max Edmunson, Will Redford, Jack Harding, Morgan Bailey and Sam Kirkpatrick with all but Bailey in that list having also won a race each this year as well as Thackeray and Camp. Harding in particular will want some decent result forms this weekend and will desire to get back to winnings ways, after his up and down fortunes from his crash at Oulton Park, to sourcing and building a new car and then to hit problems last time at Knockhill.
Ahead of him, Bensley and Edmundson are just two points apart right now with the young charger Edmundson claiming his first Civic Cup win last time out at Knockhill, while Bensley has really made a step up in form and pace throughout the year. Redford and Kirkpatrick will also hope results go their way, as well as the rest of the top ten which is currently rounded off by Harvey Caton and Danny Hobson.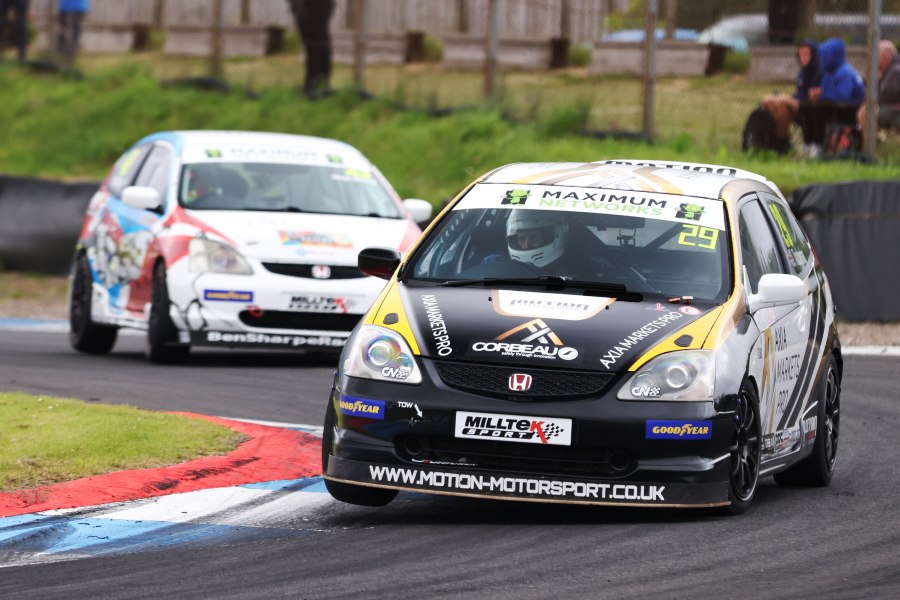 ---
GAZ SHOCKS MAZDA MX-5 CHAMPIONSHIP
The second half of the 2023 GAZ Shocks Mazda MX-5 Championship season has well and truly begun and after splashing their way around Snetterton, now the campaign trail moves from the east to the north as Cadwell Park marks the next step on the tour. Now that dropped scores are becoming a major factor in deciding which way the title swings, every result going forwards will really need to matter.
With dropped scores beginning to play their part, it's made a little shake up to the top of the standings. Steve Foden's hard slog back up the points table since the opening race of the year has helped him rise into the points lead, now 41 ahead out in front no less than ten victories to his name this year. Having tried for several seasons, Steve really must be feeling as though 2023 is his best chance yet to grab that illusive title and now heading to a circuit he loves, that will surely play into his advantage.
Before dropped scores were factored in, Adam Sparrow led the points overall and indeed still does. But now with drops taken into account, he's got that deficit to make up and he'll want to hit the ground running to make sure that Foden doesn't make an early escape from the outset. A few more wins on the table would keep his chances of staying in contention that little bit stronger. It's behind Steve and Adam where the biggest and closest fight will take place starting from this weekend, as Jason Greatrex and Ted Bradbury head to Lincolnshire separated by just three points. Bradbury has his first win under his belt thanks to his drive at Snetterton, while Masters leader Greatrex holds the slender advantage but knows it will be tough.
Early points leader Thomas Langford is only another three back in fifth and continuing to make up ground, and sixth down to tenth is also looking quite close knit in places too. Luke Pullen and Adam Craig will also be locked in their own private battle for P6, and they too will know that just one small mistake can create a major setback. Also watch for Owen Mills, Levi Aisbett and Neil Chisnall who currently round off the top ten, as well as Tim Dore, Kevin Dengate, Graham Rumsey and Clive Chisnall who all have their own Masters fight to worry about.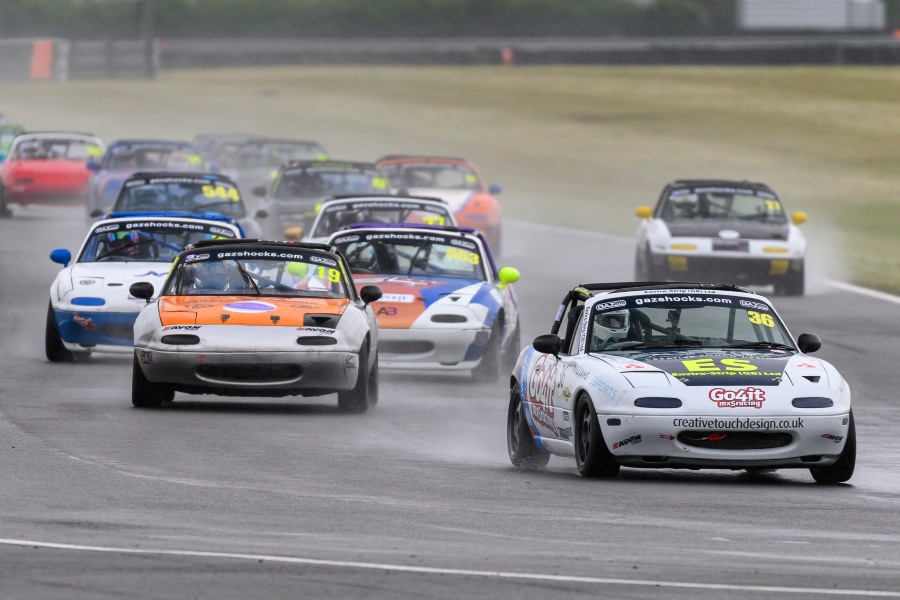 ---
DOWNFORCE RADIO MAZDA MX-5 CLUBMAN CHAMPIONSHIP
Back in action once more for another one-day spectacular as their second half of the season continues to rumble on, the Downforce Radio Mazda MX-5 Clubman Championship continues to its next stop on the calendar – Cadwell Park in Lincolnshire. This will be one of the biggest tests for both car and driver to deal with all season and with positions in the standings sitting so precariously, the whole dynamic could totally change leaving this weekend.
Despite a weekend that he would rather forget with many up and down fortunes, one thing that Matthew Fletcher can take comfort from is dropped scores. While his lead before them was still rather substantial, he still has a comfortable cushion heading to Cadwell Park this weekend. Now it's a 34 point margin between Fletcher and second placed Jordan Pimley, who in turn will still be on the mother of all highs after scoring a simply astounding "back-to-front" victory driving from 28th on the grid to win. Jordan might have to hope for rain again, but even then Cadwell is still a tough place to pass, so overtaking may be at a premium.
If that's the case, it may or may not benefit him in his other dilemma – holding on to second place with both Beau Parry and Jon Pethick. From second down to fourth, there's a mere four point spread and with Beau finding plenty of pace in the recent meeting along with Jon also starting to find his rhythm again, both surely have to be threats to Jordan, Matthew and co again this weekend.
It's just as close in the fight for fifth place, too. Jack Warry is a point ahead of Del Paice (who also leads the Masters in Clubman at this time) in sixth, followed by Jamie Turner another two behind Del in seventh. These three could end up battling just as intensely as the cars ahead of them in the table, but then again they too could also potentially take points away from them too. How they'll all play their parts at Cadwell remains to be seen.
Michael Pearce looks to be in no man's land in eighth place right now, and it's close again for ninth between Kevin Bird and Nick Le Doyen. As for the Masters, Del Paice is top as mentioned as the championship prepares to crown a new champion in this category. He has 23 points over Pearce currently in second, ahead of Le Doyen, Chris Thelwell and Simon Privett in the top five heading to Cadwell.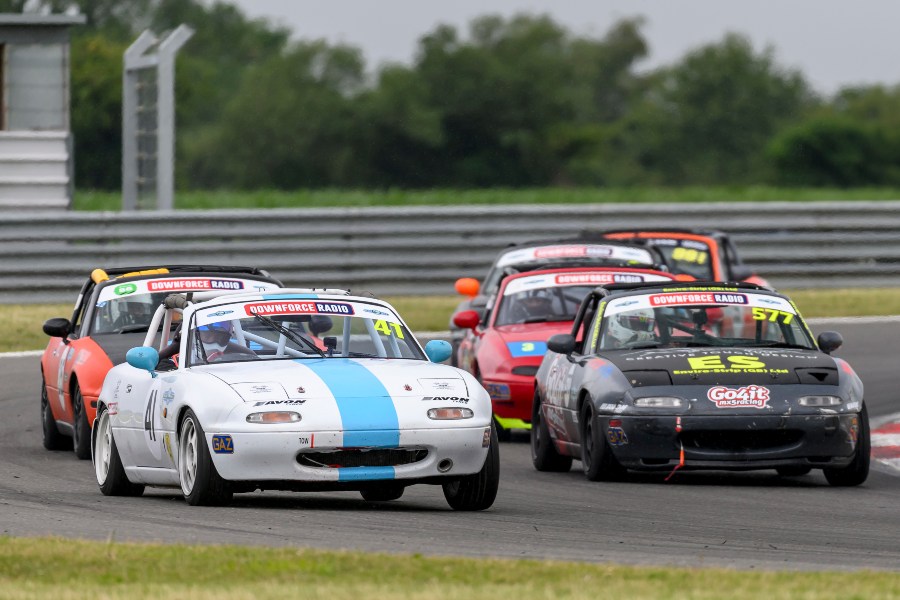 ---
CLAPHAM NORTH MOT MAZDA MX-5 SUPERCUP
There's no denying that this year's Clapham North MOT Mazda MX-5 SuperCup has continued to be one of the most competitive, compelling and exciting championships in British club motorsport once again in 2023. While Snetterton's weather conditions were something of a near-total washout, this weekend's next stop at Cadwell Park looks as though it's set to be brighter and drier, as the Pro, Club and Masters title battles continue to rage.
Aidan Hills' return to winning ways at Snetterton helped take his win tally to nine for the season as well as maintaining his lead in the Pro Club standings. Even though dropped scores shrinks his leads, it still leaves him with a substantial lead of 47 points. Aidan has been chasing that elusive MX-5 SuperCup title ever since he debuted in 2017.  He knows this is his best chance ever and will be doing everything he can to continue winning and keeping a grasp of that points lead.
Patrick Fletcher will keep up his pursuit of Hills this weekend but being almost fifty points back, he'll need to hope that all the good luck and pace goes his way. It won't be easy, but Patrick appears to be in the groove right now and he won't give up until the final chequered flag. James Cossins has been rock solid with his results especially in the last few rounds, and he's third despite not yet winning a race – how much he would love to put that right this weekend! Ali Bray's win at Snetterton helped him move to fourth on dropped scores, with Tom Griffiths completing the top five.
Over in the Club class, Robert Way has retaken the lead after his three worst scores are removed and it's given him a substantial advantage to keep up heading to Cadwell. Kamal Kalsi still has by far the most outright points, but drop scores move him back to second some thirty points back. Wilbur Tiley's recent class wins have also helped push him up to third with Bruce Robinson and Chris Ginn also prepared to lock in for their duel over fourth place in class points too.
As for the Masters, it's Martin Tolley who leads at this stage, followed closely by Nick Rutter in second place, George Grant in third and then Robinson and Ginn once again, as they also fight over fourth in this table too.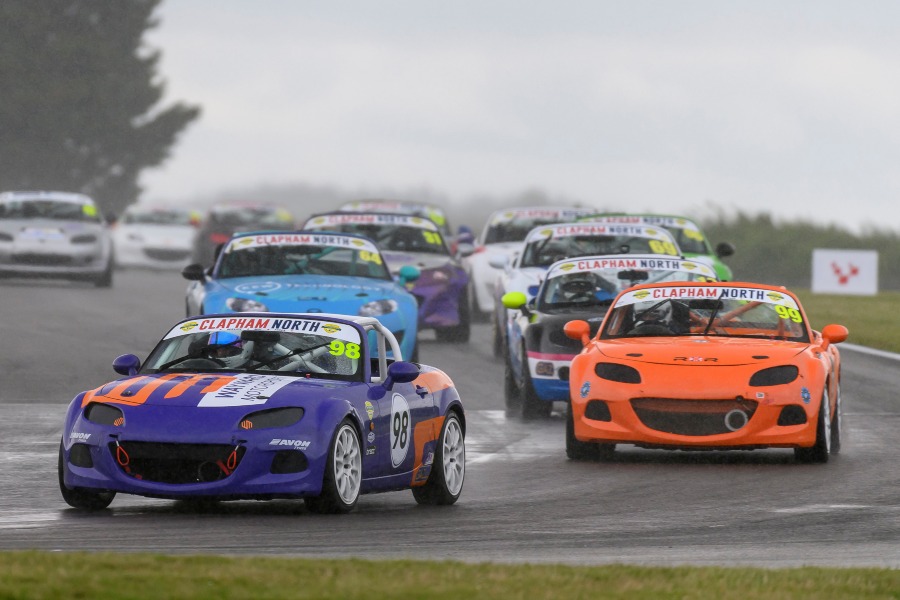 ---
NANKANG TYRE BMW COMPACT CUP
There's three weekends of racing left in this year's Nankang Tyre BMW Compact Cup and it looks as though we're in line to crown a brand new champion – but just who that champion is going to be isn't all that clear yet. Perhaps this weekend's next rounds at Cadwell Park in Lincolnshire will tell us a little more about what to expect as we near closer to season's end.
Now that dropped scores are starting to come into play, the dynamic has certainly changed. Now it's Gareth Claydon that holds the points lead after his worst scores are removed and his record so far is incredibly impressive. With no Oliver Faller or Mike Doble present this weekend (he'll be back at Knockhill supporting son Mikey in BTCC), Claydon's two nearest challengers that will try and give him the runaround will be Rudi Macmillan and Thomas Middleton.
Rudi at one stage on overall scores actually led the championship early on and has come close more than once to his first win. Whether or not that first win comes sooner rather than later, it's almost certain that it will indeed happen at some point. Cadwell is another chance for him to make that first top step visit. As for Middleton, he's steadily been getting quicker and quicker as the events have come and gone, so expect him to be around the front-running group again this time.
Guy Davis is making the most of the current F1 summer break to get back behind the wheel and join us again this weekend, and he's quick on any given race meeting he appears, so expect him to be on the pace from the outset. Others such as Matt Millson, Matt Flowers and Jim Barrett have had occasions when they've looked strong and been able to hand with the leaders. It's safe to say their chances of being their again are pretty high.
Plus, we're pleased to welcome Thorburn Astin to the Compact Cup grid for the first time, as he gets ready to make his debut in the championship this weekend at Cadwell.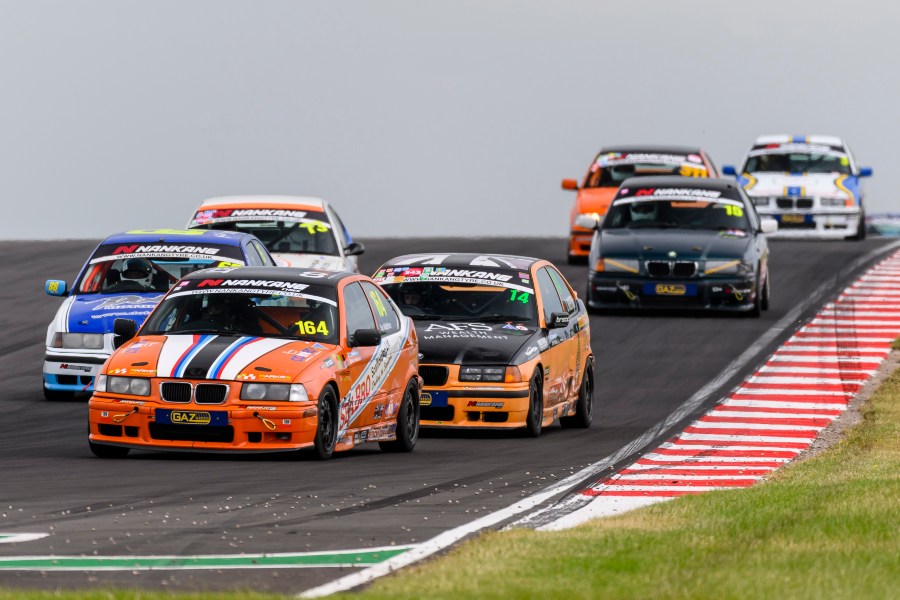 ---
AUDI TT CUP RACING
It's another race week for the BRSCC's new Audi TT Cup Racing series and that means another new circuit for the series to visit. Staying to the north of England and crossing back over the border from Scotland after the last rounds at Knockhill, it's off to Cadwell Park for the TTs' first experience of the track many call the "mini-Nurburgring of the north".
The 4G Racing pair of Ross Makar and Patrick Booth will be back in action with Ross especially keen to carry on adding to his tally of race wins. He was especially pleased to capture a home victory last time out at Knockhill and will want to carry on his visits to the winner's circle again this time. But he won't be the only race winner on the grid, either.
Andrew Dyer hops back into the TT after completing his driving duties for Barracksport in the Student Motorsport Challenge within the CityCar Cup. Having battled in both races at the opening weekend with Makar for the win, he's no stranger to the competition and will certainly want to try and knock Ross off his perch. Another winner is Harry Yardley-Rose who will also want to take home more silverware after his Donington success.
Ryan Edgecumbe has a podium to his name too from this season and will be hoping he can get towards the front again by the end of the weekend, while the likes of Morgan Wroot, Paul Maguire, Julian Daniel, Paul Hoggins, Paul Savage and Richard Sanders are all back to see what their efforts can produce. Plus, Civic Cup racer and Kinetic Motorsport team boss David Buky is also present this weekend as he makes his TTCR debut at Cadwell too. It's safe to say that a race with David in it is never dull so expect plenty of action!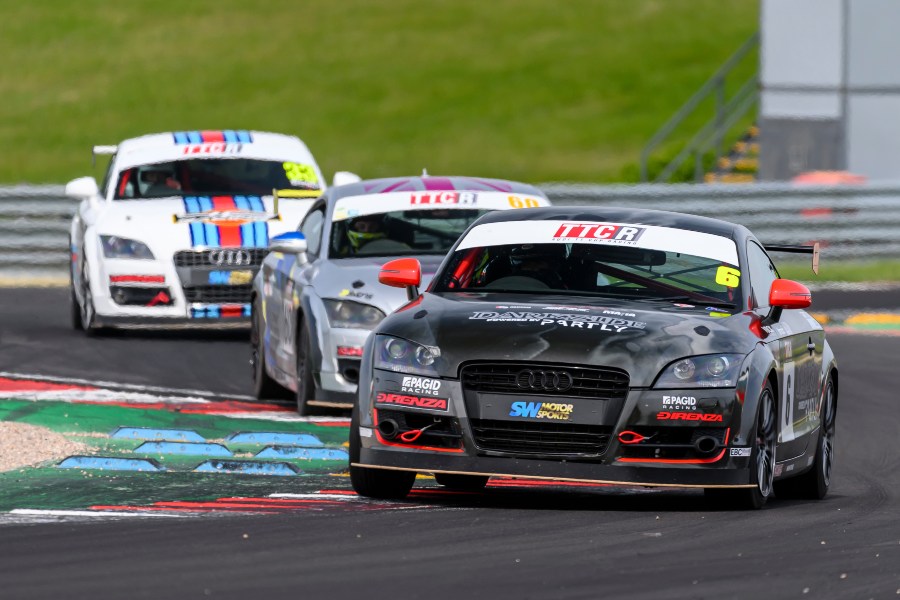 ---
VINYL DETAIL FIESTA ST150 CHALLENGE
Things are really starting to heat up now in the Vinyl Detail Fiesta ST150 Challenge progresses to the next rounds of the 2023 season this weekend at Cadwell Park in Lincolnshire. A circuit that's typically a favourite to drive with many on the ST150 grid, you can be sure that they'll be pushing hard as the championship battle continues.
It practically couldn't be much closer at the head of the standings, as dropped scores now take effect and Sam Beckett now sits on top of the points table going into this weekend's racing. However, he has absolutely no chance to relax whatsoever as Sam only leads by a single point from Matthew Pimlott, which means that both will certainly be on the limit to try and outscore the other in order to try and control the standings.
Despite a DNF in the first race of the year, Sam also has two wins over Matt's single victory, yet scoring in every race has allowed Pimlott to sit just a single point back once dropped scores come into play. Thankfully, he does have a small cushion to third placed Thomas Ikin of just seven points, who also has a win to his name this year and has been getting quicker and quicker in his first tin-top season. Cadwell is another chance to pick up more podiums to add to the tally.
All of them will have additional competition from the Watkins brothers Joshua and Samuel, both of which will want to use their wealth of Fiesta racing experience to re-affirm their speed. There's also the late addition of Tensport Performance boss Chris Grimes, who seemed to enjoy his Knockhill cameo so much that's back for another appearance this weekend. He'll also have the likes of Mark Blunt, Dan Robinson, Dan Wyke and Aiden Vickers to name a few that will also be hoping for a prosperous weekend of racing.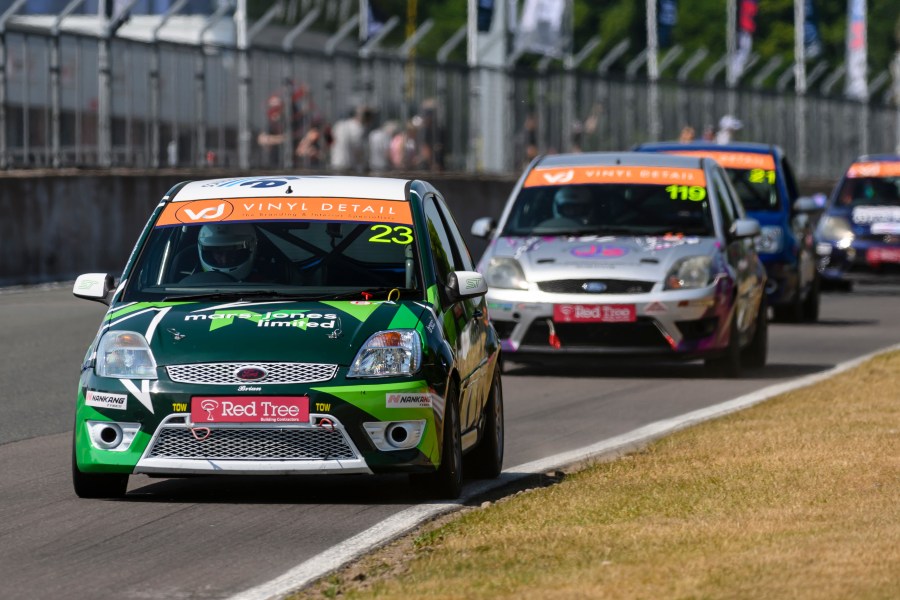 ---
HICKFORD CONSTRUCTION MG METRO CUP
Now surpassing the halfway stage of its first full season of racing underneath the BRSCC banner, the Hickford Construction MG Metro Cup is back out on track to begin the second half of the campaign, as it heads to Cadwell Park to put on a show with their superb little pocket rockets.
Rhys Claydon has been settling into life in front wheel drive racing pretty smoothly as the former BMW Compact Cup front runner has been proving his strong pace is universal, regardless of what he drives. After the opening three weekends and with dropped scores now coming into play, Rhys taken three wins in a row along with a trio of second places to lead the way both on total and dropped scores. Cadwell will be his next test to keep up his momentum and increase his points lead further.
Closest to challenging Rhys' bid for the Metro crown is Mike Williams, who began the year with a brace of wins at Brands Hatch but has found himself chasing Claydon up front and clinching another pair of podiums last time at Donington Park. With just five points between Claydon and Williams, it's all still up for grabs and nothing appears certain as in which driver Cadwell will favour this weekend. Just behind them in a three way fight for third place, there's the competitive trio of Matthew Simpson, Ben Williams and Jon Moore with seven points between them, so keep an eye on this group to see who has the pace over the others.
Make sure to also look out for Dick Trevett, Phil Goodwin, Richard Cowley, Benjamin Young, Dan Willars and more as the Metros burst back into life and look forward to putting on another great display of hot hatch racing!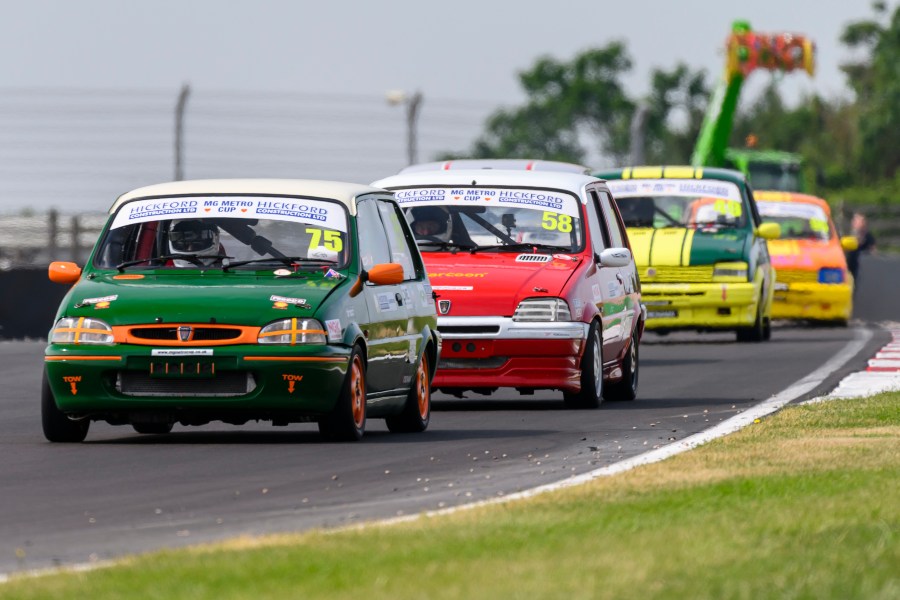 ---
BRSCC EVOLUTION TROPHY
Once again giving the perfect platform for a number of dedicated developing series and projects within the Club's portfolio, the BRSCC's Evolution Trophy continues to allow a variety of machines to race against one another on track whilst also growing their own respective grids at the same time. An excellent trip to Knockhill is now behind them, and next up it's another northern circuit as Cadwell Park in Lincolnshire beckons.
The Classic VW Cup sports the biggest entry of the four series running, with a multitude of Golfs complimented by a handful of other machines. On the Golf front, Adam Marshall brings his Team HARD prepared VW out to play, and is joined on the Golf train by the Mk1s of Donald Dewar and Tim Moll, Dawn Butcher's Mk5, Simon Tomlinson's ex VW Racing Cup Golf and Mark Shepherd making his first appearance of the year in his 1.8 litre turbo Golf. They're complimented by Ken Lark's Corrado, Andrew Dean in Dave Pinkney's Vento and the wonderfully unique 1973 Beetle from Neil Oakley. Nick Sanderson's SEAT
Also in support as a sub series to the VWs, the Classic TT Cup also sees the reappearance of the two regular races in this category – Philip O'Halloran and Harry Scott. Both will be looking forward to getting stuck in amongst the other cars in the entry on track.
There are some familiar names reappearing on the Cooksport Renault Cup grid as Tony Hunter, Nick Gwinnett, Matthew Hollier and David Mycock are all back for more fun and on-track excitement. Richard Clarke's Gen 4 Clio Cup car is also here too, while Philip Barwick makes his series debut in his Clio 200.
Plus, it's set to be another one on one duel with the Mazda MX-5 Mk4 Trophy ranks, as Ben Taylor and Bruce Hadfield get ready to square off once again to see who comes out on top.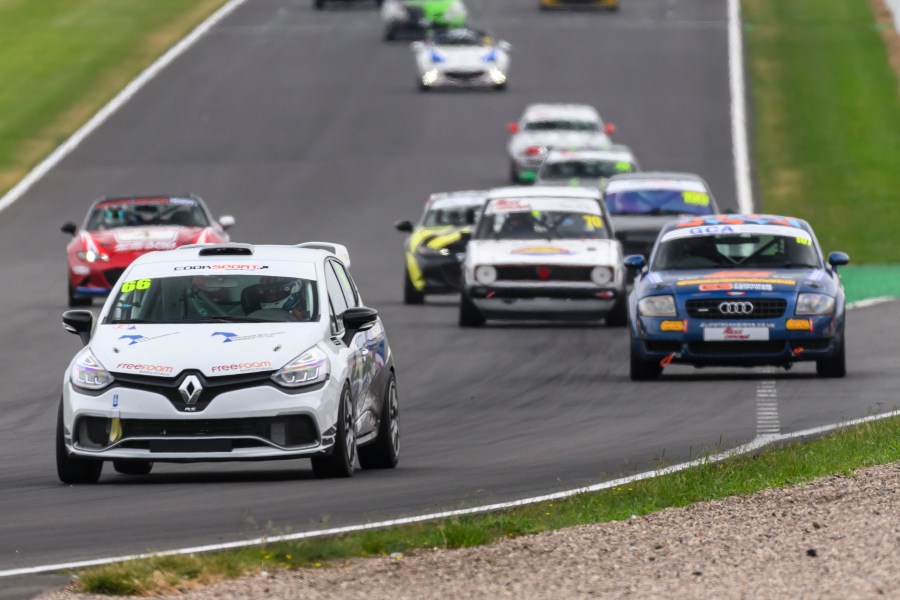 ---
MODIFIED FORD SERIES
No matter where they go up and down the race tracks of the UK, the Modified Ford Series always presents a striking looking and sounding grid of Blue Ovals to entertain spectators and the entire paddock alike. Their next rounds of 2023 are now upon us, as they make the trek to Cadwell Park for this weekend's pair of races, sponsored on this occasion by Drummond Distribution.
The fastest cars in the field will almost certainly from Classes A and Super A, with James Allen's ex-Time Attack Focus RS Mk2 expected to lead the line here against a quartet of Sierras – Ashley Shelswell's XR4i, Dave Matthias' two wheel drive Sapphire Cosworth, AJ Owen's Sierra RS Cosworth and Malcolm Wise' four wheel drive Sapphire Cosworth. Expect a winner to come most likely from this collective.
That said, there's potential for those in Class B to also get amongst the leaders and aim for victory too. Bradley Bosdet's Mk2 Escort, the Fiesta ST150s of John Sheridan and Sam Shimwell, Paul Solbe's Mk1 Focus and Chris Maker's Mk3 Escort RS1600i will be exciting to watch, as will the Class B+ contenders including Paul Nevill's Escort RS2000, two Ecoboost powered ST150s for David Guthrie and Daniel Cowan and AJ Howe's wonderfully unique Focus estate (no, that's not a typo!).
Finally, it's set to be a four way scrap for Class C honours, which pits Dave Barrett's Fiesta Zetec S, Mark Hadfield's Mk4 Fiesta, Jimmy Neophytou's Mk1 Fiesta and Alex Boam's ST150 Ecoboost against each other to see who comes out on top.
Scott Woodwiss