For the final time in 2023, the British Racing & Sports Car Club heads east to the Snetterton circuit in Norfolk where another all-important Finals Race Weekend is ready to commence. While the vast majority of the content on the timetable consists of non-points-scoring series, there is one championship heading to Snetterton with a score to settle in the end. Another mix of intense sprint and endurance racing is set to be in store across both days.
---
SILVERLAKE C1 ENDURANCE SERIES
After another long season that's seen many teams covered hundreds upon hundreds of racing laps, the Silverlake C1 Endurance Series readies itself for the final pair of races for 2023. Snetterton's 300 circuit will see two three hour races, one on each day, to complete the year with almost fourty teams set to line up for the finale.
The previous C1 weekend saw an exclusive pair of races held at Pembrey in South Wales, both of which ended in victories for the mighty Trojon Motorsport team including a one-two in the second race. All five of their regular drivers are back across Trojon's usual pair of cars and they'll want to round off a highly successful season with another pair of victories. Their perennial rivals Emax Motorsport have their usual squad in attendance with four teams entered for Snetterton including the multi-race winning line-up of James Little, Jake Little and Stuart Ratcliff. They will certainly be favourites to take the fight to Trojan and co, and have been to victory lane here in previous years too.
As usual, there's more familiar teams and names that are no strangers to running near the front and will be expected to do so at Snetterton again too. Scuderia Pollo Rosso made a welcome return to the grid at Pembrey and came close to scoring a double podium with two third places, only to lose it in race two following a penalty that pushed them down the order. WRC Developments are also consistent front runners in C1 racing too and have a pair of cars on hand to compete this weekend, one including regulars driver David Drinkwater alongside Liam Crilly and Oscar Proietti, while another features James Poulton and Max Watt.
Other teams that will be back to end 2023 on a high note include BPC Motorsport's four car effort which includes former Fiesta senior and junior champion father and son Rob and Sid Smith back in action again, while Allen Prebble brings a single car for the Silverlake 2 squad driven by Greg Rose and Michael Chapman. The #blessed team make a welcome return once again featuring former MX-5 SuperCup racer Colin Bysouth in its driving strength, and Quattro Formaggio will be bidding for victory too with Chris Parkes and Alistair May once again too.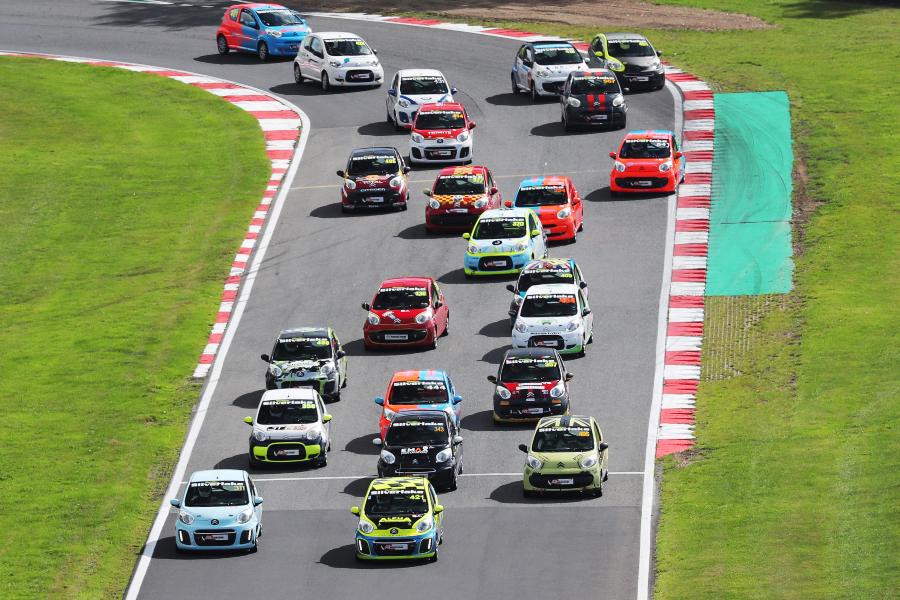 ---
NANKANG TYRE BMW COMPACT CUP
It may be the only championship on the timetable this weekend at Snetterton with the rest filled out by non-points scoring series, but the Nankang Tyre BMW Compact Cup is certain to garner plenty of attention as a result given that there's a new champion to provisionally crown a brand new champion. The year has seen plenty of new contenders step up to take over from Mikey Doble and this weekend will see the result.
Gareth Claydon goes to Norfolk in the lead by 51 points on dropped scores, but considering that he only gains back two points if he were not to race, it means he needs to ensure he still scores well this weekend to provisionally seal the deal. He also has four race wins to his name and there's a chance he could overtake Guy Davis' current total of six for the year so far. But that will require him to get the better of Guy, something that's been tough but not impossible whenever both have been on track together.
Rudi Macmillan and Matt Flowers are prepared to duke it out over the runner up spot with just four points between them heading to Snetterton. Both have had a number of podiums and aside from one retirement at Donington for Rudi, both drivers finished have also scored in every race too, marking them out as strong beacons of consistency throughout this season. Rudi and Matt have gone back and forth in terms of finishing ahead of each other, and it's Matt that will need to outscore Rudi in order to grab second place from underneath him in the end.
Mike Doble also looks on course to pick up the Masters title as well as fourth overall, but it's not a done deal just yet. Thomas Middleton is only three points behind in fifth while Mike's main Masters rival Jim Barratt holds sixth with three races left, so Mike will have to be on good form and finish ahead of both to keep it together. With the BTCC season now finished, expect 2022 champion son Mikey to be there to guide him through the weekend.
A field of 21 BMW Compacts is expected to turn out for the final rounds, as the pack prepares to sign off the 2023 season in style!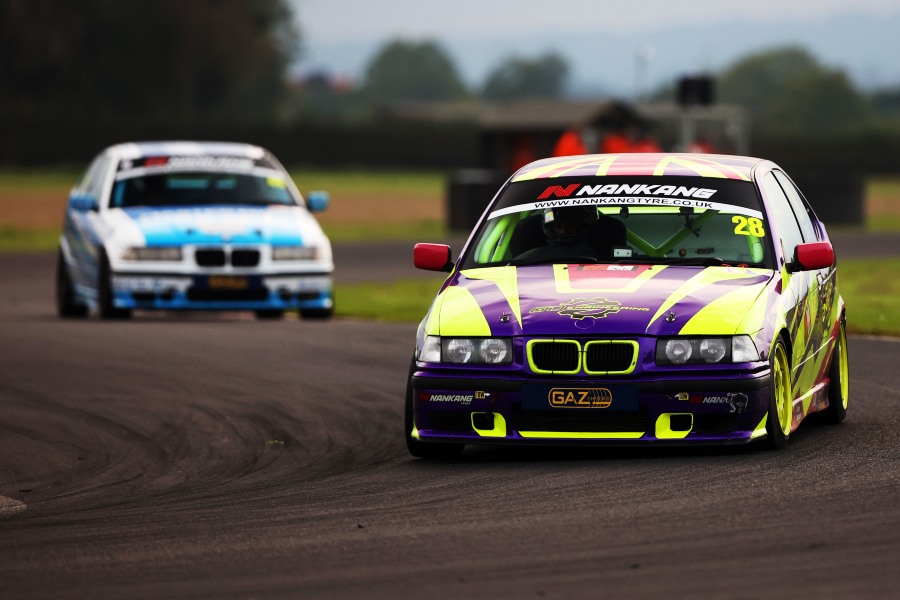 ---
AUDI TT CUP RACING
If there's one series that can look back on its inaugural year in club racing with very fond memories, it's the BRSCC's new Audi TT Cup Racing contest which launched this time last year, debuted with a solid field of cars at Brands Hatch in April and has continued to go from strength to strength throughout the year. In that time, more and more drivers have tried their hand at the new TT race cars and enjoyed them immensely behind the wheel, inspiring others to begin new builds ahead of 2024.
Speaking of 2024, there's a lot of new and exciting developments for the TTCR paddock coming up next year. First came the news that it would be joining the permanent support package for the TCR UK Touring Car Championship, which will certainly provide a rise in status and popularity over the winter and going into the new season. Next came the news of a switch to Dunlop tyres for 2024, topped off by the most positive announcement of all that the Audi TT Cup Racing series would be granted championship status for next year too. All of this signals a championship on the up and up, and Snetterton's final rounds will not only provide a fine send-off to its freshman year, but also with its biggest grid yet as the field finally breaks 20 cars for the first time.
Assessing the entry, just about all of 2023's first season heroes are back on the grid to round off the campaign. There's the 4G Racing pair of Ross Makar and Patrick Booth, both of their cars resplendent in their wonderful white Martini-style liveries, with Ross being a multiple time race winner outright while Patrick has taken Masters victories too to ensure the team have a healthy collection of TTCR silverware from across the year. Then there's Andrew Dyer who has proven to be incredibly versatile racing his TT both in sprint races and in a number of BRSCC endurance-style races to rack up extra mileage. He too has been a visitor to the top step and a regular podium finisher, something he'll be hoping for more of this weekend and going into next season. Scott Parkin has also had the same approach as Dyer this year too, also putting in plenty of miles and should be suitably prepared to finish the season strong.
Others who have proven themselves at a wheel of one of these new Audi TTs include Richard Forber, also a race winner more than once this year, as well as Luke Handley who didn't take long to get up to speed in the beginning and has quickly become a regular top three challenger of late. Morgan Wroot has been putting all of his front wheel drive experience to good has he gets used to his new machine, while Tim Evans probably has more mileage at the wheel of one of these cars than anyone else, so all that experience is paying off race by race. Harry Yardley-Rose is another race winner
Also keep an eye out for Ryan Edgecumbe who was on great form last time out at Croft, as too were Christopher Jackson and Jonathan Williams who collected their first Masters wins that weekend including one first time out for Williams on his TTCR debut. We also welcome back the likes of Adam Blair, Paul Hoggins, Paul Bancroft, David Robb, David Buky, Joe Weaver and Julian Daniel and more to this final weekend, plus we're pleased to introduce three new drivers to the Snetterton grid too. Newly provisionally crowned MX-5 Championship Masters champion Tim Dore's TT is now race ready for him to make his debut, while BEC and VW racer Brad Kaylor and Castle Combe Saloon Car regular Jack Boulton also join in for the first time.
With the biggest grid to date of some 23 cars, we're excited to see what they can do to help the TT Cup Racing series sign off 2023 in the best possible way, whilst also setting us up nicely for what's certain to be an even better 2024!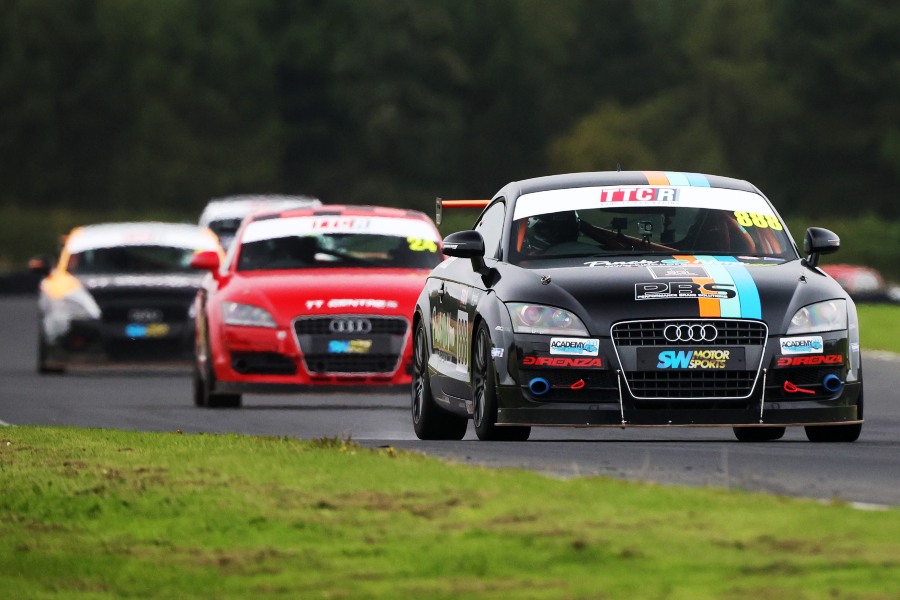 ---
BRSCC EVOLUTION TROPHY
The BRSCC's Evolution Trophy has proven itself to be another successful new project by the Club as it's shown to be an effective platform for new, up and coming club racing projects and series to use to grow, develop and prosper. After a season that's taken all those competing almost the length and breadth of the UK's race tracks including a summer visit to Knockhill in Scotland, it all concludes here on the return leg to Snetterton to round off 2023.
This weekend's entry list primarily accommodates entries for both the Classic VW Cup and Cooksport Renault Cup, both of which sport very respectable entries in each ahead of the final rounds of the year. For the Classic VWs, the GT class comprises of regular cars that have been present throughout the year, such as Adam Marshall in his Team HARD prepared Golf, as well as similar examples for Simon Tomlinson and Carey Lewis in his Mk5 variant. Class A is at its strongest with seven entries, featuring the pumped up Mk1 Golfs of Donald Dewar and Tim Moll, Nick Sanderson's SEAT Leon Supercopa, Dawn Butcher's Mk5 Golf, Chris Adams in his Mk4 Golf and the rapid Corrado of Ken Lark which is always quick in a straight line. Mark Shepherd's Golf also completes the line-up.
Steven Watson is back in his older VW Scirocco in Class B, and there's also the re-emergence of Harry Scott and Philip O'Halloran in their two Mk1 Audi TTs as part of the Classic TT Cup sub series whein Classic VWs. Rounding off the German cars is another SEAT Supercopa as a guest entry, with Luke and Christopher Hayes wheeling it out after completing their SuperSport Endurance season for one last blast.
In the Cooksport Renault portion of the grid, it's Clios to the fore once again with no less than five on this weekend's entry list. Familiar names back for more include Tony Hunter, Nick Gwinnett, Frank Pettitt, Matthew Hollier and Graeme Farrington, all hoping for an enjoyable weekend's racing at Snetterton whilst also mixing it up with the Classic VW boys and girls on track too.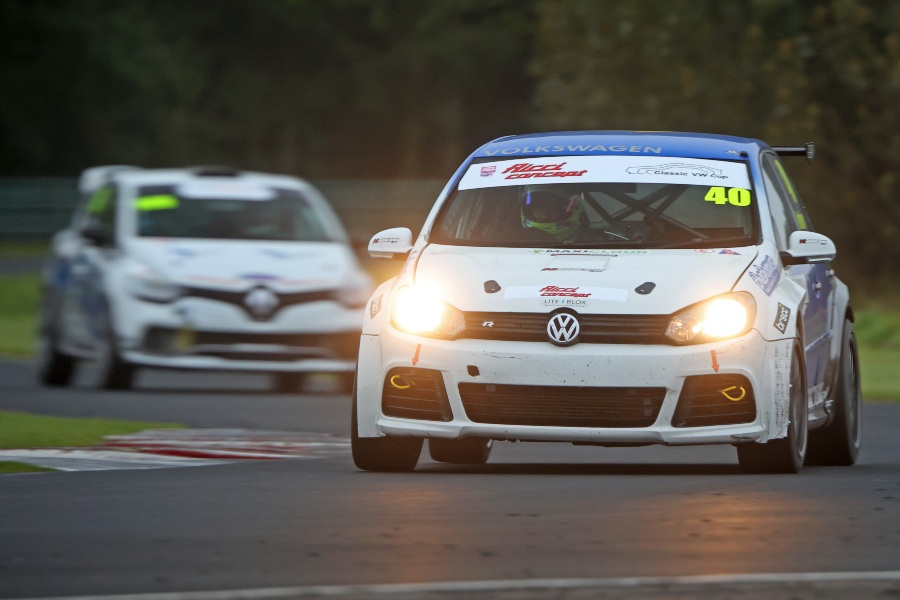 ---
ZEO PROTOTYPE SERIES
For the final time in 2023, the ultra-fast ZEO Prototype Series prepares to hit the track this weekend with the Snetterton 300 circuit in Norfolk the venue for the final rounds of its 2023 season. After competing at Silverstone on the GP circuit, Donington Park and Brands Hatch, there's one last pair of races in store before another season is complete for this rapid field of sports prototypes.
Initial favourites for victory will surely be one of the three mighty Praga R1Ts that have been populating the grid across this season. Snetterton marks the Praga return of talented Scottish driver Gordon Mutch, back in one of these sports-prototypes for the first time since he and Jimmy Broadbent took the Praga Cup together last season and hoping to be up to speed again rather quickly. He'll be joined in the paddock by the experienced Venezuelan Rodolfo Gonzales, while Shane Kelly and Jess Hawkins share the third, the latter fresh from her Aston Martin F1 test and hoping for a win.
As always, they'll be up against Mike Jenvey, the man always formidable in his self developed Jenvey-Gunn and hoping to get one over the three Pragas. Any time he's been up against them, he's typically been involved in some enjoyable back and forth battles with them, so there's no doubt Mike will be up for the challenge again at Snetterton. Others who are sure to be on the pace too include Max Windheuser in his Norma, Andy Chittenden in the MCR, Matthew and Richard Chamberlain in their home-built CTR01, and a quintet of Radicals to be driven by Daniel Headlam (SR3), Dominic Langdon-Down (SR3), Ian Charles (PR6), Alastair Smart (SR10) and Tom Walpole (SR10).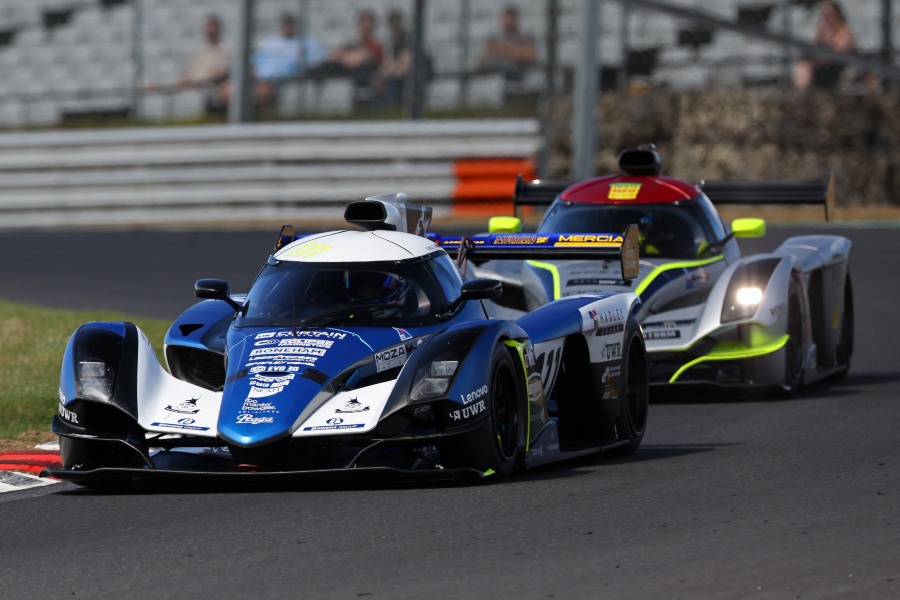 ---
CLASSIC & MODERN MOTORSPORT CLUB SOUTHERN SUPER SALOONS & TIN TOPS
The Classic & Modern Motorsport Southern's BMR Super Saloons have gathered an impressive entry for their final appearance this year. Expected front runners will be the seasoned pair of Alex Sidwell (Holden Commodore) and Rod Birley (BMW E36).  Alex has had five wins in the series so far, but in the second race at Brands Hatch back in August he was hunted down by Adrian Bradley (BMW E46) who snatched the win. Last month it was Birley who almost got one over on Sidwell when he had a spell in the lead.  Hot on their heels will be Mark Cripps, Paul Watson, Ronan Bradley and Peter Seldon ( all in BMWs). Jacques Whitehead and James Hunt complete the BMW brigade, but the German theme continues with VW Golfs for Martyn Scott and Dave Avis, VW Polo for Steve Dann, Audi TT for Lee Cleugh. Trying to uphold Ford honour will be Paul Restall (Ford Sierra Sapphire) and Marcus Bicknell (Ford Taurus V8). Another V8 will be in the hands of local driver Lee "Tractor boy" Maddox (Pontiac V8) from Bury St Edmunds.
In the Tin Tops section it should see clear favourite Chris Bassett (Peugeot 306) at the forefront. He may have competition from Dan Fisher in his rapid Honda Civic. Meanwhile, there will be class battles between Bob Hosier and Dave Charlton (both in Seats) plus Gideon September and Graham Richardson ( both in Honda Civics) in T1, along with Adrian Matthews (Volvo) in T2.  The TP production class sees a trio of Fiestas (Ian and James Seale plus Alex Baldwin) take on Alex Quach-Tea who is on his own in T3 with a Citroen Saxo.
N.B. This might be Marcus Bicknell's final meeting as he has announced his retirement from racing after a very long and successful career, ranging from Clubman's cars to a whole variety of saloons.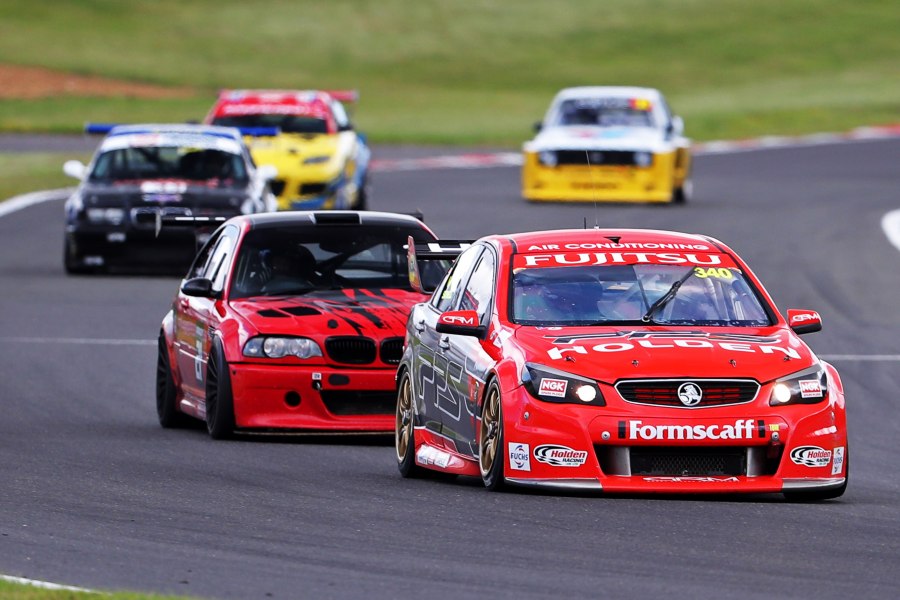 ---
CLASSIC & MODERN MOTORSPORT CLUB SOUTHERN INTERMARQUES
The Avon Tyres/Image Wheels silhouettes have had a stellar season in 2023 . Four different winners in the first six races meant there was plenty of variety on the podium. Starting at Castle Combe on Easter Monday it was the Smith brothers (Lewis and Daniel) who took a win apiece. At Mallory Park in May it was Ian Hales who took the first race win, then in a dramatic second race it was senior class driver Paul Knight (Vauxhall Tigra) who stunned everyone with a smooth win. At the American speedfest in June it was again a win apiece for Lewis and Daniel Smith. Since then the two Smith brothers have done all the winning, but the other drivers have not been far behind.
There is a chance we will get another different winner as Colin Smith goes well at Snetterton, or could it be Paul Knight again, the senior driver who is having a really good run lately, along with  Mick Robertson (VW Corrado).
Another possible front runner is Ian Hales from nearby Northwold. His very smart Vauxhall Tigra has found increased pace lately and will be keen to impress on his home track. . Scott Aprigliano has found more speed this year and gained a pole position in May courtesy of the semi reversed second grid. Nevertheless he matched the pace of some of the more experienced drivers in a good showing. Richard Smith has finally got his Mercedes running better and should feature in the senior class. It is good to see Phil Spinks (Vauxhall Tigra) and German visitor Volker Timm (Audi TT) back in action, although it is probably going to be another lead battle between the Mercedes of Daniel and Lewis Smith
There is added spice for the second race when the starting grid is partially reversed. First race finishers from 6th to 10th place go into a hat and whichever position is drawn out starts from pole. So if it is number 8, then the driver who finished 8th starts at the front, followed by 7th, 6th, 5th etc.  What this means is that there will be plenty of overtaking amongst the Intermarque Silhouettes.
Scott Woodwiss/ CMMC Southern