Donington Park in the summer is always an entertaining weekend of racing, no matter what's on the timetable, and that's set to be the case again as the BRSCC touches down for two days of amazing club motorsport in store. The variety on display will be superb with single seaters, tin-tops, sportscars, sports prototypes and no less than three endurance races to provide another superb spectacle for all those watching!
---
SILVERLAKE C1 ENDURANCE SERIES
It's crazy to think that it's almost been a month since the chequered flag flew on what turned out to be a thrilling conclusion to another incredible Silverlake C1 24 Hours at Silverstone, where Trojon Motorsport ended up capturing the win after starting from pole position. 
Of course, it was nowhere near as simple as that on paper as Trojon had to overcome a pit stop penalty and then being tagged into a spin from the lead by Emax Motorsport on the penultimate lap, only for Emax to be penalised for said contact and promoting Trojon back to the top step. Now that the teams have had a few weeks to regroup, it's back on the regular season trail once again as Donington Park provides the latest three hour encounter with over 40 cars entered and ready to go once more.
Off the back of their 24H triumph, all five of Trojon's drivers are back in action at Donington across their regular two cars after they ran a solo effort at Silverstone. Jonathan Munday and Chris Freeman take the #421 car that won the 24H, while Adam Willis, Austin Munday and Charlie Bingham will pilot the #508 machine in a bid to go back to back on C1 race wins. Emax are back out in force too as they look to get back to winning ways after losing the 24H victory post race – their four car effort includes #346, where James Little only has Stuart Ratcliff as co-driver with Jake Little not present on the entry list.
WRC Developments were gutted to miss out on what could have been a podium or even a win at Silverstone after both of their cars hit trouble within minutes of each other, so car #318 with David Drinkwater, Nicole Drought and James Poulton will be looking to avenge that with success at Donington this time. Quattro Formaggio's drivers Alistair May and Chris Parkes are back in their regular #392 car, while multi-car entries for teams such as Silverlake, BPC Tuning and CSC Racing/ FDL Packaging will be hoping at least one of their entries shows some good form. Also be sure to look out for the 4G Racing entry with Ross Makar, John and Patrick Booth, which has great potential to be quick out of the box too.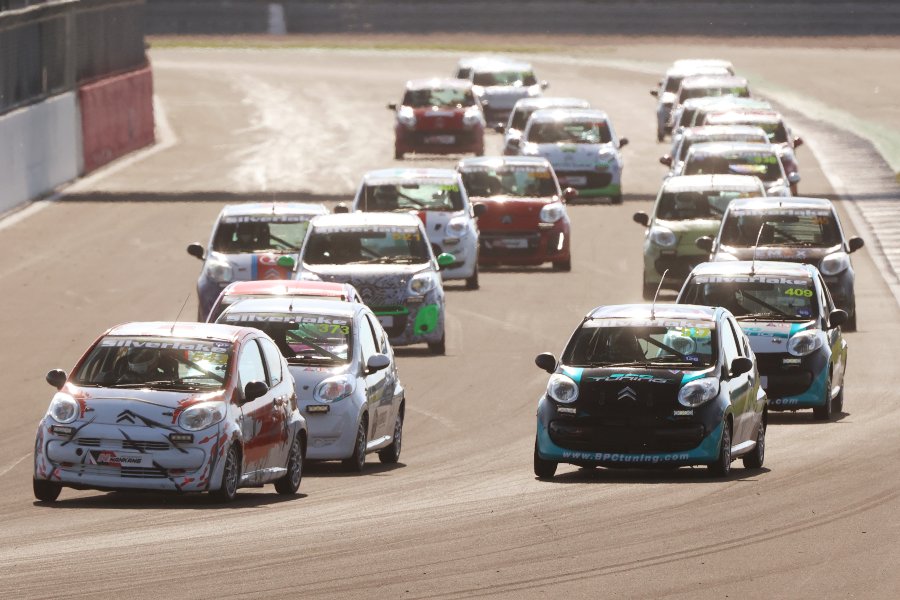 ---
NANKANG TYRE BMW COMPACT CUP
There's an air of unpredictability about this year's Nankang Tyre BMW Compact Cup, as so far we've seen three different race winners and a host of different drivers in total reaching the podium. With the title now up for grabs to a new name to replace outgoing champ Mikey Doble, this has really opened up the competition in the early races and now Donington Park is the next stop on the 2023 tour with all of this season's top drivers so far on the grid together again.
After Snetterton, Rudi Macmillan leads the points standings despite not yet winning a race in Compact Cup to date. Since the start of the season, Rudi has finished every race in the top five and even came close to his first win in Race 3 at Snetterton. In the end, he had to settle for 2nd place, but his rock solid consistency has helped him rise to the top of the table after just five races. His lead is just a slender four points over two drivers tied for 2nd place – Matt Millson and Dale Wherton. Millson picked up the "win" in terms of points scoring in the first two races at Snetterton due to race winner Ian Howes being a guest driver and thus invisible for scoring. This helped him jump up the table to be tied with Dale Wherton, who is another driver like Macmillan that hasn't finished a race outside the top five once either. This means that he and Millson currently tie in 2nd with 222 points each, leaving it finely balanced at the top of the standings.
To add to this, Oliver Faller is also in close attention as he sits in 4th on 215 points and has a pair of 2nd places to his name after finishing behind double Brands Hatch winner Guy Davis at the opening weekend of the year. This means an 11 point spread between the top four and this order could be really shaken up come the conclusion of this weekend. Especially since Guy Davis is back on the grid too after missing Snetterton due to commitments working at the Monaco Grand Prix on that weekend. He may head to Donington down in joint 18th place, but expect him to catapult back up the order if he gets back to winning ways.
There are plenty more drivers who can also make impacts on the points standings this weekend too. Mike Doble is 6th overall and top Masters driver in the process, sat immediately ahead of fellow Masters drivers Jim Barratt and Russ Cager in the table, while Gareth Claydon will still be on a high after he took his first Compact Cup win at Snetterton. Ross Stoner initially looked strong last time out before technical problems curtailed his weekend early, while Matt Flowers, Max Noble, Matt Kendall and Thomas Middleton should all be competitive too. Plus, look out for Lee Dendy-Sadler who makes his second guest appearance of 2023 too.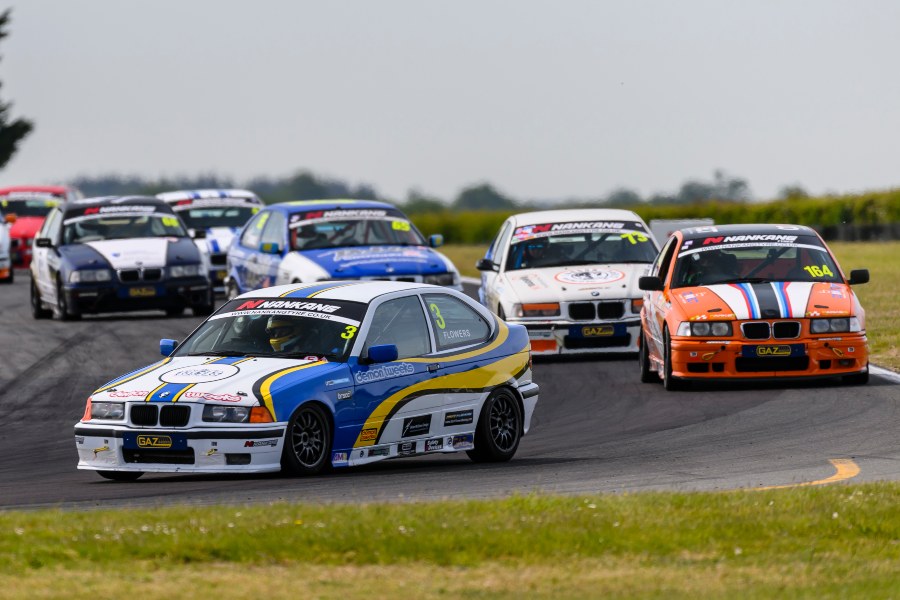 ---
NATIONAL FORMULA FORD CHAMPIONSHIP
The opening two weekend of this year's National Formula Ford Championship have seen plenty of the typical wheel-to-wheel single seater action at both Oulton Park and last time out at Snetterton. Now the championship moves forward to its third weekend of the season at Donington Park and with the full GP layout in use on this occasion, there will be plenty of opportunities for battles and overtaking up and down the entry.
At the moment, the top of the championship is making for very positive reading for Oldfield Motorsport as teammates Lucas Romanek and Brandon McCaughan currently sit atop of the table in 1st and 2nd respectively. After victory at Oulton, Romanek collected two 2nd places at Snetterton before rounding off the weekend with another win, and his consistency has helped him to sit atop the standings by 24 points at this early stage. His teammate McCaughan had mixed fortunes at Snetterton, managing to pick up one podium but finishing no better than 4th from the other two races. Both will certainly be in the hunt for victory and will want more silverware from Donington.
Elliot Budzinski is currently in 3rd place for Ammonite Motorsport and has settled into racing full time in the UK quickly, with the American already sitting on three podiums from five races so far this season. Donington will be another new circuit for Elliott to learn and adapt to, but if he can take to quickly then the results should follow this weekend, alongside teammates Brin Kinch and Nolan Allaer. Morgan Quinn is currently 4th, but isn't set to race this weekend due to unforeseen circumstances, so that gives a prime chance for Chris Middlehurst to continue his recovery up the table. Oulton Park and Snetterton have both produced mixed fortunes, with Snetterton cruelly denying him victory in the second race when a technical issue forced him out from the lead on the final lap. From five races, he has just one win and one podium, but Donington will surely be the prime chance to score those key points he needs to stay in the hunt.
Jordan Kelly will hope to add to his win tally after his first Formula Ford win at Snetterton, and fellow Irish driver Donal Downey is back on the grid for his second FF1600 outing after debuting at Oulton. But they won't be the only Irish talent on the grid alongside McCaughan either. This weekend sees a welcome guest return from 2015 National champion Jonny McMullan, who makes the brief comeback courtesy of BM Racing. Jonny will be keen to see how he stacks up against the latest Formula Ford talent and will hope to be on the pace from the outset.
Speaking of comebacks, Donington Park also welcomes back 2021 Formula Ford Festival champion Jamie Sharp who steps back into a Formula Ford for the first time since last year's rain-shortened Festival at Brands Hatch. Jamie will also want to prove he's lost none of his speed and getting amongst the front runners straight away will certainly be his main objective.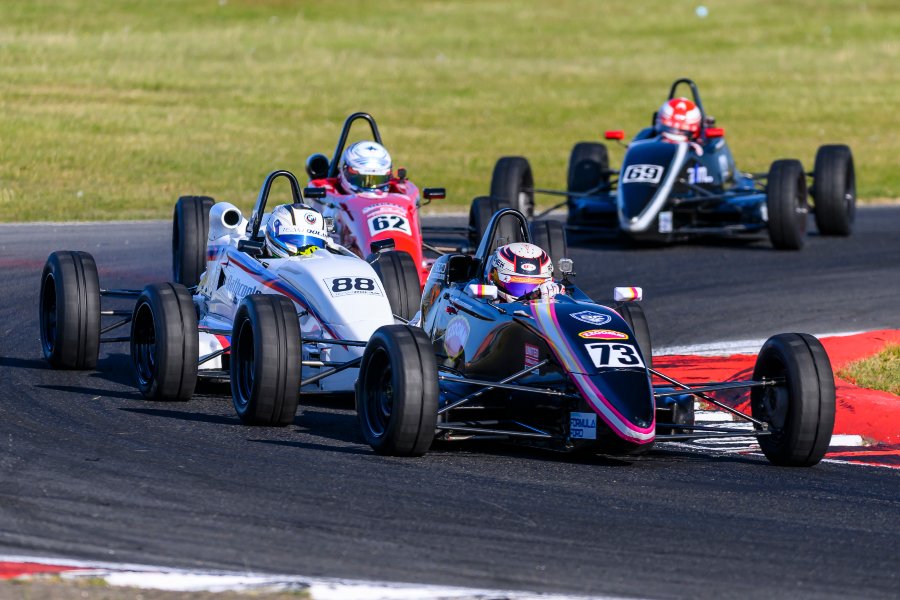 ---
AUDI TT CUP RACING
It's been quite the positive start to the BRSCC's new Audi TT Cup Racing series with two successful opening weekend at Brands Hatch and Snetterton showcasing how quickly it's progressing since its launch. It's already produced some superb racing and inspired a great mix of new drivers and established names to jump into one of the new TTs to show their skills. Donington Park will be another fascinating landmark in its inaugural season, and there's a couple of new names making their series debuts this weekend too.
So far, we've had four different winners from the first five races – Andrew Dyer and Ross Makar took one each at the first round at Brands Hatch, before Makar shared the honours at Snetterton along with Harry Yardley-Rose and Carl Swift. All four are on the grid this weekend, with Dyer back in his TT after missing Snetterton, and he'll be keen to get back to the front of the grid after being on the sidelines for one event.
There are those who are sure to have the pace to get up to the front and challenge for their first TTCR race wins too. Richard Forber has come close more than once already with podiums in almost every race to date and his pace in the Direnza sponsored car has looked great from the outset. Perhaps he can break through this time at Donington. Paul Maguire has also shown great speed too, especially at Snetterton when he was up near the front, while Scott Parkin is an experience race winner in other series and probably has more mileage than most drivers on the grid already in his TT. He will be another that will bid for his first TTCR race win too.
Others such as Luke Handley, Patrick Booth, Julian Daniel, Ryan Edgecumbe and Anthony Park will also be be keen to show what they can do, while Donington also sees the season debuts of Tim Evans whose car has done the bulk of the development work for this new series and should be suitably dialled in against the competition. Morgan Wroot is another driver making his TTCR debut, along with MX-5 racer Tim Dore and Paul Savage who both bring plenty of experience from elsewhere in club racing. They'll also be looking to use it to full effect to hit the ground running this weekend.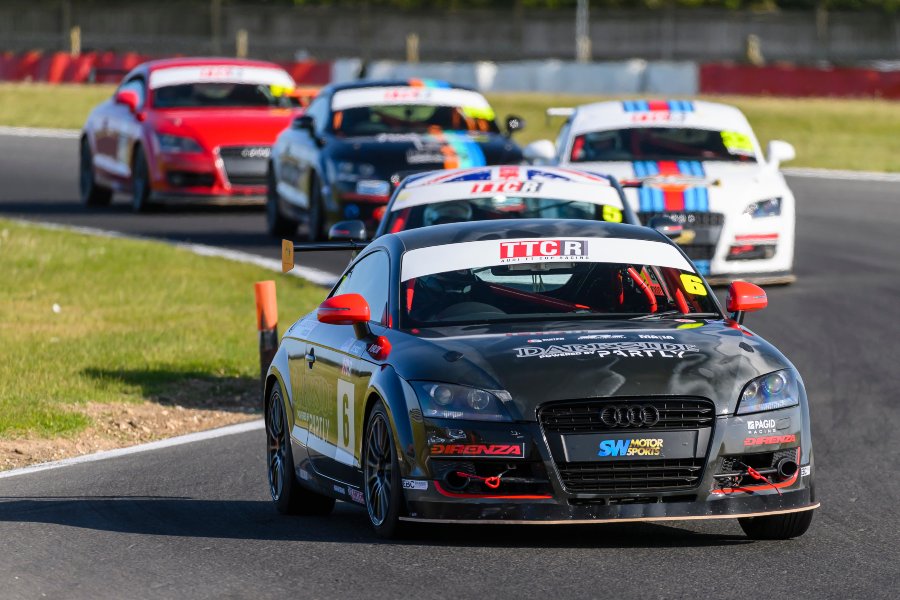 ---
SW MOTORSPORTS CLUBSPORT TROPHY
The last round of the SW Motorsports ClubSport Trophy was only three weeks ago at Snetterton, but that doesn't mean the series is letting off the gas pedal any time soon. Now it heads to what's quickly becoming one of its staple circuits in Donington Park, and the full GP circuit means plenty of room for what is another sold out grid. A maximum capacity entry of 42 cars is lining up this time on a circuit that this series always seems to bring big grids for. Thankfully, this visit is no exception.
Class A looks to have its most competitive entry all season with many regulars back for another 45 minute battle. Established front runners Liam Crilly (BMW Z4), Phiroze Bilimoria (VW Scirocco), Matthew Bolton (BMW M3) and James Alford (VW Golf) will all be keen to face off against each other in what should be a very exciting scrap at the head of the field, with their other opponents coming in the form of the Audi TTCR race cars of Andrew Dyer/ Richard Bliss and Paul Savage/ Brandon Savage, plus David Cox in a second VW Golf, Andrew Clarkson's SEAT SuperCopa and Jonathan Hunter's Honda Civic.
Scott Parkin's own TTCR race car could be in the mix for outright victory too from Class B after it ran well at Oulton Park and Snetterton and Scott will use all his pace to ensure he's up there again. His competition in Class B comes from several other quick cars likely to give him the runaround, including the SEAT Leon Cupras of Barrie and Martyn Culley, Tom Stanway's BMW 328i, Anthony Park in another Audi TTCR, Chris Spark's Honda Civic and Saranga Sothisrihari aboard his BMW 330ci.
Class C also looks like it'll be a real fight for honours, with Andrew Bond's potent little Honda Civic EG a regular runner and class winner in the past. He'll surely start as favourite again, but look out for those who would dry and depose him. They include Brendan Murphy in his BMW Compact, James Poulton and Kevin Fulbrook's MINI R53, Stuart Kilroy's Peugeot 207 GTi, the Renault Clio of Steven Watson and a handful of other Honda Civics too.
Craig and Gary Butterworth make a welcome return to Class D in their Renault Clio 172 with most of their competition coming from fellow Renault racers Kate Morris and Jason Brough, while other opponents set to be Scott Bonsor and Alex Hackett in their MG ZR and Callum Perfect and David Evans in a BMW 318Ti.
Last but not least, Class E looks set to have Chris McGinley as favourite to come out on top as he has done previously, while Colin Whitehouse's BMW Compact, Gary Paddock's Mazda MX-5, Christian White and Matt Mills' MINI Cooper S and the evergreen little Mazda2 of Neal Shore and Colin Risbridger should keep him company amongst others in class.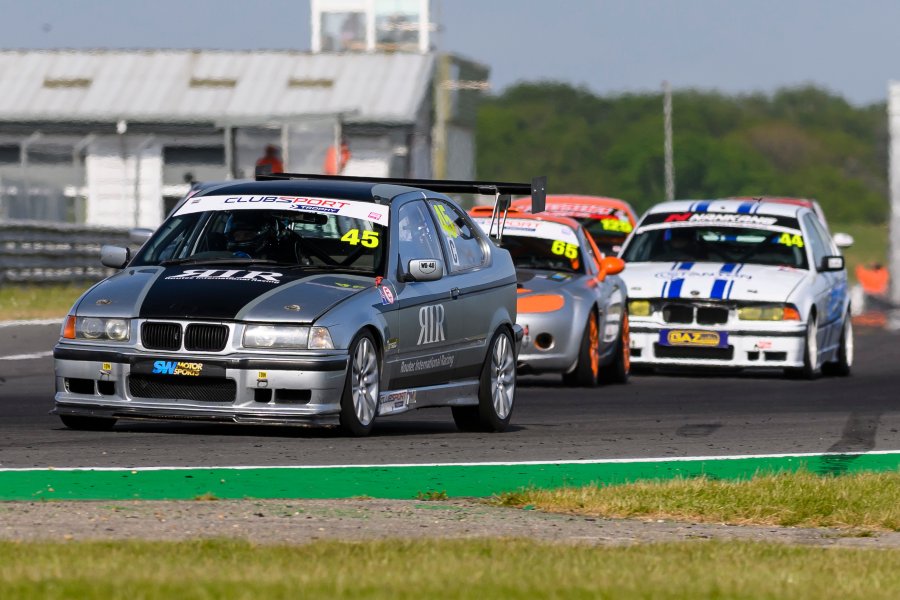 ---
BRSCC SUPERSPORT ENDURANCE CUP
So far in the BRSCC SuperSport Endurance Cup's first full season as a championship, we've seen two excellent races with healthy and well supported grids, some fantastic cars and lots of interesting and strategic racing at Snetterton and Silverstone's GP circuit. For the third round of 2023, the championship now moves forward to its first visit to Donington Park, also on the full GP circuit with a grid of over 30 cars featuring some very competitive machines.
The fastest cars will come from Pro-A, and with most of this weekend's cars running as guests as therefore invisible for scoring points, this will play into the hands of Keir McConomy and his driver coach Bart Horsten in their BMW 1 Series as they look to face off against Ricky Coomber's Honda Civic. Out of the guest entries, two in particular stand out – Dave Griffin's BMW M3 was a race leader at one stage at Silverstone until mechanical problems cut his race short and he'll want to redeem himself this time. The other will be John Dickson and Richard Taffinder in a rather unique Lotus Evora, which can boast mileage in both British GT and GT Cup previously. This will certainly be an entry with plenty of interest and intrigue around it.
Silverstone saw a Pro-B class car take an outright win for the first time, as the Lotus Exige in the hands of Leon Bidgway played a blinder with pit strategies and safety cars to come out on top. Now he'll be looking to top his class again, but he knows the competition will be just as formidable once again. Simon Mauger's ex-British GT Vauxhall VX220 has been a wonderful and fast addition to the grid, but needs to hope the reliability problems in the opening two races don't rear their head once more.

There's Julian McBride's BMW M3 which has always found itself in the top few cars in both race results, and his is one of several M3s on the grid here including the Etheridges, Jasver Sapra, Martin Gadsby and Ian Jones, and William Lynch who shares with Richard Clarke on this occasion.
For Pro-C, this class is usually the domain of Lotus Elises with a pair driven by Bailey and Michael Edwards set to go up against Christopher and Luke Hayes' SEAT Leon, Silverstone class winners Stuart Mead and Tim Hartland in their VW Scirocco, and John Wyatt's MINI Cooper Turbo. If the reliability issue for one or two cars in this class can stay away, this class battle could get pretty spicy.
Moving to Clubman-A, there may only be four cars here but they're each as unique as the other. There's Paul Hinson in his BMW Compact who has been the front runner in this class in both races, and he'll be facing off against the Renault Megane of Graham Price and Matt Dennis, Jeremy Evans and Philip Hart's Honda Civic Type R, and James Alford in his VW Golf GTi.
Clubman-B front runner Bruce Robinson is solo in his Mazda MX-5 on this occasion, but his is one of five Mk3 models in the field this time including the Rob Boston Racing car of Michael Sanford, Lewis Noon and Sam Reuter as well as another run by Paul Sheard Racing driven by TCR UK racer Oliver Cottam alongside father Edward and Joseph Ritchie. Also keep an eye on the Puretrack Renault Clio of Matt Adams sharing with Sarah Dennis and James Millar this weekend too.
Over in Clubman-C, the runaway favourites have to once again be David Drinkwater and Adam Read in their trusty BMW Compact, and they'll have two more cars in class to run up against this time – Philip and Matthew Adcock in their BMW Compact and Pete Smith and James Dennison in their Mk1 Mazda MX-5.
---
BRSCC EVOLUTION TROPHY
The new BRSCC Evolution Trophy has so far proven to be a great showcase of some of the latest new series and projects that have either been conceived by the BRSCC or joined its ranks for 2023. With the purpose being to act as a development platform for race series to grow and eventually become self sufficient on their own grids, it's not only an excellent chance for each series to race amongst its own car, but also those from the other series as well. That's already made for some great racing at both Brands Hatch and Snetterton, and Donington Park should be more of the same.
Let's break down each series one by one – first up, the Ricci Concept Classic VW Cup which also accommodates the Classic TT Cup alongside it as well. Adam Marshall took a pair of wins at Brands Hatch and hopes to do so again along with Team HARD teammate Tommy Gilham, while Simon Tomlinson adds to the ex-VW Racing Cup flavour once more in his own VW Golf too. The classics are also represented courtesy of Ken Larn's rapid Corrado, the potent little Mk1 Golfs of Donald Dewar and Tim Moll, and slightly younger examples driven by Chris Adams and Chris Mohan. Nick Sanderson will also represent SEAT with his Leon SuperCopa too.
Alongside them, there's also a pair of Mk1 Audi TTs in the Classic TT Cup, with Harry Scott looking to win once more whilst racing alongside Philip O'Halloran.
For the Cooksport Renault Cup, there's the usual names such as runaway double Snetterton winner Nick Gwinnett, Tony Hunter and Richard Clarke in his Gen 4 Clio Cup car. They'll be joined for the first time by newcomers Dominic Bowen and Jason Brough, while the first Renault Megane to grace the Cooksport Renault Cup will appear in the form of Richard Owen's Gen 3 machine. Seeing how it stacks up to the Clios in its respective category will be an interesting sight.
In the Mazda MX-5 Mk4 Trophy, almost everyone that's raced to date this year is on the grid together as there are no less than four competing this weekend. Samuel Hicks is back after missing Snetterton, and he'll join leading Mk4 driver Ben Taylor and Snetterton debutant Bruce Hadfield. Alongside this trio, former Formula Ford and rallycross ace Chrissy Palmer is back behind the Paul Sheard Racing built car he's driven several times before in ClubSport Trophy and will certainly be looking forward to getting back out there.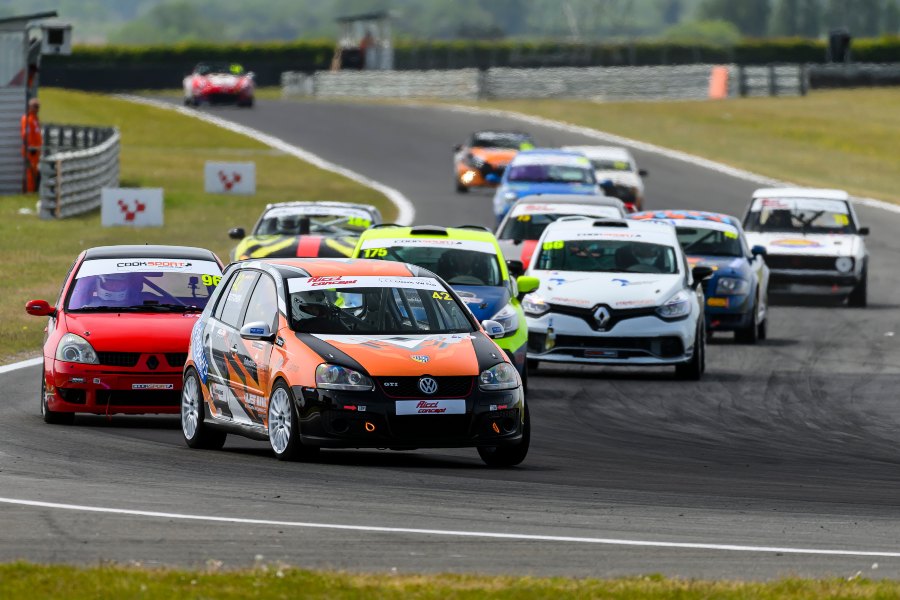 ---
HICKFORD CONSTRUCTION MG METRO CUP
They've been an amazing new addition to the BRSCC portfolio this year and after two enthralling weekend debuting full time on the roster, the Hickford Construction MG Metro Cup now heads to Donington Park with more exciting wheel to wheel hot hatch action in store in their pair of races on the full Grand Prix circuit. So far, we've had three different winners from four races and we could potentially see more on their biggest grid to date.
All three race winners are on the entry list again with Brands Hatch double victor Mike Williams and Snetterton top step visitors Jon Moore and Rhys Claydon ready to try and add to their tallies. All three have shown excellent turns of pace, especially Moore whose spike in speed was certainly evident at Snetterton compared to the opening rounds. He could have made it two from two had mechanical issues not sidelined him for the second race, but expect him, Mike and Rhys to be on it from the outset.
Behind points leader Rhys and second placed Mike in the points, Ben Williams and Matthew Simpson sit in 3rd and 4th respectively. Both have been constants in and around the top five, especially Ben who collected a pair of 3rd places at Snetterton and could be on the cusp of a first win of the year if pace and good fortune are on his side. Matthew Simpson also saw improved form compared to Brands Hatch and even managed a 2nd place in the second Snetterton race to help him lead up the table.
If others can also get their acts together and be in the lead group once again, they too can be in contention for top fives and even podiums. Les Tyler, Dick Trevett and Phil Goodwin all currently find themselves in the top ten in the standings but have shown some good potential over the first two race weekends, particularly at Snetterton where they all appeared to run strong. And what of defending champion Mark Eales too? Having scored a pair of 3rds, he missed out on Snetterton but is back on the grid for Donington and looking to make up the points he lost out on in order to keep himself on track to try and defend his title.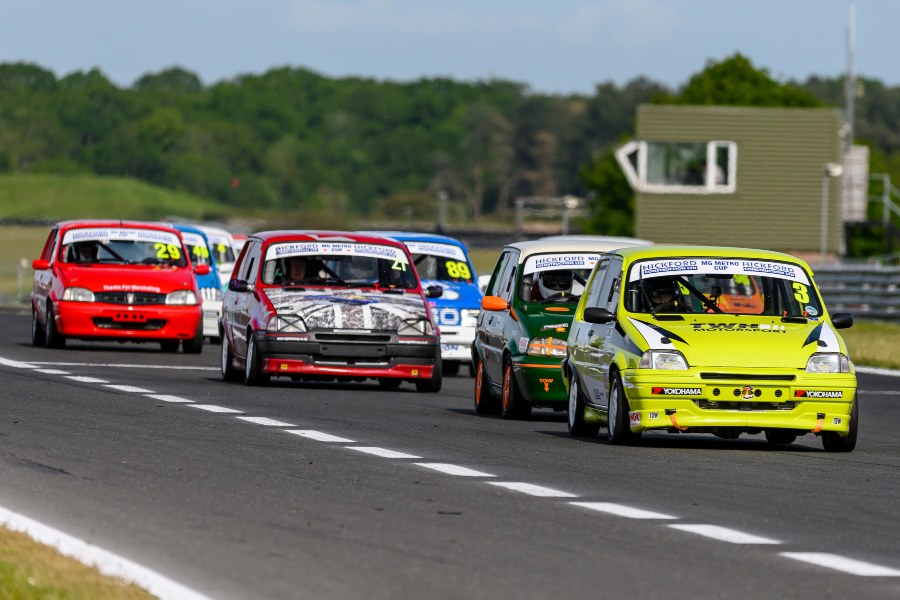 ---
ZEO PROTOTYPE SERIES
The ZEO Prototype Series looks set to bring more power and noise to this weekend's BRSCC race meeting, as they did at their season opening double header on the Silverstone GP circuit where we saw high speed racing and some exceptional battles at the front of the field. We're expecting nothing less as the series visits Donington Park for its second rounds.
The four cars that will certainly lead the line from the outset will be the trio of Praga R1s and the rapid Jenvey-Gunn of Mike Jenvey. It was this quartet that ended up putting on an amazing show at the front of Silverstone's first race as they diced and scrapped over the victory which eventually went Jenvey's way. Mike will have that competition again with Shane Kelly, Rodolfo Gonzalez and Ruben Stanislaus all lining up again to see if they can deny Jenvey another race win and whether Donington's flowing nature will play more into their hands.
Elsewhere on the grid, the Sports Prototype Cup are joining forces with ZEO once more and they bring four of the Revolution 500SCs to the grid this weekend, led by the #500 car driven by Richard Morris and the #80 car which features Sir Chris Hoy sharing with Roger Green. The multi-time Olympic cycling champion will relish getting back behind the wheel once more, with Daniel La Rosa and Joaquim Penteado also completing the Revolution quartet.
The rest of the grid is mostly made up of Radicals including Charles Graham's SR3 RSX, Alastair Smart's SR10, more SR3s for Richard Gillman and Dominic Langdon-Down and Ian Charles in his PR6. This weekend's ZEO entry is completed by Graham Charman in his Juno who could benefit from any troubles for the Pragas and Revolutions to score a podium or two, and Max Windheuser who prepares to make his second outing of the season in his turbocharged Norma M20.
Scott Woodwiss